Authentically Inspired, Practical Home Cooking
Come along with me as I explore the world through my kitchen. For each region, I'll be trying about 5 dishes, drawing inspiration from authentic dishes, ingredients or techniques from that region but adapting them for a North American home cook. All the ingredients in this series will be ones I can find in my local (Calgary, Alberta) grocery store and use cooking tools I already have at home. 

Pad Thai is commonly served as street food in Thailand, it is a very popular dish and one of the most popular Thai dishes in North America. I had never had Pad Thai before, but now I am hooked. It is one of my favorite things to make if I have leftover chicken. I sometimes end up skipping the bean sprouts because I don't have them on hand. It's still really good, but I definitely miss them. This dish is pretty hard to screw up, but I'm managed a few times by under cooking the noodles. You want them to end up looking white instead of clear and not be crunchy or mushy.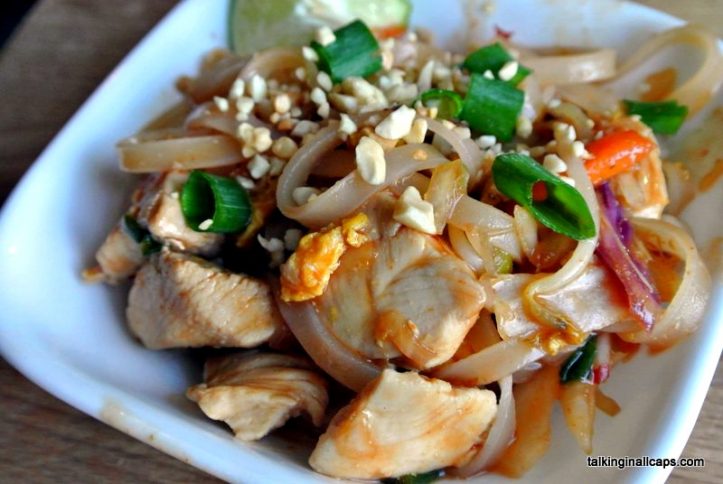 Ingredients You May Be Unfamiliar With and Substitutions:
Thai Sweet Chili Sauce – is a condiment made from chilis and sugar. I used Heinz Red Thai. It is probably not the most authentic, but it is delicious. You can find it by the other heinz sauces. Other brands may be in the condiment section or in the Asian section of the grocery store. If you can't find it, you could try making your own.
Fish Sauce – 

is a condiment made from anchovies. That may not sound awesome, but it actually is. You can substitute soy sauce with good results.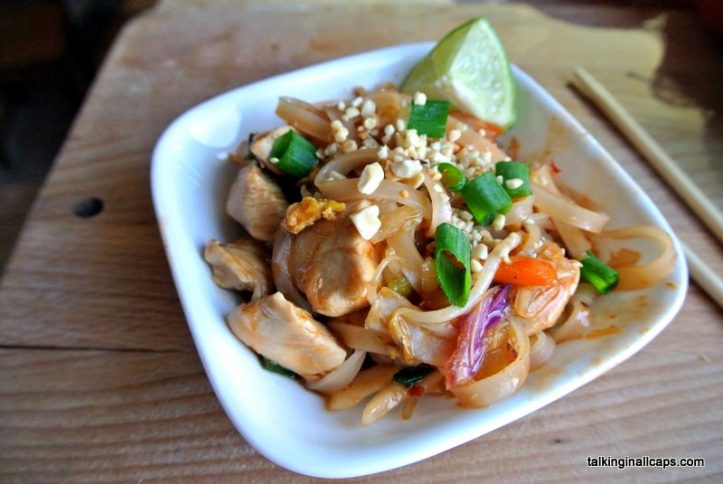 Pad Thai - Around the World in 30 Dishes – Thailand
Ingredients
a couple handfuls of rice noodles (prepared according to the packing instructions. They should be white and no longer translucent when they are done).
1 Tbsp of oil
2 cloves of garlic, minced
1-2 chicken breasts worth of chicken (This recipe is great for left over chicken. You can also use shrimp)
2 eggs
1 large handful of bean sprouts
½ bag shredded cabbage mix (or you can slice up your own cabbage)
3 or 4 green onions, chopped
2-3 Tbsps of Thai sweet chili sauce (I used Heinz Red Thai)
2 Tbsps of fish sauce
1.5 tsps of sugar (optional)
1 tsp of soy sauce
Tofu fried or cubed (optional, I don't add these)
peanuts, lime and cucumber for garnish
Instructions
Heat the oil in your pan or wok on medium low heat.
Add garlic and saute until fragrant.
Add chicken (or prawns) and saute until cooked through. Add the eggs and scramble until dry.
Add the noodles and the rest of the ingredients (reserve some of the green onion) and stir until combined and everything is heated through.
Serve with peanuts, the green onion tops and lime.
Adapted from http://www.upmommycreek.com/2011/11/authentic-pad-thaiyummy.html