Authentically Inspired, Practical Home Cooking

Come along with me as I explore the world through my kitchen. For each region, I'll be trying about 5 dishes, drawing inspiration from authentic dishes, ingredients or techniques from that region but adapting them for a North American home cook. All the ingredients in this series will be ones I can find in my local (Calgary, Alberta) grocery store and use cooking tools I already have at home.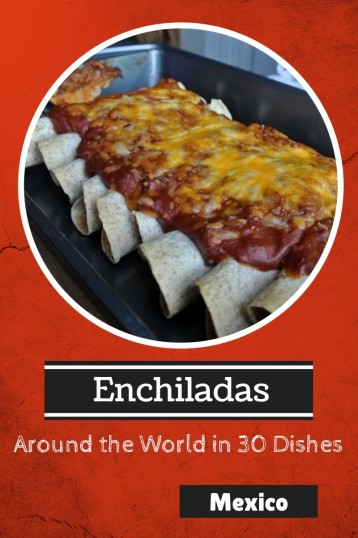 I thought I would kick of the next segment of Around the World in 30 Dishes on Cinco de Mayo. What could be a better time to start a set of Mexican recipes? I looked up Cinco de Mayo, and it turns out that it's sort of like St. Patrick's Day. It's actually more popular in the US than Mexico and a lot of the traditions we may associate with it, you wouldn't find in Mexico.
Even outside of Cinco de Mayo, many of the foods that we might think of as Mexican, are actually Southwestern, or Tex-Mex and not things you would find in Mexico at all. I found this made it very difficult to pick recipes to try. Further complicating this, in Calgary, we have a surprising lack of mexican ingredients at the grocery store. Just across the border in Montana, it's easy to find something like Enchilada sauce or corn tortillas on the shelf. Here, they can be pretty hard to find.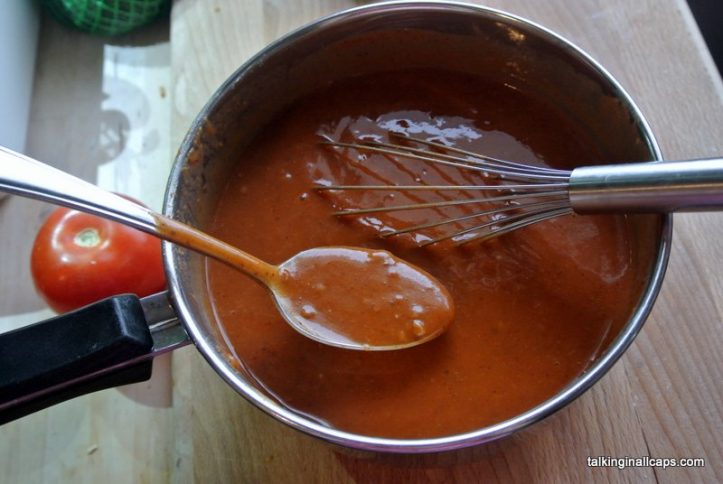 Luckily, enchilada sauce is actually pretty simple to make. Enchiladas, (I am reasonably confident) actually originated in Mexico as a street food. They would definitely be made with corn tortillas and I was surprised to learn the basic sauce doesn't contain any tomatoes – when it uses a tomato base (as I do in my recipe) it's called Enchiladas Chile Colorado. In it's original form, a tortilla was dipped in the sauce and wasn't filled at all. Enchiladas now have a wide variety of fillings. They are easy to put together, and a great way to use up some leftover meat.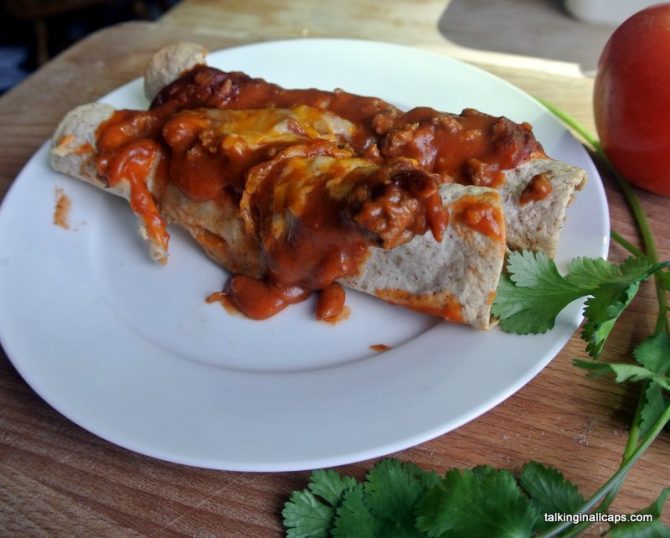 Ingredients You May Be Unfamiliar With and Substitutions:
Enchiladas Chile Colorado - Around the World in 30 Dishes - Mexico
Ingredients
Corn tortillas or flour tortillas
1 lb of shredded cheese
1 lb lean hamburger meat
2-3 cups cooked shredded pork
1 medium white onion chopped
about ½ cup canola oil (if using corn tortillas)
Enchilada Sauce:
1.5 tablespoons red chili powder
1 cups all-purpose flour
1 tablespoons salt
1 tablespoons pepper
1 can tomato paste
Instructions
Mix the flour, chili powder, salt and pepper in a small bowl.
Mix with 2 cups of water in a large sauce pan and whisk until smooth.
Add more water until the sauce stirs easily.
Cook on medium heat for about 1 hour. Add at least 6 cups of water over the hour and stir/whisk frequently. During this time add a can of tomato paste or sauce (if you use paste, you may need more water). In the end you want the sauce to stir/pour easily but still coat a spoon dipped into the sauce.
Cook and drain the ground beef and add it to the enchilada sauce.
In each tortilla add a small amount of cheese, onion and pork. Put in way less than you think. If you are using corn tortillas you'll want to soften them up by dipping them in little hot oil in a pan.
Roll tightly. These will look much smaller than burritos.
Place in a rectangular pan. Don't be afraid to squish them together.
Pour the sauce over the enchiladas and top with cheese.
Bake at 350F until the cheese is melted and the edges of the tortillas are crispy - about 35-40 minutes.
Notes
http://weeklybite.com/authentic-mexican-enchiladas/