Slumgullion is a name for a cheap stew made by boiling. In this recipe, only the pasta is boiled, but cheap (and easy!) it is. I'm almost embarrassed to call this a recipe because it's so simple. But it is one of my go to dishes when I need something fast and healthy that everyone will enjoy. I'd be lost without it, so I thought I'd pass it along. My mom made almost this exact dish while I was growing up so it's a comfort food for me too. One of the best things about it, is that if you cook and freeze some ground beef (I like grabbing a giant pack of lean ground beef from Costco) you can have all the ingredients on hand. Then, when you don't really have time to cook, or haven't managed to get to the grocery store, you don't have to get take out. And it's a lot less messy than spaghetti!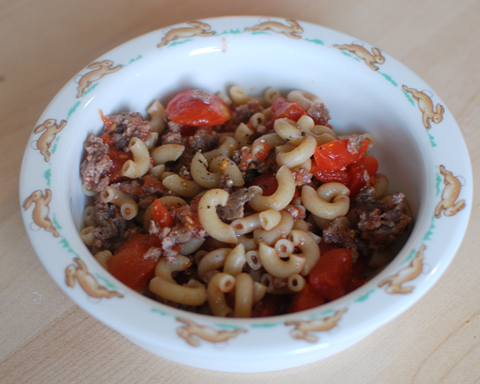 Tomato and Ground Beef Slumgullion
Ingredients
200g lean ground beef cooked (more or less is fine)
1 package whole wheat macaroni (I've tried other pasta, macaroni is best)
1 large can of diced tomatoes
salt and pepper
Instructions
Cook the macaroni according to the package directions.
It's best if the ground beef is warm when you add it to the pot so, cook, defrost or warm the ground beef as necessary.
Drain the macaroni in a strainer and put it back in the pot. Add the warm ground beef and the can of tomatoes (with the juice).
Mix well and sprinkle with salt and pepper. You can also just add the salt and pepper to the individual servings instead.
This recipe makes about 6 servings, so you could halve the recipe if you don't need that much. We usually keep the leftovers for lunches. I prefer it fresh, but Gordie and my special needs brother are quite happy to have it the day after. I often fill up some ziplock containers and stick them in the freezer so Geoff has lunches ready for the whole week.