I love cooking but when I'm sleep deprived it's the last thing I feel like doing. With two small kids and another one on the way, that hasn't been an inconsequential amount of time over the last 6 years. A couple of months ago when I was feeling particularly exhausted, I reached out to my network of friends and bloggers to ask for recipe suggestions. Not for amazing jaw dropping but time consuming recipes but for recipes that are barely a recipe at all. The kind of thing you throw together for your family when you're almost too tired too cook.
I've been working through their suggestions and along with a few of my own, here is the first installment. These recipes (and the ones still to come) have saved my family from many days of subsisting on only ichiban and macaroni and cheese. The recipes below are easily scalable so whether you need to make yourself a quick lunch or feed the whole family dinner you'll be done making dinner in  snap.
1. Sriracha Tomato Soup
This is one of my personal favorites. Heat up a can of condensed tomato soup with an equal amount of water. Pour into two oven safe mugs and add a squeeze of lime juice, a drizzle of sriracha and crushed saltines. Top with shredded cheese and broil until the cheese is melted.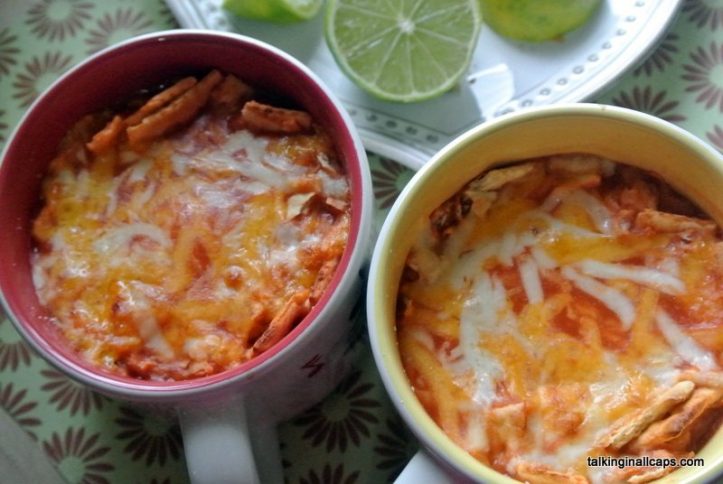 2. Pita sandwiches
Although it isn't much to look at, I could eat this over and over again for lunch. Although you could do endless variations, my favorite is whole wheat pita with hummus, ham and feta cheese.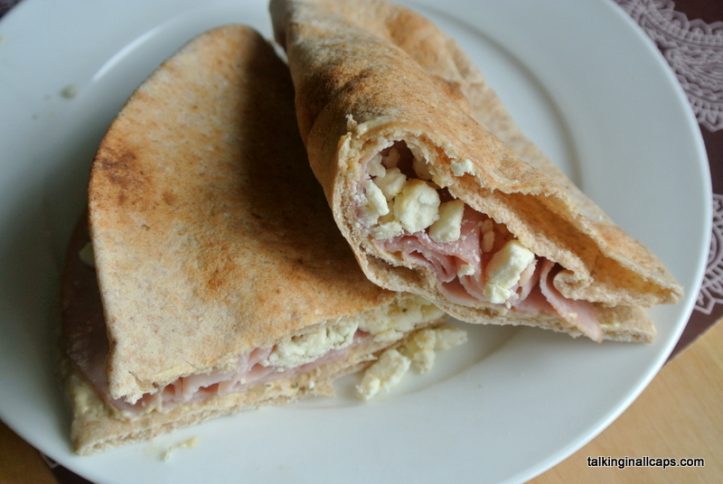 3. 
 Quesadillas
Kim from Truth and Tonic recommends Quesadillas. They are great for lazy meals because you can use whatever you happen to have in the fridge. I made a pizza inspired one with salsa, pepperoni, red peppers and mozzarella cheese. You don't need anything special to make them, you can just heat up a non-stick pan (dry is fine) and place the quesadilla on top until the cheese starts melting and the tortilla gets crispy.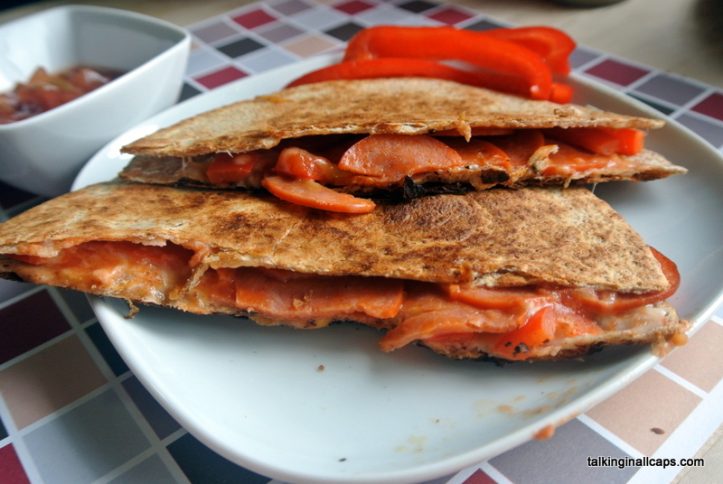 4. Baked Sweet Potato with Salsa and Chicken
This takes a little extra time but very little effort. Make a few holes with a fork and bake a whole sweet potato in the oven at 350F for something between 30-60 minutes depending on the size of your sweet potato. You'll really want it soft in the middle so it's better to over cook it a bit than under cook it. You should be seeing sugar start to bubble through the fork holes. When it's cooked, cut it in half and top with green (tomatillo) salsa followed by shredded chicken and then red salsa. You can put greek yogurt, sour cream or cheese on top of that if you want.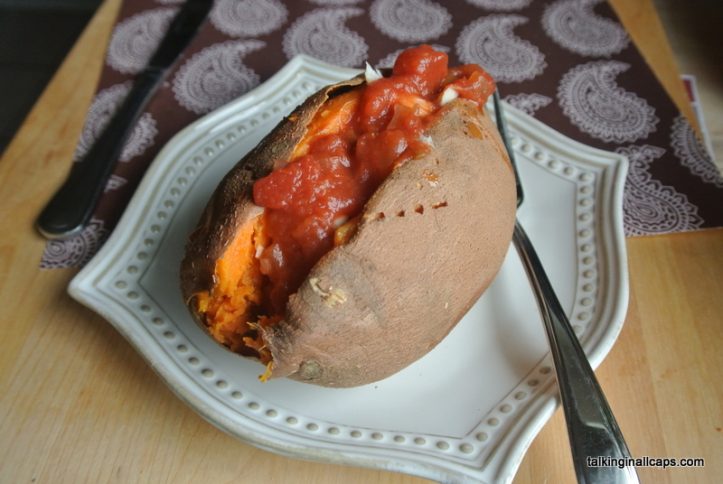 5. Cheesy Baked Chicken
This works best with partially thawed chicken. Split a chicken breast open layer with cream cheese, a slice of ham and cheese. Sprinkle with seasoning – cajun or ranch are both nice. Bake at 350F for about 30 minutes. Use a meat thermometer to make sure your chicken is cooked thoroughly to 165F.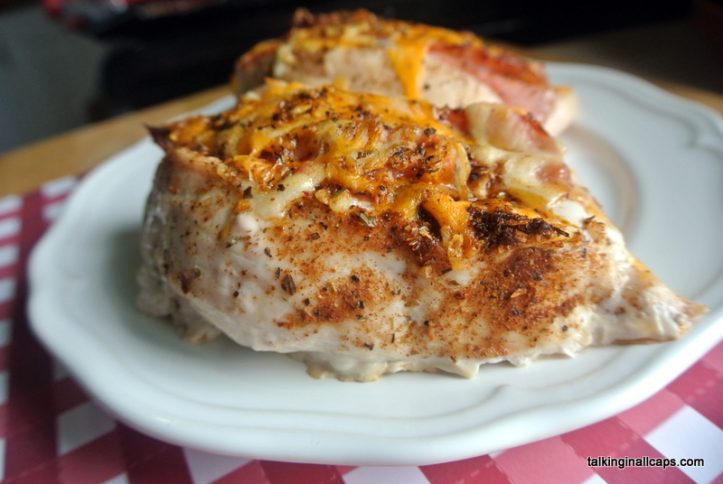 6. Throw Together Wraps
My friend Danielle likes making wraps. She says " The kids love it. We buy tortillas and then use any veggies & left over meat in it with a bit of creamy dressing. I made some with leftover pulled pork, lettuce, red peppers, avocado and creamy cucumber dressing. 
7. Egg Scramble
Merry from Merry About Town recommends a messy egg scramble. She has a recipe up on her blog that looks delicious, but you can also just throw together whatever you have in the fridge. I used green onions, tomatoes, red pepper and a little bit of cheese.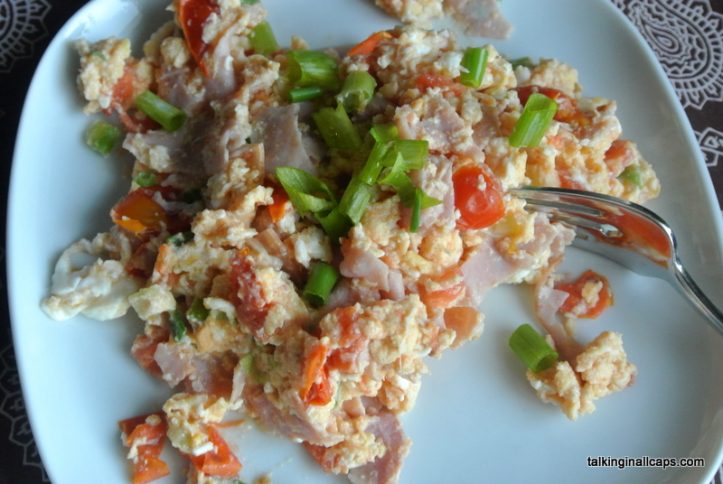 8. Omelettes
Raj from the Primal Desire and Melissa from Food Bloggers of Canada both recommend scrambled eggs or omelettes. They both like using whatever leftovers and veggies are in the fridge. Melissa likes adding some sweet thai chili or hoisin sauce. I made my omlette with red and yellow peppers, ham, cheese and shredded leafy greens.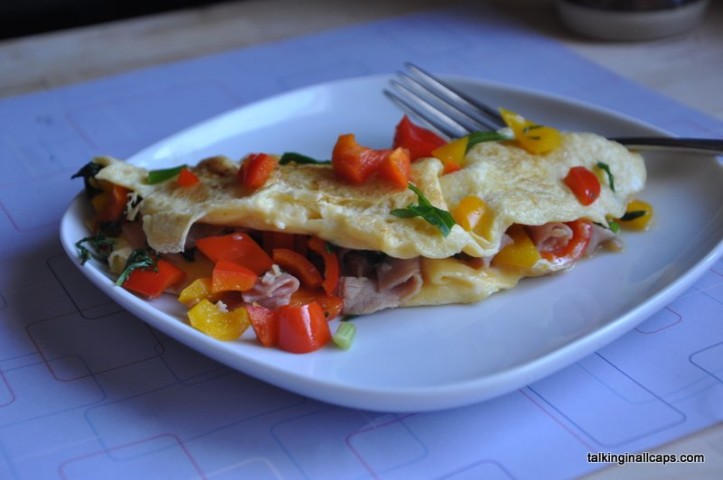 9. BBQ Chicken Melts
Anna from Hidden Ponies' favorite quick meal is BBQ Chicken Melts. I made a variation on her recipe on toasted English muffins. I just tossed the leftover chicken with barbecue sauce, topped with cheese and put it in the toaster oven to melt the cheese.
10. Eggs in Sauce
Another great egg option is to cook eggs in tomato sauce or salsa. You can either bake them in individual ramekins or in  small casserole dish in the oven or poach them in a skillet on the stove.
11. Huevos Rancheros
The thing I love about Huevos Rancheros is that it feels like you've put in a lot of effort but really you haven't. There are a million different ways to make it so don't be afraid to modify it for your tastes and what you have on hand. I took a toasted tortilla and topped it with a fried egg with salsa, black beans and avocado on the side. You can also add refried beans, tomatoes, cheese or whatever else you'd like.
12. Hot Tuna Melt
What do you like to make when you barely feel like cooking?