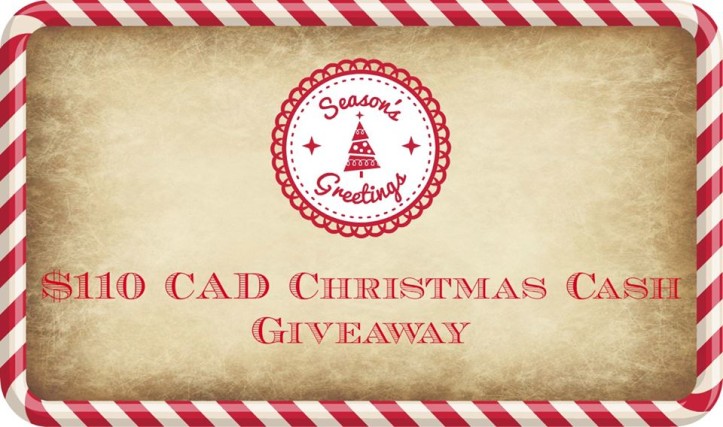 Christmas is coming up (I'm sure this is probably a surprise to most of you who had no idea) so a few of my blogger friends decided it would be fun to host a giveaway for what I think is the best thing you can have going into the holiday season – cash.
I'd also like to introduce you to a few of my favorite bloggers who are helping me have a chance to win cash to buy some of your favorite things.
These Are a Few of My Favorite Bloggers
Erin writes about the challenges of being a working mom and current events from a mom's perspective. She is insightful and thought provoking.
Sarah's blog title could not be more apt. Following along with her blog will probably make you feel tired, but it might also inspire you to do some of the things too.
Katie writes all about kid's birthday parties in Calgary. She's also pretty funny. If you've hosted a birthday party that you are proud of you can send it her way and she'll feature you on her blog.
Merry writes about interesting things in Calgary, travel, food and more. Her family friendly recipes frequently show up on my table.
Sheri's blog is a great resource for finding deals, new products, tips and contests/giveaways available to Canadian residents. You never have to dig through the small print to see if Canadian's are eligible. She also writes about her family and life in Edmonton, Alberta.
Leslie writes about her life in Calgary with her husband, young son and two big dogs. She's also the mastermind behind Hippo Hug, an innovative line of weighted blankets.
Samantha writes a personal blog about her life in and around Calgary.
Kyla is hilarious and sometimes verges on inappropriate.
Maija is a working mom of 3 +1. She is beautiful and glamorous (although she would probably beg to differ, that is how I see it sitting here in my yoga pants) but absolutely down to earth. She is thoughtful, fun and is another one of my go to people for great family recipes. Her recipe for the easiest meatloaf ever, really is easy and has become one of my family's favorites.
10. Erin Dunderdale from MrsBrits
Erin's is a new blogger whose skill with the crochet hook makes me think I should learn.  She's one of the most big-hearted people I know. She describes herself as a big city girl living in a small town.