I was having one of those days where I had no idea what to make for dinner. I had some left over roasted supermarket chicken but what stuck for what to do with it. I looked around the chicken and threw this together. It's pretty easy to have the stuff for it on hand and it tastes way better than leftover chicken and whatever you have around the house usually does.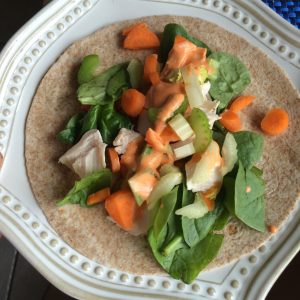 Buffalo Chicken Wraps - Easy Meals
Ingredients
soft tortillas
chopped carrots
leftover chicken
chopped celery
handful of spinach
ranch dressing
Frank's Buffalo Wing Sauce
Instructions
Mix ranch dressing and the Frank's Buffalo Wing Sauce 1 to 1.
Put chicken, carrots, celery and spinach on the tortilla.
Drizzle the Ranch-Frank's dressing on top and roll the wrap closed.