Come along with me as I explore the world through my kitchen. For each region, I'll be trying about 5 dishes, drawing inspiration from authentic dishes, ingredients or techniques from that region but adapting them for a North American home cook. All the ingredients in this series will be ones I can find in my local (Calgary, Alberta) grocery store and use cooking tools I already have at home.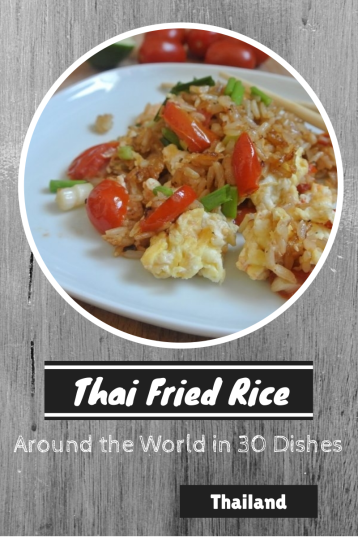 I've always quite liked fried rice, but I'd never heard of Thai fried rice before. It's not too different from the fried rice that you might get at a chinese food restaurant in many ways. The There are many variations on the dish and it is a perfect dish for using up whatever you have on hand – don't be afraid to improvise. I really love this dish. I've is now my go-to recipe if I have leftover rice. If you would like to try out some Thai flavors but are a little nervous, this dish would be a perfect recipe to start with.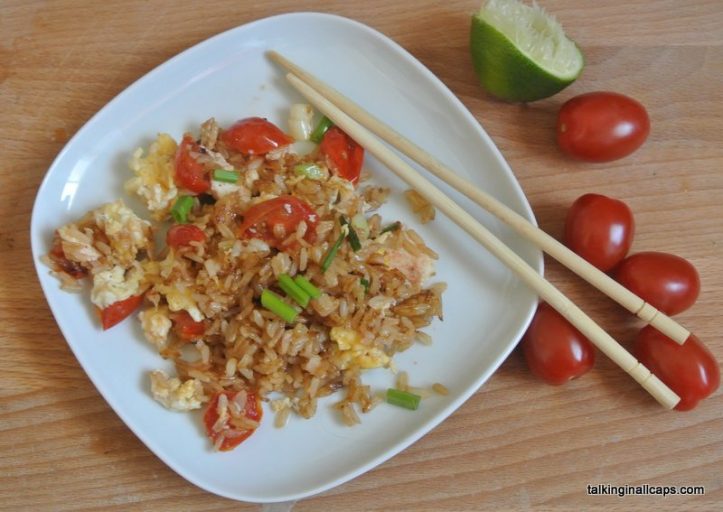 Ingredients and Substitutions:
Fish Sauce – is a condiment made from anchovies. That may not sound awesome, but it actually is. You can usually substitute soy sauce with good results. You will probably lose a little of the uniqueness in this particular dish. If you are hesitant because it says 'fish sauce', give it a try anyway. It doesn't seem fishy at all. Worchestershire sauce is also made from anchovies.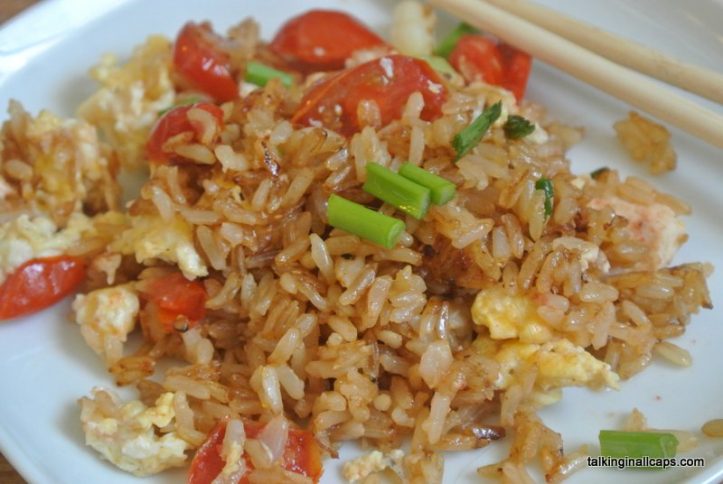 Thai Fried Rice
Ingredients
2 cups cooked rice (I used brown basmati, jasmine would be traditional) - using cold rice from the day before is best
2 cups cooked rice (I used brown basmati, jasmine would be traditional) - using cold rice from the day before is best
2 eggs
2 eggs
1 teaspoons fish sauce
1 teaspoons fish sauce
1 cloves minced garlic
1 cloves minced garlic
2 green onions
2 green onions
pinch ground pepper
pinch ground pepper
1 lime
1 lime
1 chicken breast chopped
1 chicken breast chopped
2 teaspoons soy sauce
2 teaspoons soy sauce
1 thinly sliced tomato
1 thinly sliced tomato
3 tablespoon cooking oil
Instructions
Prep all your ingredients before you start.
Heat oil in a large pan or wok on high heat.
Add garlic and stir then add meat if uncooked and continue to stir.
When the meat is cooked, add the rice. Break up any clumps and coat with the oil. If you are using cooked meat, add it now.
Stir in the fish sauce and soy sauce.
Add the white parts of the green onion and the tomato slices.
Push the rice mixture to the side of the pan and turn down the heat.
Cook the scrambled eggs on the open side of the pan.
Once the eggs are dry, break them up and mix them in with the rice.
Remove the pan from heat. Top the rice or individual bowls of rice with fresh lime juice, pepper and green onions.
It is often served with cucumber slices, tomato slices, lime, chili fish sauce, and cilantro.
Notes
Adapted from Thai Table's Thai Fried Rice - http://www.thaitable.com/thai/recipe/fried-rice