Authentically Inspired, Practical Home Cooking
Come along with me as I explore the world through my kitchen. For each region, I'll be trying about 5 dishes, drawing inspiration from authentic dishes, ingredients or techniques from that region but adapting them for a North American home cook. All the ingredients in this series will be ones I can find in my local (Calgary, Alberta) grocery store and use cooking tools I already have at home.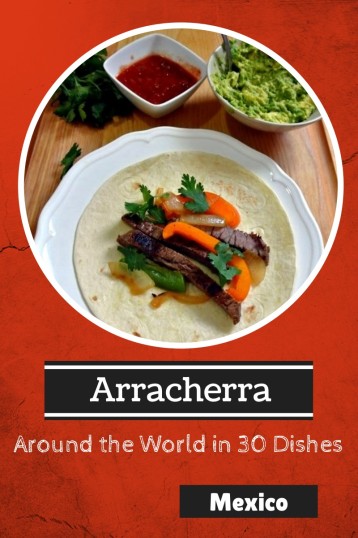 Arracherra beef originated in Northern Mexico and is what the fajitas that you are familiar with started. Arracherra is synonymous with skirt steak which is a cut from the 'plate' area of a cow – behind it's front legs along the belly. It's a tough piece of meat that requires marinating but is prized for it's flavour. I recommend marinating for at least overnight, but I've seen recipes suggesting up to 3 days – you definitely don't want to skimp on the time. I find skirt steak a little hard to find so I substituted a different marinating steak instead.
The marinade is typically made of some combination of citrus juice, garlic, chiles and onions. There are many many variations – don't be afraid to make it your own. I made this in a pan on the stove as it was miserable outside, but it would be fantastic grilled. Traditional mexican toppings may include, cilantro, salsa, sliced radishes, avocado and peppers, but feel free to use whatever you like best. You could also use the meat to make tacos or burritos instead.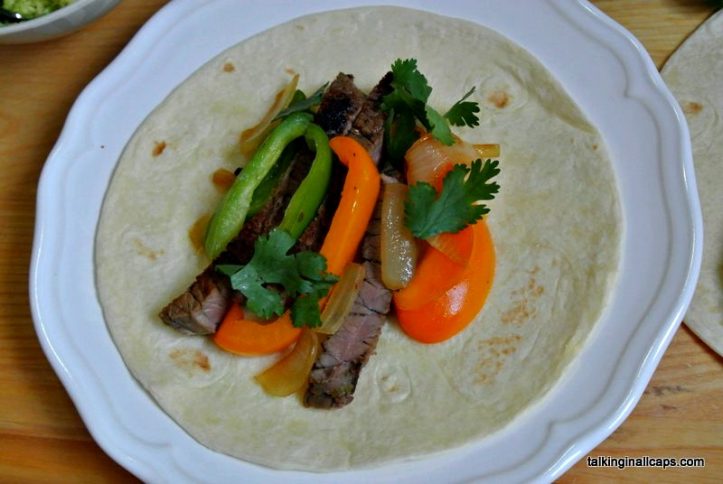 Ingredients You May Be Unfamiliar With and Substitutions:
Anaheim pepper – this is a mild pepper that is a couple notches spicer than the non-spicy bell peppers. Feel free to substitute with any fresh peppers you like depending on your family's tolerance and love of heat. Serrano peppers or more jalapenos would be more traditional.
Chipotle chili pepper – this is a smoked and dried pepper that adds a smoky flavor. You could add cumin, liquid smoke, chili ancho powder, or any smoked chili that you have available.
Arracherra - Mexican Fajitas
Ingredients
4 Inside Round Marinating Steaks (use flank or skirt steak if you can find it)


Marinade:
2 jalapenos
1 anaheim pepper
salt (I used wood smoked salt because I happened to have it)
chipotle chili pepper (this gives it a bit of a smoky flavor)
½ white onion
1 lemon
1 lime
2 cloves garlic
fresh ground pepper
10 oz mexican beer
Instructions
Chop the peppers, onions and garlic. I like using a food processor and adding the rest of the marinade ingredients. Otherwise you can just chop them well by hand and then mix with the other marinade ingredients in a bowl.
Poke the meat several times with a fork.
Add both the meat and the marinade to a large ziplock bag. Seal well.
Let the steak marinade in the fridge overnight.
When you are ready to cook, discard the marinade, and let the steak come up to room temperature for 20-30 minutes on a plate.
Cook on a high heat for 4-5 minutes per side. You want the steak to be medium-rare.
Let the steak sit for 10 minutes after cooking - this helps keeps the juices from running out.
Cut the steak across the grain into strips or into small cubes.
Serve like fajitas on tortillas with more traditional topping such as peppers, avocado, onions, radishes, pickled red onions, salsa or whatever your favorite toppings are.
Notes
Adapted from http://www.hispanickitchen.com/profiles/blogs/arracherra-borracha-marinated-grilled-flank-steak#.UzZOAqhX-uY
and
http://www.livestrong.com/article/460314-how-to-cook-arrachera-mexican-beef/