I wrote this post last year when I was feeling very exhausted and extremely pregnant. This year, I have an almost 1 year old, a 3 year old and a 6 year old. I feel way more comfortable but am still pretty tired. I loved this post so I thought I would repost it with a bit of an update. Our house is actually pretty similar to last year aside from three things.
1) The never ending piles of stuffies, books and baby toys which little Robbie loves to create. I keep thinking I should at least move the books, but it amuses him for a little while so I just keep putting them back on the shelf. More or less.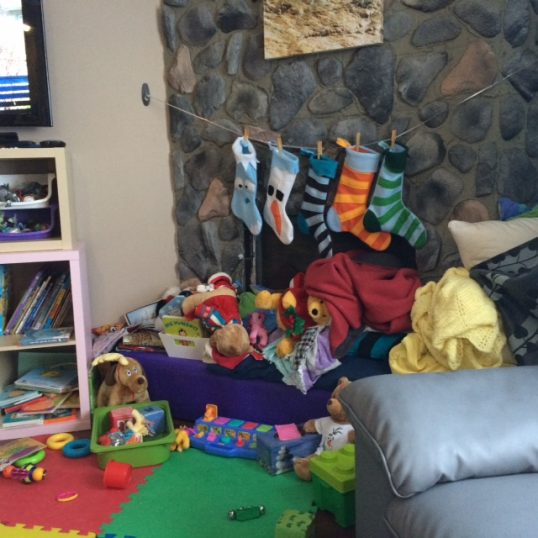 2) The Christmas tree has two large barricades in front of it. This has largely kept the tree safe although he is very determined to find a way to the tree from under the table.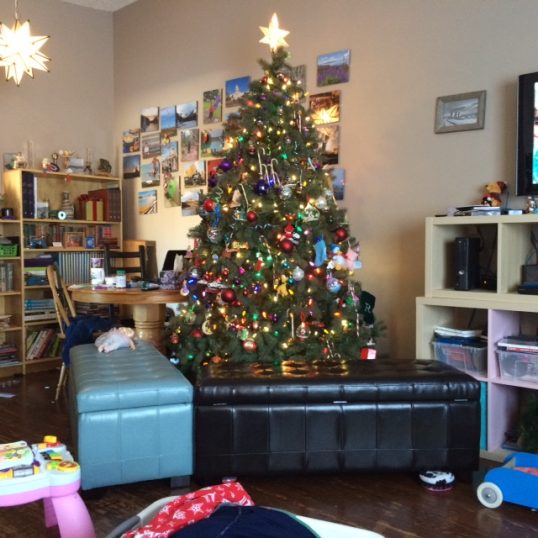 3) You can see any presents any where. I had no idea how much easier Christmas was with Spring babies. The first year they are just starting to get into everything and by the second year they are around a year and a half and have a little bit of sense.
And now here is last year's post!
A 9 Months Pregnant Mom's Christmas Home Tour
I don't know if you are familiar with a Home Tour. I didn't know anything about them until recently when I fell into a bad crowd. Of design bloggers. Honestly, they are lovely people. Many of these design bloggers do gorgeous home tours that showcase their beautiful homes that look straight out of a magazine, like my friend Jo-anna.
Now I know their homes don't look exactly like that all the time. I know the pictures were taken just after the house was cleaned and all the dishes and kids toys have been put away. I know that there are rooms that don't get photographed at all. But my house has never ever looked even remotely like one of those houses.
Now that I am preparing for Christmas while 9 months pregnant with a 2 and 5 year old my house looks even less similar. I have actually managed to  put up all the decorations already this year. But that's because I started really early because everything seems to take me forever right now. I wrapped all the presents over 3 days. And it's not like I did any fancy wrapping either. I literally wrote on the wrapping paper with jiffy marker. By the time I got to the presents from Santa… Well, let's just say that Santa should fire the elf that wrapped those presents. I've also reduced the number of decorations I've put up this year. In part because I'm having a baby in early January so everything needs to get put away right after Christmas and mostly because I can't manage to get some of the areas that I would put the decorations clean.
I thought doing a home tour of our home would provide a refreshing contrast to many of the Christmas home tours out there right now.
So come on in!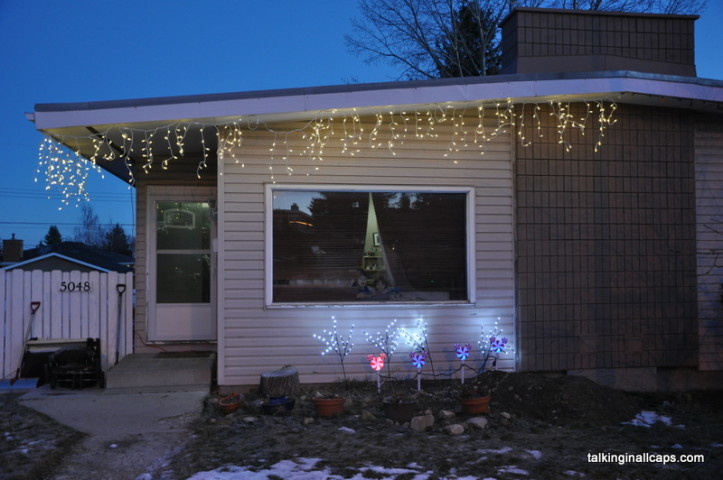 I actually really like our Christmas lights, but we're redoing the area in front of our window so right now instead of  a dying bush with pretty coloured lights on it like we had last year, we have a stump, a dirt pile and pots with dead flowers.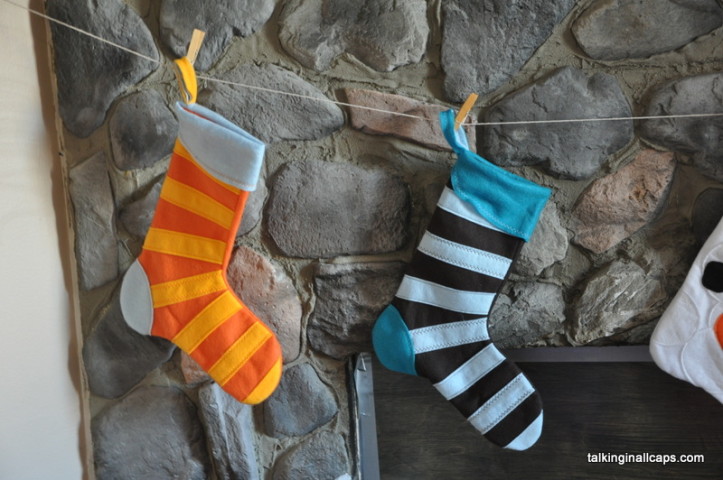 One of my favorite Christmas decorations is our felt Christmas Stockings from Etsy. We don't have a mantel on our fireplace and I have struggled every year with how to hang them up. I think this year I finally figured it out.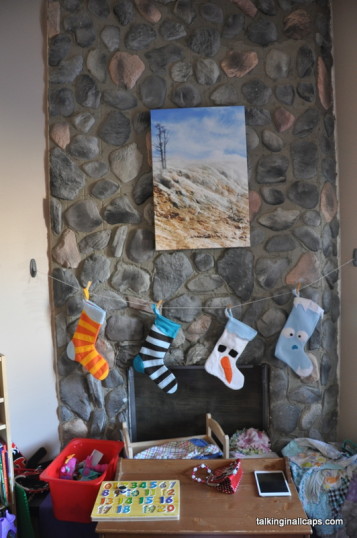 I attached hooks onto the wall on each side of the fireplace and hung the stockings up with clothes pins along a string. The fireplace itself has never actually been used. We currently have it blocked off with a piece of wood held in place with duck tape because it was so drafty. Classy I know.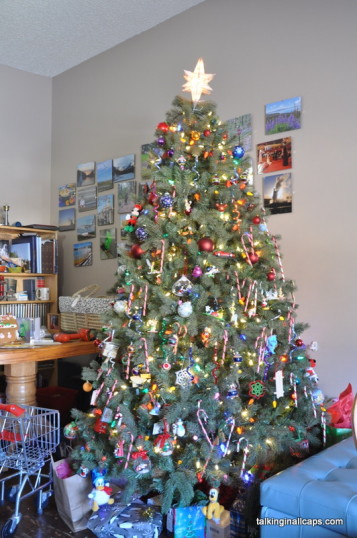 Our tree is beautiful and this picture really doesn't do it justice. We carefully placed it in the centre of the room because there wasn't any other place we could put it this year without blocking the TV. And we just can't have that. We have high ceilings so bought a tall tree. Two things to note: everything looks smaller in Costco and if you are ever buying a tall tree think about how wide the base is. We have tall ceilings but a small house!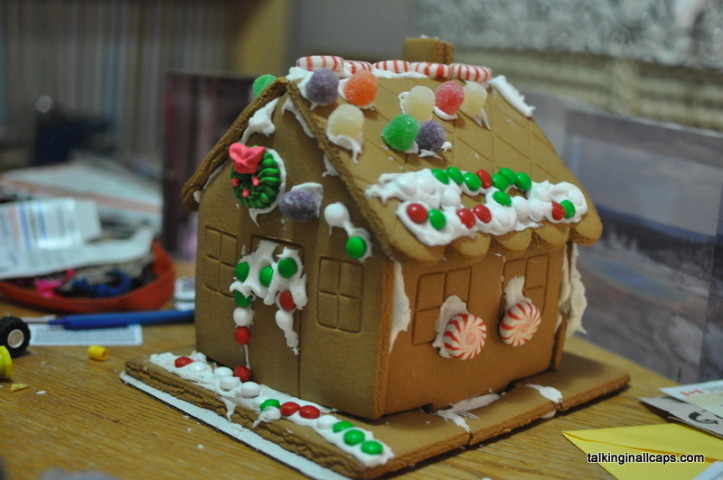 My son begged me to build a gingerbread house this year. I have no problem getting them to stay together but do not have much skill with using the icing for decoration.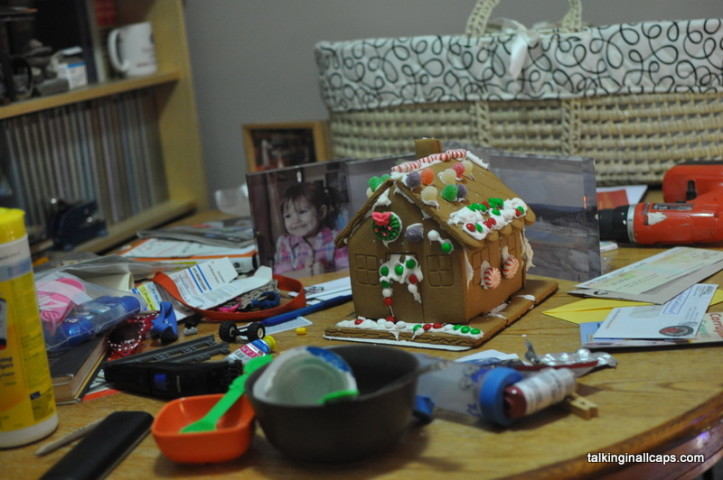 We are currently lovingly displaying it on our kitchen table amongst the mess which we can't seem to actually clear off this year.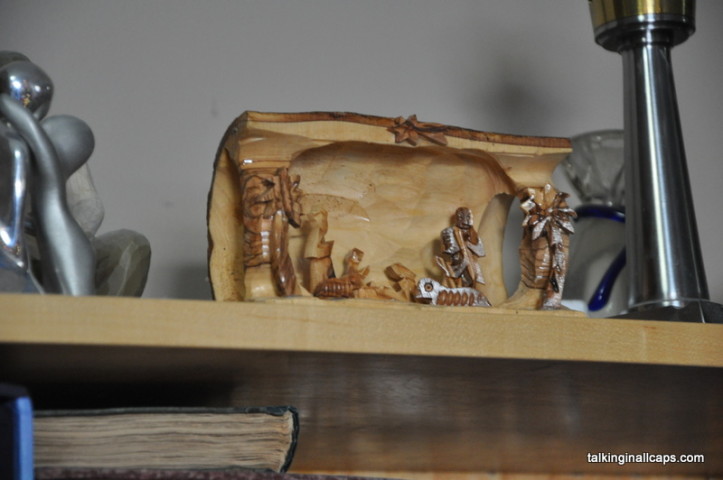 We tend to get a little something new each year for Christmas and this year's edition is a wooden nativity.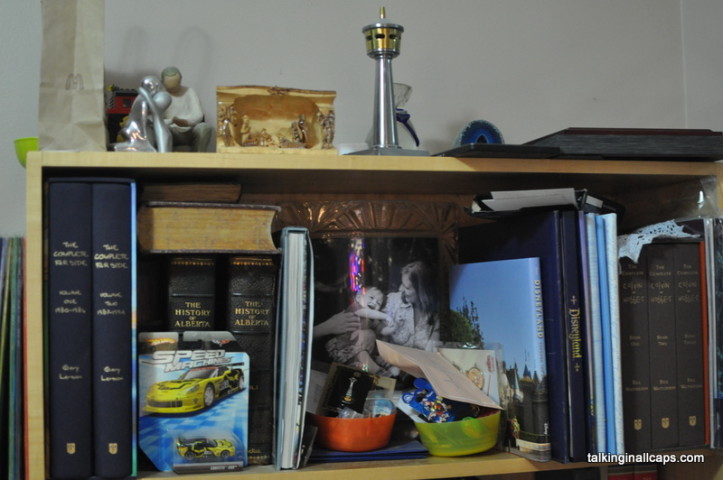 Which is basically lost in the clutter that is all over our bookcase.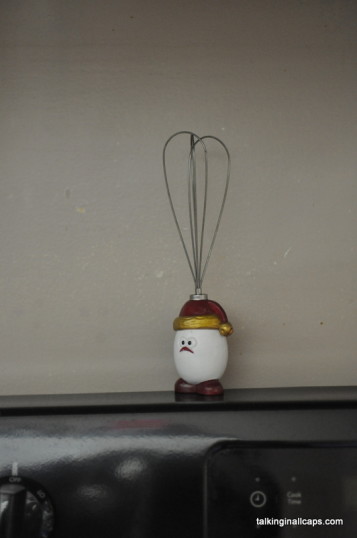 In the kitchen you'll find our little Christmas whisk.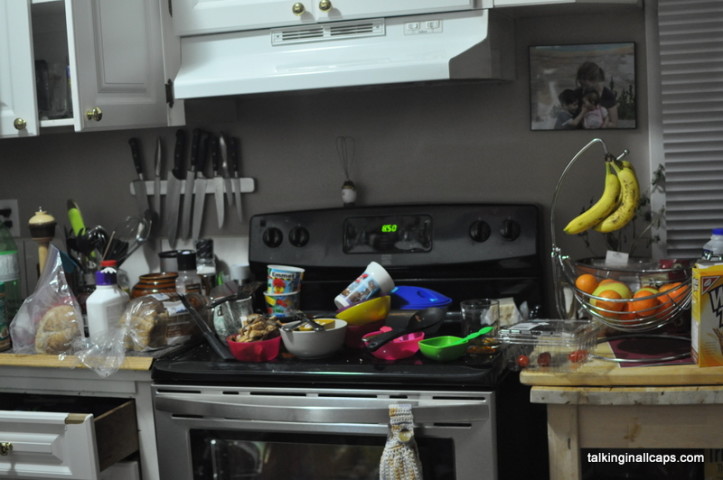 And typically a huge mess.

I decided to extend the string and clothes pin idea to our Christmas cards and I really love how it turned out.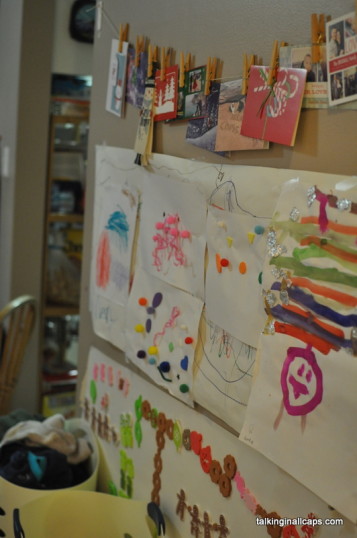 It's conveniently located across from the bathroom and above the overflowing laundry baskets. This is also the same space that I display the kids' artwork.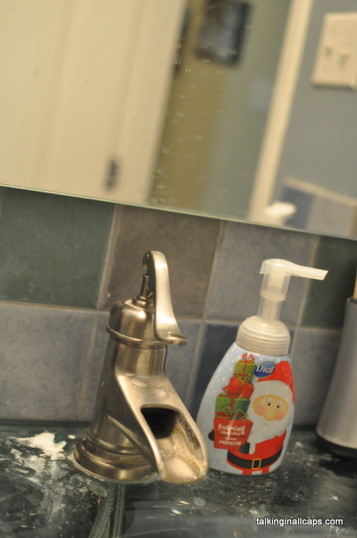 Inside the bathroom is our fancy Christmas themed soap dispenser.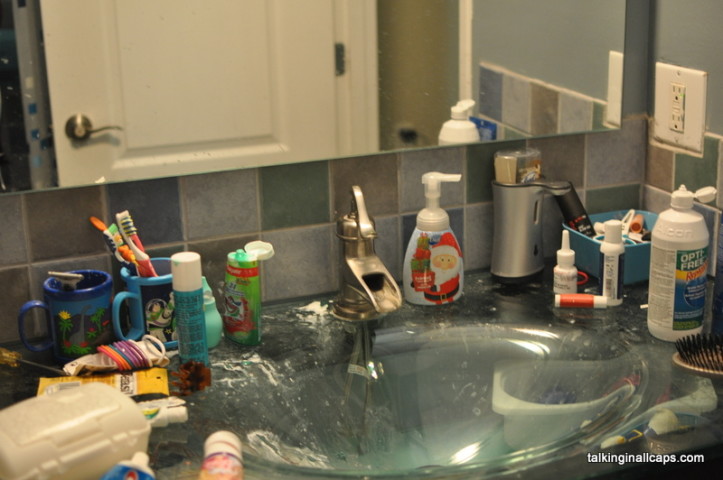 And clutter that I should really put away. And a lot of toothpaste and soap residue. I love this sink but kids sure make a mess of it in a hurry.  I have tried to take as-is pictures of our house for this home tour, but I really debated whether anyone actually needed to see this. I'm pretty sure the answer is no, but it saved me from having to clean it up right now. I"ll get to it. Eventually.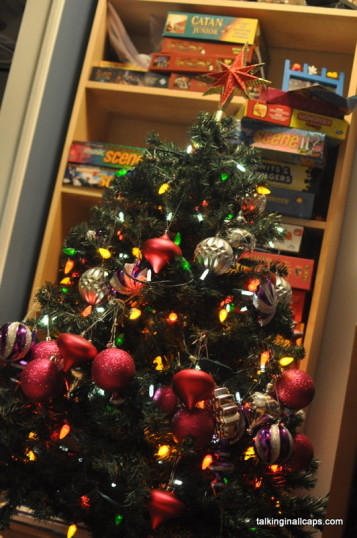 We have a second small tree from our first house that we let the kids decorate this year.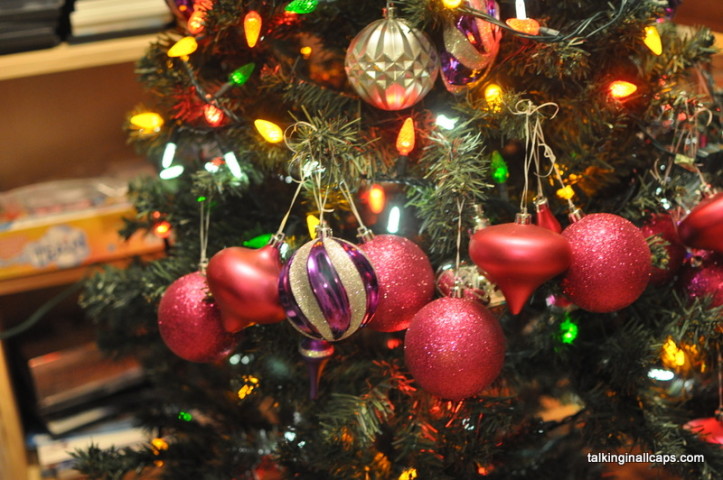 It was pretty adorable to see how they put the ornaments on. There is a ring right at 2 year old height where you can find all the pink ornaments.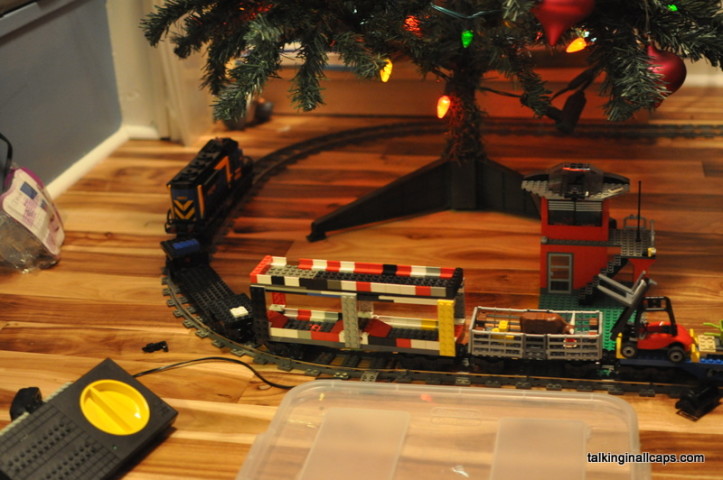 Below the tree we have a Lego Train set up. We have a Lego Christmas train for it too, but my husband's nerves can't handle the kids playing with it without supervision and I am way too tired to do that job so it only comes out when he's able to watch them with it.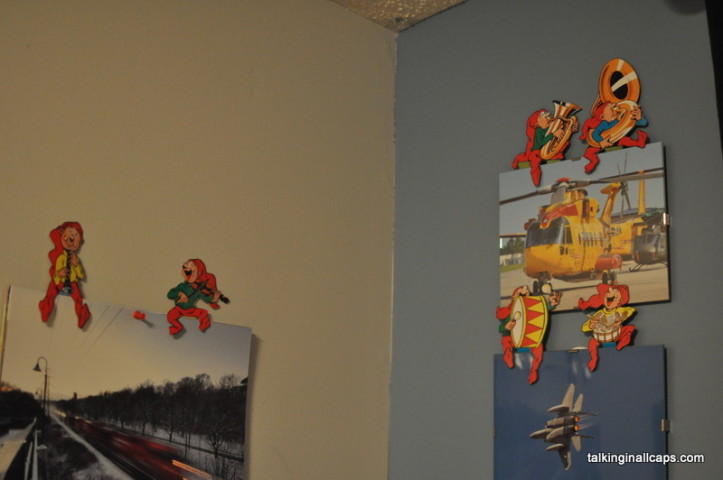 One of my favorite Christmas traditions is the Danish kravlenisser or Crawling Elves (we just call them Nisse). This are a little bit similar to elf on the shelf. They are paper elves that pop up around your house and move around at night. For some reason one year I decided that we should have a new one come out each day in December until Christmas and that they should all move around each night. I have no idea why I set the bar so high. This year, the Nisser are much more likely to hang out in groups so I don't have to find new places to put them.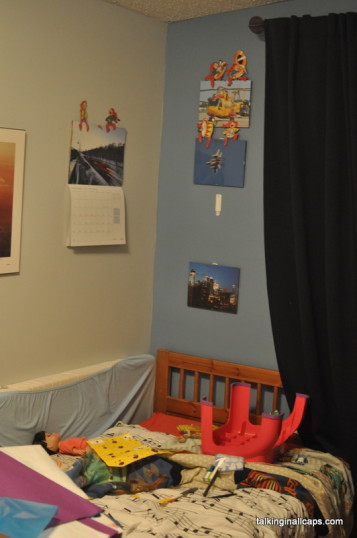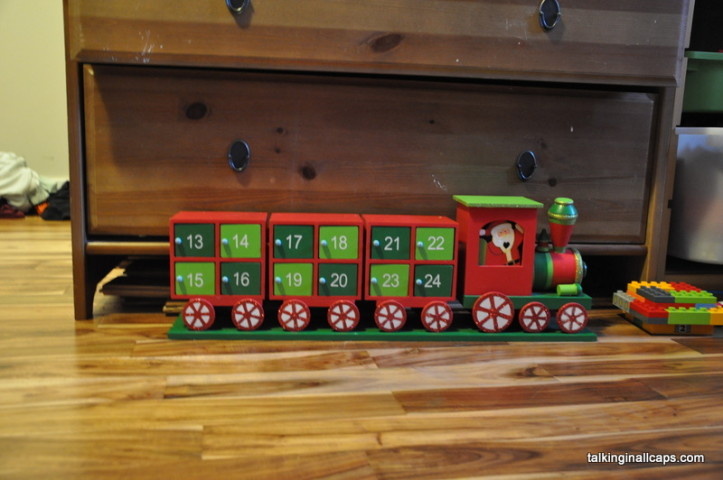 The Nisse also bring the kids candy for their advent calendar. Which this year is located on the floor next to their dresser full of dress up clothes.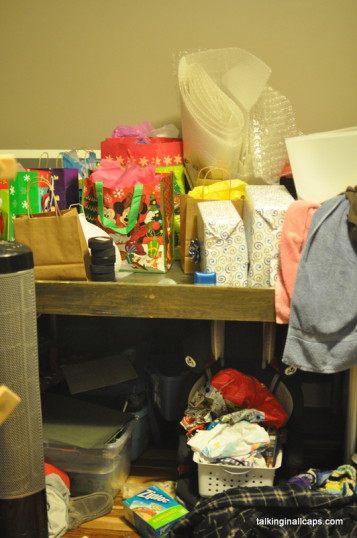 The presents that don't fit under the tree are stuck on a table in our back bedroom. surrounded by more mess.
So that's our house this year. Yes, there are some rooms I've skipped. All you will find there is more mess and no Christmas decorations of any kind. Even though our house is far from perfect this year (not that it is anywhere near perfect other years) and I am exhausted, our kids are still enjoying our decorations and loving our Christmas traditions. I've found that letting go of some of the expectations I have for myself is making me happier too. Christmas dinner this year is going to be a no cook, order in pizza dinner. It'll be different, but I think it's going to be great just the same.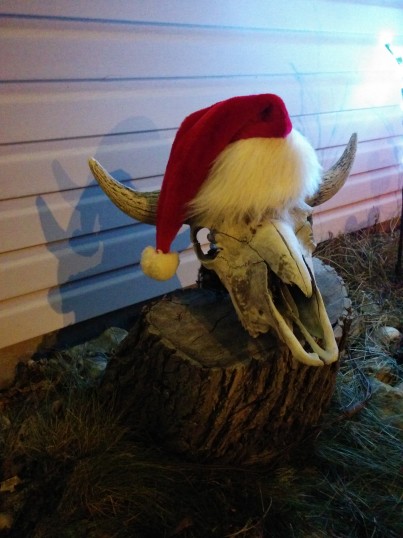 Merry Christmas!