Sarah of Salus Fitness recently offered to let me try out her personal training services. I was initially intimidated, and wasn't sure if I wanted to do it. I didn't have any experience with having a personal trainer and I wasn't sure if I could handle the dynamic of 1 on 1 attention while I worked out. I generally shy away from the spot light and am not the most coordinated. It came at a good time for me though so I said yes despite my reservations. My daughter is now over a year old and I really needed a kick start to get back into exercising. I've lost most of the weight I gained while pregnant but am far from fit.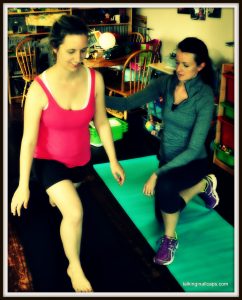 Sarah is passionate about helping women not just lose weight but be strong. She is a mom and has two young kids too. She knows what it's like to need to lose weight or be out of shape and the challenges that mothers face to find time to exercise. She organizes her workouts to be short (generally 45 minutes) but vigorous. They contain strength training, interval training and some stretching too.
At Salus Fitness, Sarah provides a number of different training options, including individual training at her home or your own home and year-round bootcamps in SW Calgary.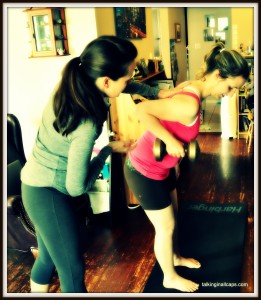 We decided to do a few sessions of training in my home. I had my brother come over to watch the kids which wasn't a huge ask because it was only for a total of about an hour. When Sarah arrived for her first session she immediately put me at ease. Her supportive and encouraging manner helped me push myself way harder than I ever would on my own. She made sure that I wasn't pushing myself so far that I was going to hurt myself and if something was just too difficult for me (like push-ups) or too easy (this wasn't actually an issue but she gave me ideas for the future) she was able to modify my workout to better suit my needs.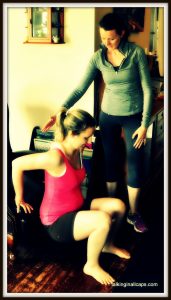 At the end of our sessions Sarah gave me a personalized workout that I could do from home. I'm still working on being able to do a proper push-up, (okay a proper modified push-up) but I have a great start to getting myself back in shape. I would absolutely recommend her to my friends and family and will seek her out if (or more likely when) I need another fitness boost in the future.
You can find out more about Salus Fitness and what bootcamps Sarah is currently running at http://salusfitness.ca/
Disclaimer:  The training sessions I took part in by Salus Fitness were complementary, but as always, impressions and opinions are my own.