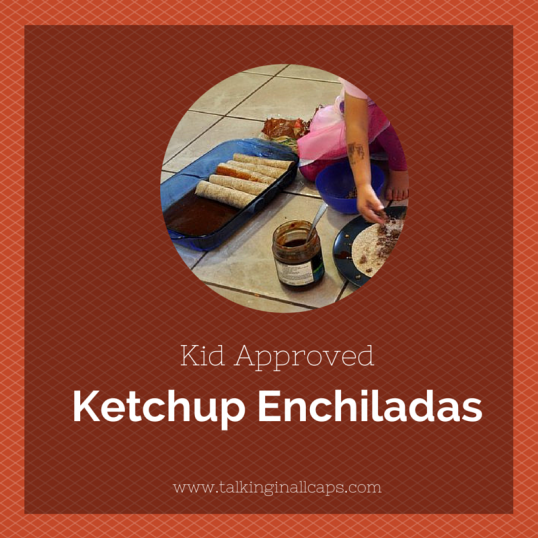 I think my kids are generally pretty good eaters, but they are not the most adventurous. I was going to make enchiladas for my husband and myself but knew there was no way the kids were going to eat them. Gordie doesn't like anything spicy and the kids are both suspicious about food where the ingredients seem hidden and mysterious. 

So I decided to see if I could make enchiladas that the kids would eat and to let them help me make them so they would know exactly what was in them.
Although the pictures look fairly serene, I find cooking with two young kids to be a little chaotic and often just on the edge of disaster. This is more problematic with baking, if you end up spilling your bowl of ingredients on the floor, all your measurements are off. With cooking, aside from a mess and some lost food, the risks are low.
Enchiladas are perfect for little hands to help make because all of the cooking is done in the oven. You can prepare them where ever works best for you. In our house we do a lot of floor cooking. Our kitchen is fairly small and has very little counter space. It's just not conducive to having extra help. The other benefit of floor cooking is that I just need to clean the floor afterwards – not the floor and the counters and maybe the cupboards too.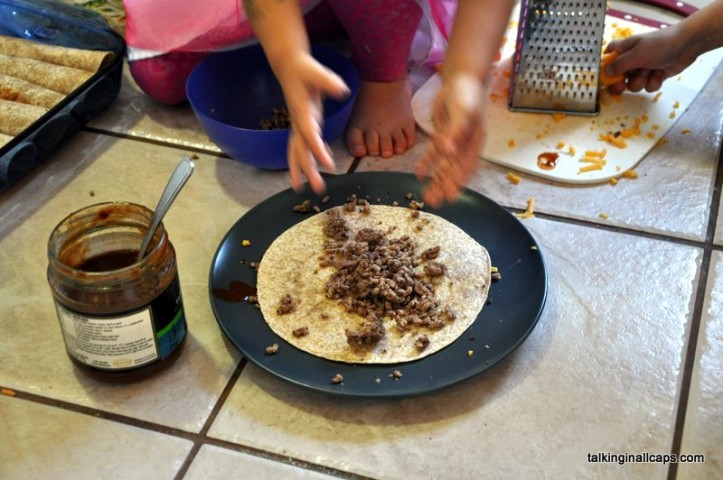 Gordie (5 years 0ld) grated the cheese and Nicky (2.5 years) and Gordie both helped fill the enchiladas and drizzle the 'sauce'. In the end, I wasn't totally sure it would work, but both kids happily ate an enchilada for dinner and then other for lunch the next day. I am definitely calling it a success.
Although these enchiladas are pretty different from what you would get at a mexican restaurant, it's still a step in the right direction. Sometimes expanding the 'acceptable' for little kids can take a few compromises. Now that the kids have decided that this presentation of food is okay, at some point we can start experimenting with different kinds of sauce, different kinds of meat and adding some veggies they like.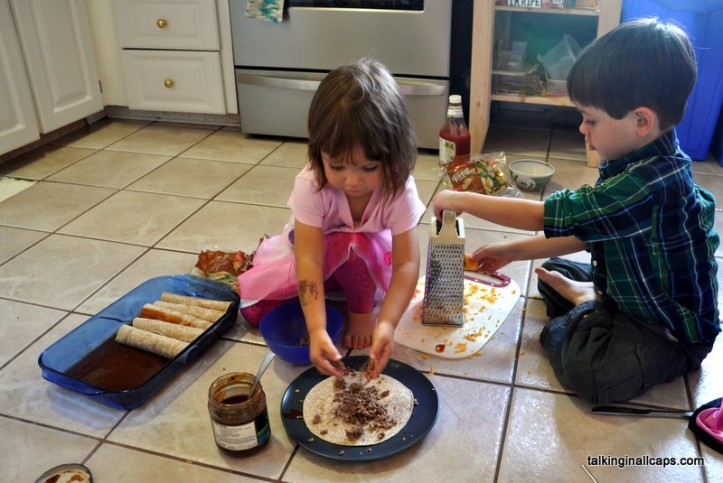 Kid Approved Enchiladas - Cooking With Kids
Ingredients
1 package small whole wheat tortillas
Cheese
Ketchup
Cooked ground beef
Instructions
Line a casserole dish with ketchup.
Lay a tortilla on a flat surface and top with a small scoop of cooked ground beef and shredded cheese.
Squeeze a little ketchup on top.
Roll the tortilla keeping the ingredients inside and lay in the casserole dish seam side down.
Repeat for as many tortillas as you want to make.
Squeeze ketchup on top of the rolled tortillas and sprinkle with cheese.
Bake at 350F until the cheese is melted and the edges of the tortillas are crispy for 20-35 minutes.