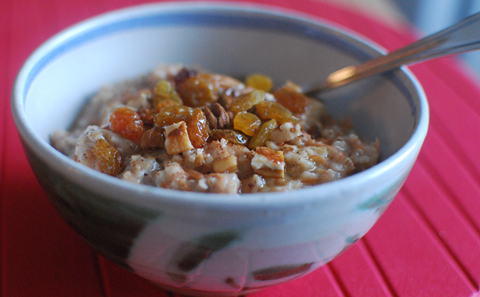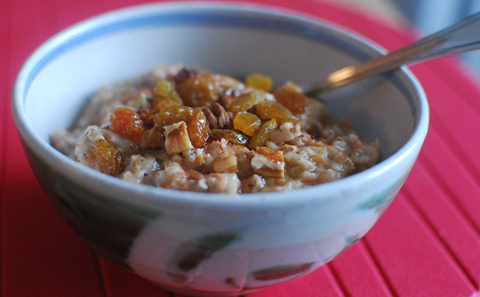 I got the inspiration for this dish from Oh She Glows (great vegan recipe ideas). I thought the concept would be perfect for the slow cooker and simplified it so it would be easier for me to throw together before bed.
I'm really pleased with how it turned out. I would definitely recommend adding a little maple syrup (or your favorite sugar like substance) on top because that really takes it from good oatmeal to carrot cake. My husband liked it even though he always complains whenever I use pecans or walnuts. Gordie seemed to like it too even though it often rejects carrots recently. They didn't bother him at all in this. Bottom line – I will definitely be making it again because I loved it.

Carrot Cake Oatmeal–Slow Cooker Method
Ingredients
1 Cup Steel Cut Oats
2 Cups Water
2½ Cups Milk (I've tried skim and soy – both good)
2 cups of carrots finely grated (2-3 good sized carrots, I have used a coarse grate and it was fine, just not as good)
1 Tsp Cinnamon
½ tsp ground ginger
¼ tsp ground nutmeg
1 tsp vanilla extract
¼ cup walnuts/pecans (I always substitute pecans, I find them less bitter)
¼ cup raisins
top with milk and maple syrup
I think a little cream cheese mixed in would be great, but I haven't had a chance to try it.
Instructions
Place the first 8 ingredients in a crock pot and stir to combine.
Cook the oatmeal on "warm" for 6-9 hours (If I put it on low overnight half of it sticks to the side of the crockpot, you may be able to put yours on low overnight if yours doesn't run quite as hot as mine. If you don't have a warm setting reduce the cooking time or just deal with it).
When you get up, pop in the raisins and walnuts.and turn the heat up to low. Cook for 20-30 more minutes and serve with milk and maple syrup.
Photography Note: It is hard to take appealing pictures of goopy things. Toppings really help make it look more attractive.