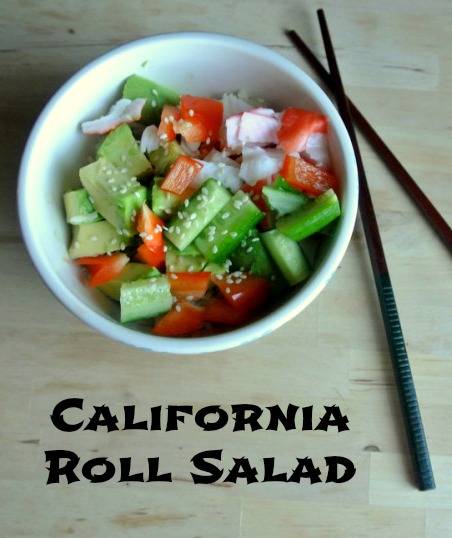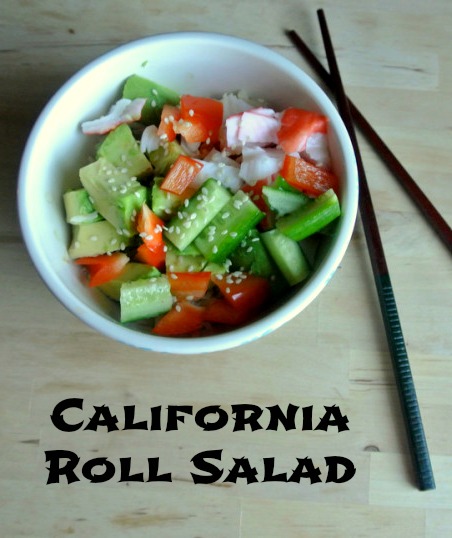 Some of you (including my mom) may dispute me calling this a salad. If it makes you feel better, go ahead and call it a rice bowl. No matter what you call it – it is delicious. One of the things that is great about doing it as a salad is that you can customize it for your family. My kids both love California Rolls but Gordie always pops out the avocado and cucumbers (even though he will eat them both by themselves). This is also way easier than making actual california rolls and requires no special technique or even special rice. You can use sticky rice if you want, but you can use your family's favorite kind of rice and it will still work perfectly.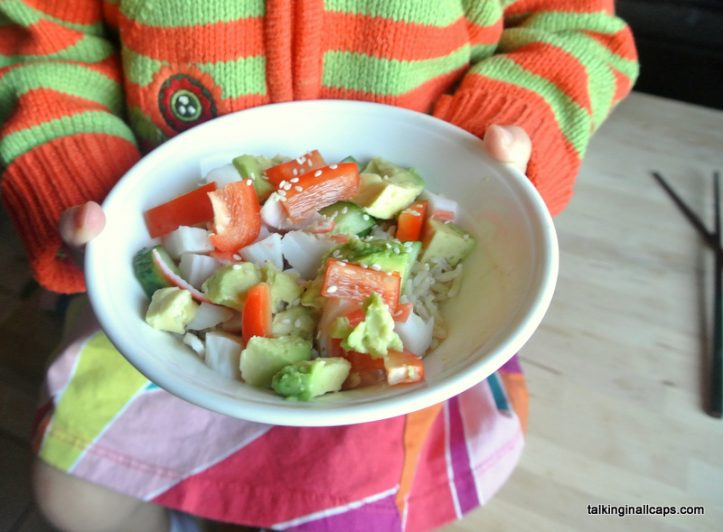 Salad #39 – California Roll Rice Salad
Ingredients
2 cups cooked rice (I used brown basmati)
1 avocado
1 red pepper diced
½ cucumber or 2 small cucumbers diced
1 package imitation crab (or if you are feeling fancy you can use real crab)
Sesame Seeds
Dressing
1 tsp mayo
2 tbsp rice wine vinegar
1 tbsp soy sauce
Instructions
Whisk dressing ingredients together in a small bowl.
Mix rice, red pepper, cucumber and imitation crab.
Top with avocado, sesame seeds and dressing.
[amd-zlrecipe-recipe:14]


 Did They Eat It?
Nicky: Loved it. Yelled "hey!" when I took the bowl out of her hand.
Stephen: Good.
Dana: I thought it was great. I love California Rolls and this is a much easier and cheaper way to get a similar flavor.