It turns out I am not the only one whose house doesn't look like a magazine. My friend Katie writes short book reviews that don't pull any punches over at Brass Knuckle Book Reviews. She decided to do a Christmas House tour too. Check it out! 
I love drooling over the beautiful Christmas house tours that are on Pinterest and some of my favourite blogs at this time of year. But, like Dana, my house looks nothing like that. There are not even small sections of my house that look like that.
Unlike Dana, I don't have the excuse of being 9 months pregnant. I'm just an average mom, and I think my house looks like an average mom's house at Christmas. It's not messier than everyone else's, right??
Here's my Christmas tour!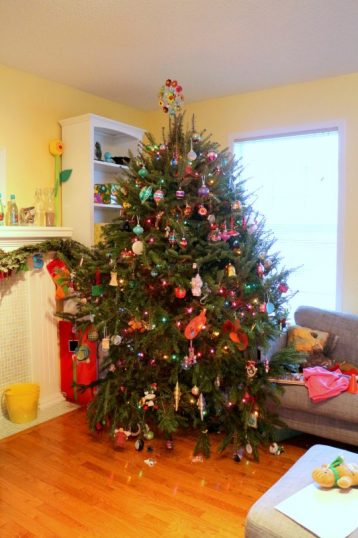 This is our tree. I may have over-estimated the space we had available in that corner. It's also about to fall over because my husband did not anchor it to the wall like I asked him to. It's totally blocking our access to toy storage in the corner, but I still love it.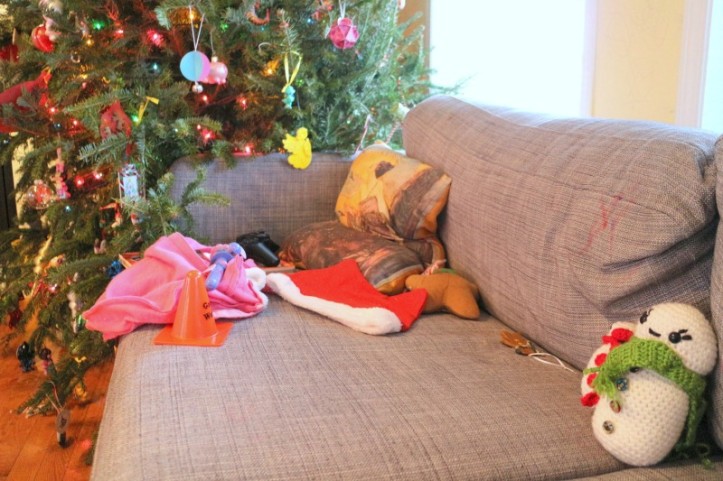 In this shot, you can see the tree encroaching on our couch like a triffid. We also have another festive pile of Christmas stuff here. And one of the kids has added some joyful red marker to the couch, clearly to add to the Christmas spirit of our home. There's also an ornament on the couch. The kids and the cats keep taking them off, which is making me crazy.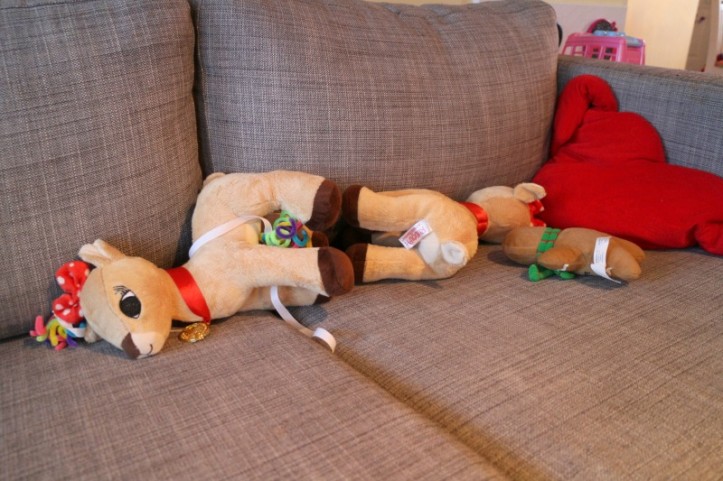 On the couch, we have a festive assortment of Christmas stuffies. They have clearly been arranged with special care.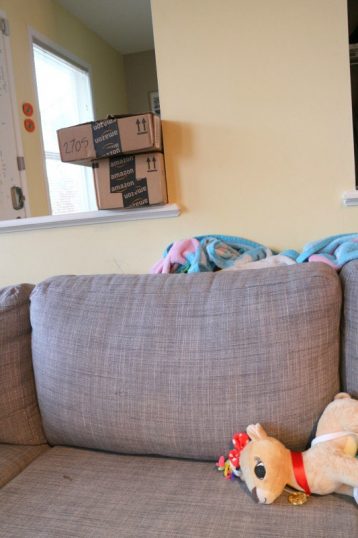 Just above the stuffies, I have some unopened shipments of Christmas presents on display. I haven't managed to get them down to the basement yet, much less wrap them.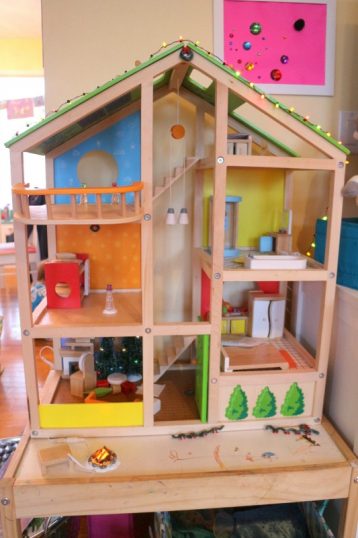 We got some tiny lights and a teeny fire pit for the dollhouse this year, which I think looks insanely cute. You can also see the wreaths and garland sitting on the table here, because the sticky stuff that I used to put them on the house was not sticky ENOUGH. I've been meaning to find an alternative, but I'm really busy watching the tree slowly tip over.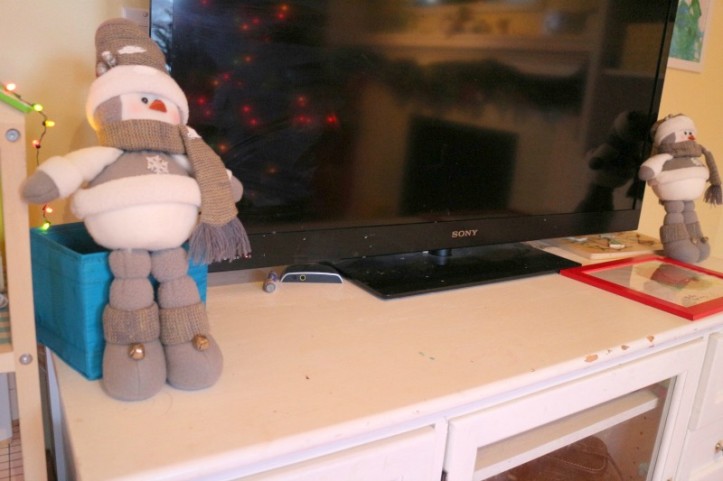 We also have some festive Christmas penguins. These are flanking the focal point of our living room, our TV.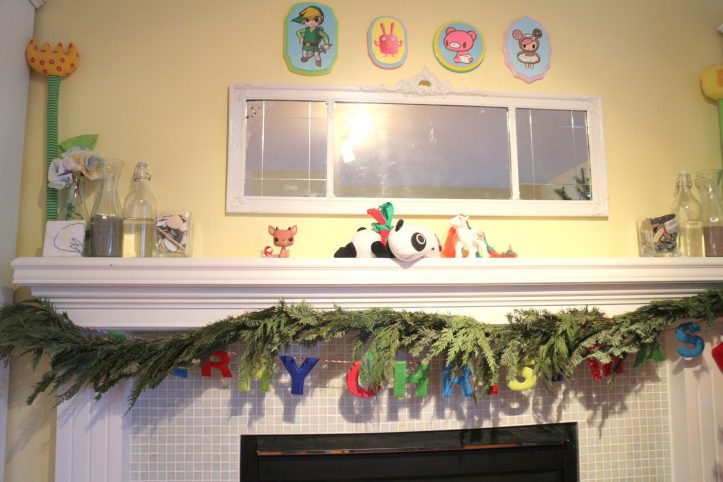 Here is our Christmas mantle. I shoved our regular mantle things to the sides, and then put some of my Christmas toys up there. I bought the garland this year, and I meant to put it ON the mantle, but I can't figure out how to make it stick. This is a recurring issue with me, apparently. So instead, the garland is hanging right on top of my "Merry Christmas" banner from Target.
You may have noticed that we don't have stockings. My daughter is four this year, so I think she's finally old enough to notice. I need to buy some. It's the 21st of December, and I still haven't gotten around to this.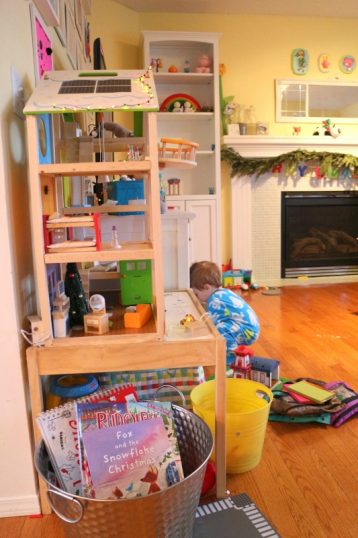 In this shot, you can see the giant silver bin where I keep our Christmas books. I always have books readily accessible for the kids, because I'm a librarian like that.
You can also see some additional mess here. I cleaned yesterday, so this is at least 75% less messy than usual. But you can still see the white paper stuck to the floor where the kids spilled something on a colouring book.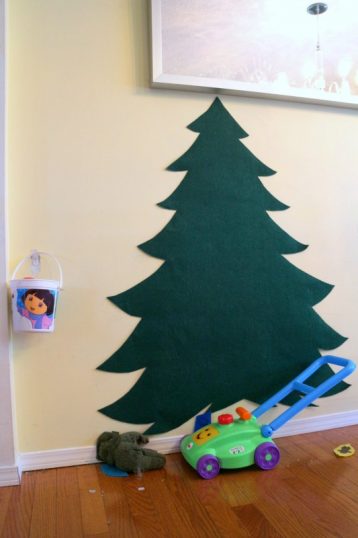 I made this tree out of felt, and then I made felt ornaments to stick to it. The kids actually never play with this incredibly thoughtful DIY project, because the ornaments don't stick as WELL as they want. I put it up anyhow because I am proud that I actually MADE something that I saw on Pinterest.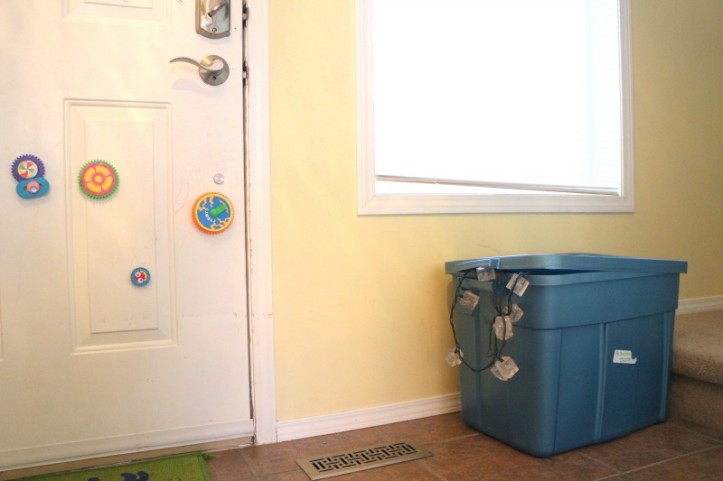 This is a shot of our exterior Christmas lights. As you can see, they are still sitting in a Tupperware bin by the front door. Again, today is December 21st. I would like to get them up before Christmas, but it's not the end of the world if it doesn't happen this year.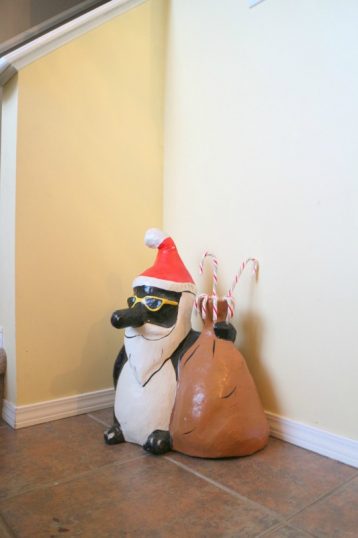 My husband bought this Christmas penguin from Earl's 20 years ago. It's paper mache, and it was made by someone who doesn't know what a penguin beak looks like. But I still love it. We put candy canes in his Santa sack every year. We then find small pieces of candy cane stuck to furniture and floors for the rest of the season.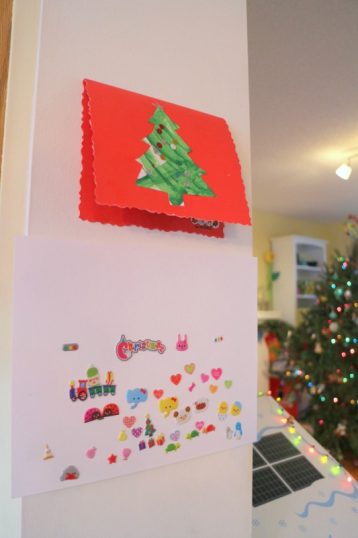 I have a whole Pinterest board dedicated to ways to creatively display your kids' art work. But I still just tape it to the wall.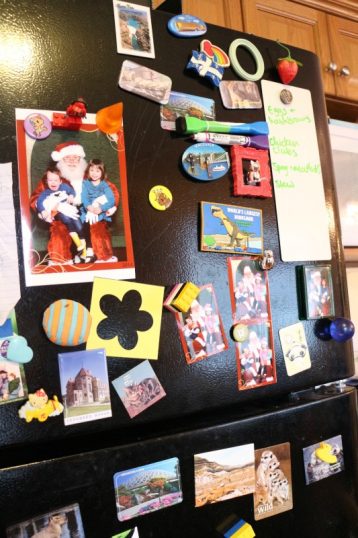 Our Santa photos are on the fridge, because… what do you do with Santa photos? I have never been able to figure this out.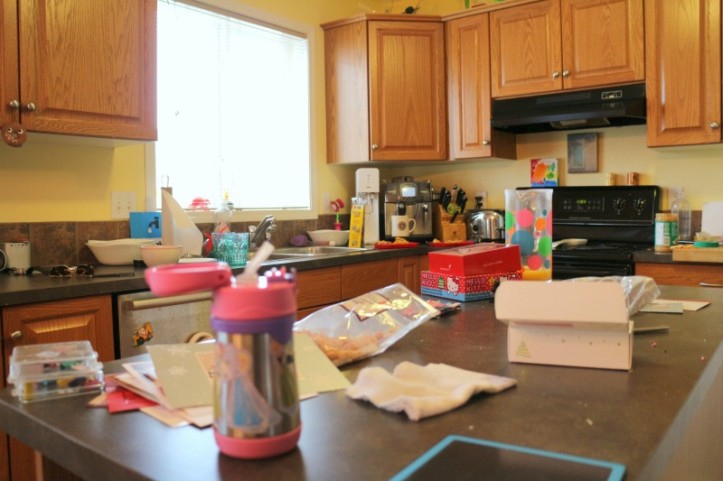 Here's a shot of our kitchen, where the décor includes some festive Christmas treats lovingly tossed on the counter for people to snack on. You have to search through the rest of the mess though, so it's a fun challenge.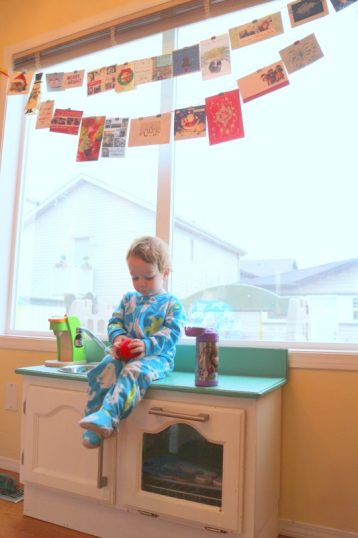 This is our Christmas card display, and I actually love it. I just took put of those stick-on Command hooks on either side of the window, and tied a couple of long ribbons to them. Then I used small binder clips to attach the cards. For the rest of the year, I hang some of the kids' art here too.
That's it! If you don't have any lights up, or don't own stockings, you are not alone. And I'm pretty sure our kids won't be irreparably harmed. Messy Christmas! I mean Merry.