Thanks to Shaw Communications for sponsoring this article
We've been long time Shaw customers and have had a PVR for a long time as well. We had been using Shaw's Gateway system which I have liked but found the menu navigation to be a bit clunky and it had a few frustrating features (like no input button on the remote). I had heard about Shaw's new BlueSky TV system but I wasn't sure if I actually needed something better. When Shaw offered to let us trial BlueSky TV I was pretty excited to see if it was really as good as they say and to be able to help you decide whether it's right for your family too.
We've only been using BlueSky TV for a couple of weeks, but I wanted to share our first impressions and what it's been like to get used to using it.
Voice Commands
I've been really impressed by the voice commands. Setting our new recordings was super quick because I didn't have to spend forever typing in the titles. I could just tell the remote what I wanted and up it appeared. You can also consistently use the voice commands from just about anywhere which makes using it really effortless.
I was a little wary of the voice commands, but I've found them to work really well. It can even understand my 5-year-old when she's talking like a baby instead of using her big girl voice.
Speaking of kids, it's made it way easier for my kids to access the things they want to watch. They can ask the remote for Disney Junior or Treehouse or to go to the KidsZone (more on the KidsZone below) and don't need me to set it all up for them.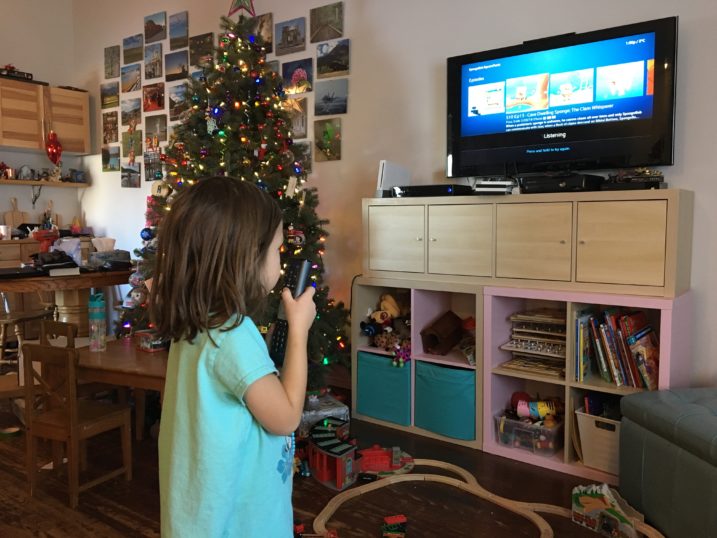 Content Integration
The voice controls are great, but the content integration is what I've been most impressed with. You can access your regular cable channels, recordings, Shaw On Demand, Netflix and CraveTV all from the same menu.
For example, if you searched for Grey's Anatomy, you will find the first 13 seasons that are on Netflix, the current season On Demand as well as your PVR recordings. In the past, I would rarely use Shaw On Demand because I found it to be too much effort to find what I wanted. Now we use it all the time.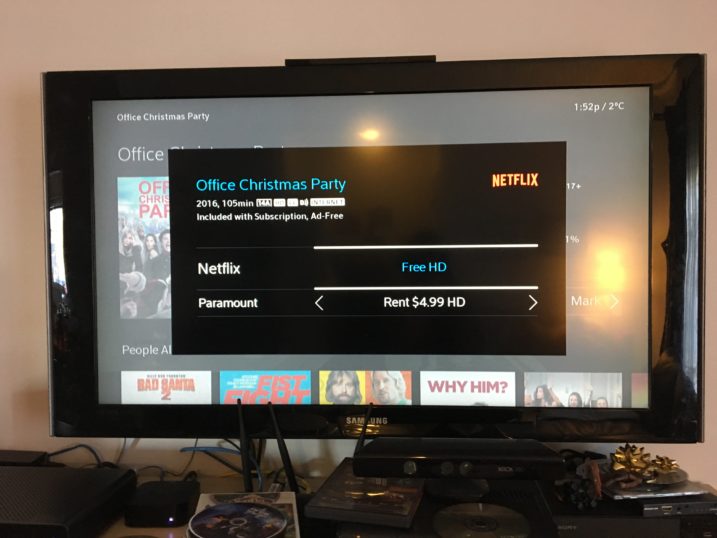 KidZone and More
We have a 3-year-old, 5-year-old and 8-year-old so the kids' programming and access are big considerations for us. With BlueSky TV and the KidsZone, my bigger kids are now able to use the voice controls to get into the KidsZone and then access programming that's appropriate for them. My 8-year-old mentioned how much he likes being able to access On Demand episodes of his favourite shows.
KidsZone can be customized for what you want your kids to see – you can limit it by channel, age, rating and even eliminate specific shows if you can't stand your kids watching them (I'm looking at you Caillou).  The KidsZone is a little difficult to get out of, especially if you're not used to it, but that helps make it so the kids don't exit accidentally. 
You can also set all kinds of parental controls in the settings. For example, you can set a code for On Demand purchases (but still allow access to free shows) or limit how long the TV can be on.
Navigation
I was a little concerned that the non-voice control navigation would still not be very good (this was one of the things I disliked the most about our Gateway system). But I have been pleasantly surprised to find that this has vastly improved too. One of the only things I'd like to see changed is that it currently doesn't hold your place very well when you go back to a show you've been binge watching, so you have to scroll down to the right episode.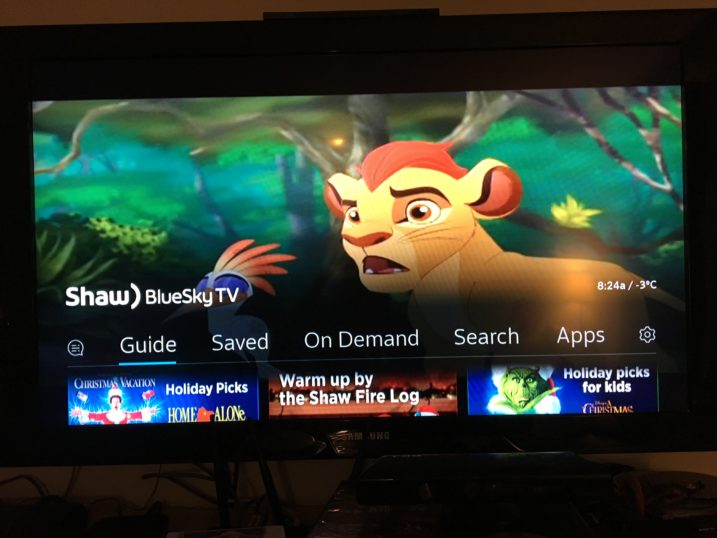 Sports App
The new sports app is also a big improvement. I cannot tell you how many times we've been scratching our heads trying to figure out which channel the Flames game is actually playing on. Now it's easy to find what sports are currently playing or pull up the upcoming games. You can 'favourite' the teams your family likes to watch to make them even easier to find.
There are a lot of other features too, like being able to see stats or game scores while keeping the game you are watching on screen at the same time. One of the new features I really love is being able to set a reminder for when a Flames game is coming on. I don't want to record every game but we like to see them when we're home so the reminder is perfect.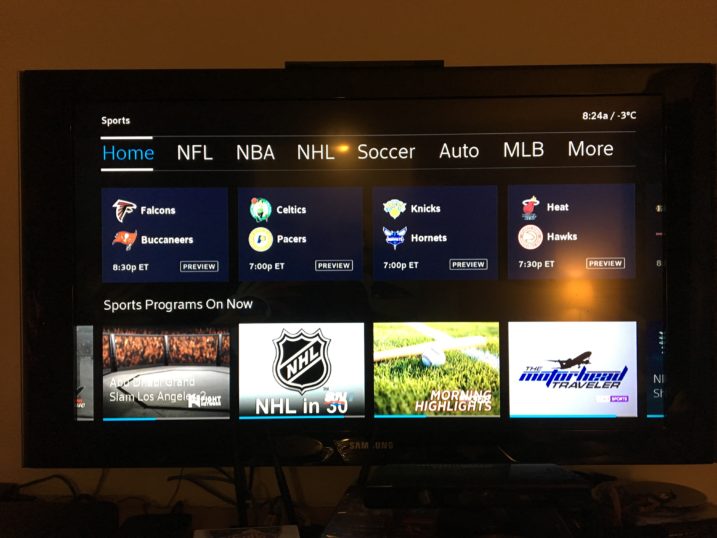 Overall, we've been really impressed with how easy BlueSky TV has been to get used to and are loving some of the new features. We're looking forward to trying out BlueSky TV more over the next couple of months and will be reporting back to let you know how it goes.