Quite honestly I hate cleaning. Almost as much as I hate folding laundry. But unless you are someone who would be a good candidate for a horrifying reality TV show, you can't put it off forever. If I'm going to suck it up and actually do some of the cleaning that I've been avoiding I want it to be as easy and quick as possible.
This spring, I'm using OxiClean™ Versatile Stain Remover as part of my Spring cleaning routine. I had a baby this January. This Winter has seemed endless and my enthusiasm for cleaning has been… low to say the least. But I am starting to feel more like myself again. Which means I still don't' really want to clean, but think I should at least a little.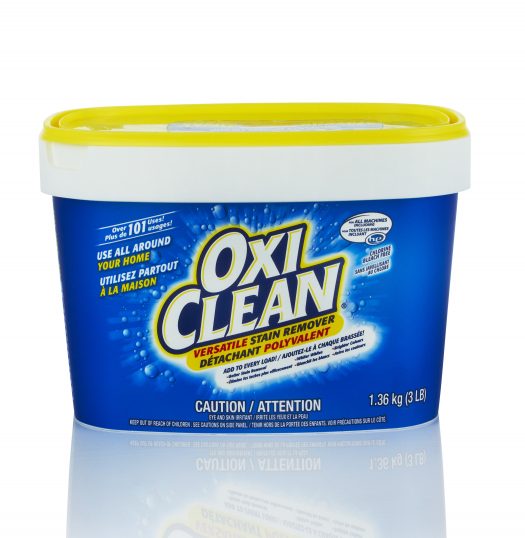 Here's my Spring Cleaning list and how I'll be tackling it this Spring.
Clean the Entryway Mats – I don't think about cleaning my entryway mats very often. And it shows. After suffering through the snow, slush, sand and road salt my mats are looking a little worse for wear. Apparently they not only look bad when they are like this, they don't work as well either. Which makes the muck and mud of spring more likely to track into the rest of the house. I'd like this mess to stick to the entryway so I'll be soaking them in warm water with a scoop of OxiClean™ Versatile Stain Remover for 6 hours and then washing it out. (Remember to always follow manufacturers care instructions.) 
Sorting Through Clothes – I've already started this process but I have a long way to go. The summer clothes are being checked for size and the winter clothes that the kids haven't outgrown will be washed and put away. Winter jackets in particular always seem to get really grimy so I'll be pre-treating those with OxiClean™ Versatile Stain Remover to help really get them clean.
 Organizing Cupboards – Cleaning the parts of your house behind closed doors is usually a low priority. Who can see it anyway? But when those areas of the house are in order, I know it makes it way easier to keep the other areas from getting messy. Hopefully that will help with my counter top problem. And my buffet problem. And my kitchen table problem. (What do you mean, you're supposed to use the kitchen table for eating?)
Cleaning up Outside – Our backyard didn't really get cleaned up before the snow hit. Let's just say it's a big of a mess. Now that it's nice enough to really enjoy hanging out in the yard again I have some work to do. I'm going to organize the toys and get rid of the broken ones, clean the patio furniture and put the chairs and things where they belong for a summer of playing outside and having barbecues.
That's what's on my spring cleaning list right now, what's on yours?
OxiClean™ has numerous products that can help you around the house including OxiClean™ Liquid Laundry Detergent, OxiClean™ Extreme Power Crystals™ Dishwasher Detergent Paks as well as OxiClean™ Versatile Stain Remover.
I am a brand ambassador for the 2015 year with Church & Dwight. As part of this program I receive monetary compensation as well as products to review.