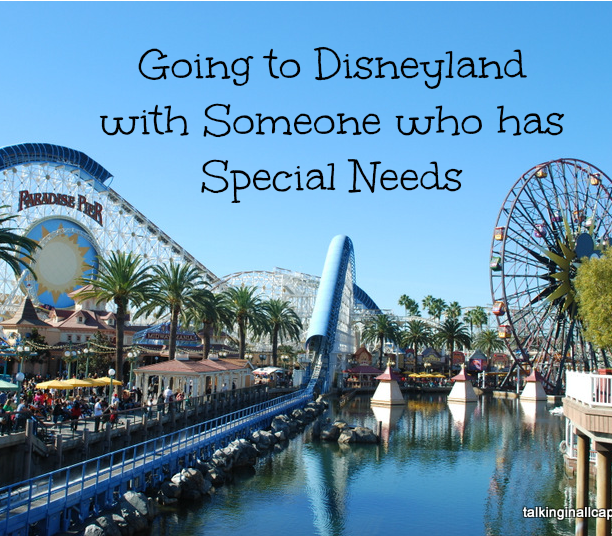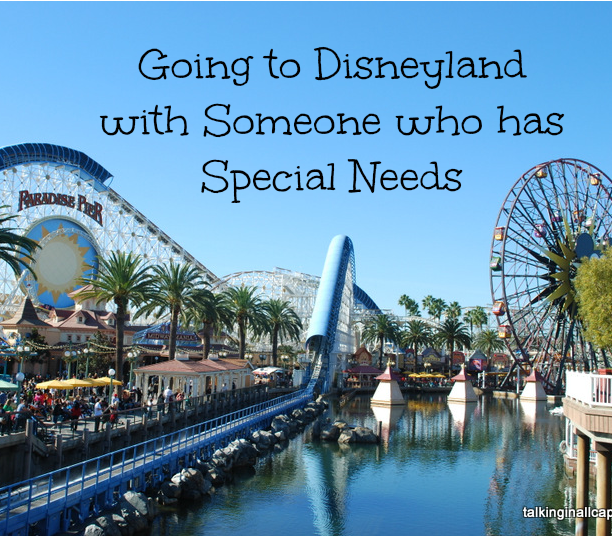 Disneyland is a great place to go if you have someone in your family or travelling group with special needs. Disneyland tries extremely hard to be inclusive and accommodating so everyone can have a great experience at the Disneyland Resort.
My brother, Geoff, has Cornelia de Lange Syndrome (CdLS), a rare syndrome that results in both mental and physical handicaps. Although he can walk short distances, he uses a wheelchair and would have difficulty waiting in long lines. His favorite place (okay, I'm going to be honest, it's also the only place) he likes to vacation is Disneyland. He loves the music, the familiar characters and being able to be brave in a safe setting. We've gone with Geoff to Disneyland a few times before the kids were born and my in-laws have taken Geoff a few times since. This year we decided to take a big family trip with our kids, Geoff, my mom, my brother and my mother-in-law and sister-in-law.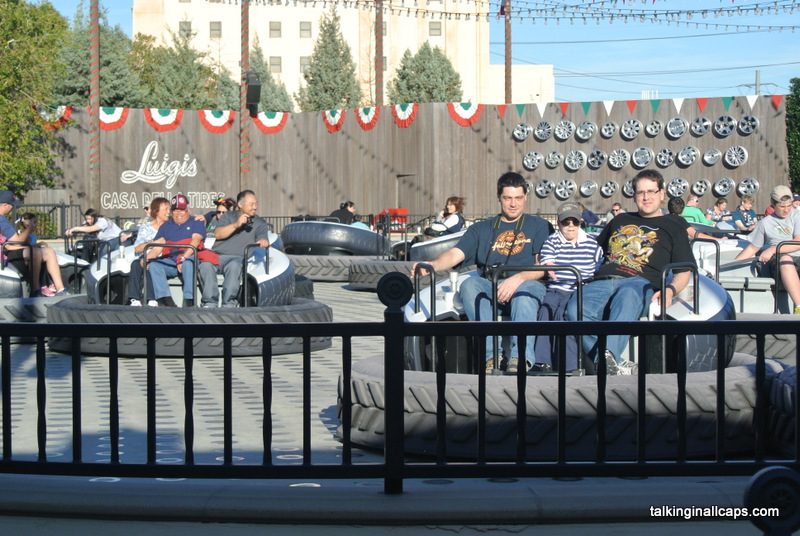 Things that make Disneyland a Great Place for Geoff:
Music – Music seems to be everywhere in Disneyland. Music really resonates with Geoff so he loves this. Some of his favorite moments have been just sitting and watching musical performers on the streets of Disneyland.
Safe environment to be brave – Geoff has a strong sense of self preservation and tends to be kind of fearful about trying new things. Being in Disneyland is a whole different experience. Disneyland provides a safe environment for Geoff to take risks and be brave that he gets no where else. He gets a little bit more brave each time he goes.
There is so much more than just the rides – The rides in Disneyland are great but even if you don't go on a single one there is a lot to see and do. There are daily parades, fireworks, musical performances, and live productions. There are also a number of walk through attractions and transportation style rides, like the train, riverboat and the historical vehicles along mainstreet.
Magic – It's a bit cliche but there really is something magical about being in Disneyland. It's an immersive experience in a beautiful magical world where you can spend all your time and energy focusing on your travelling companions.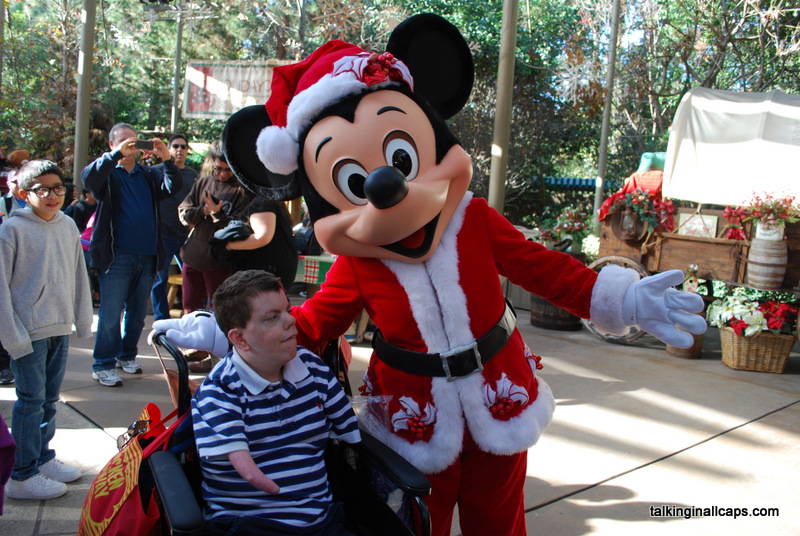 Other things to make your visit awesome
Quieter spaces – There are a number of areas that tend to be a bit quieter even when the park is quite busy.
In Disneyland: Mainstreet first aid, by the Winnie the Pooh ride in Critter Country, Tom Sawyer Island (requires going on a raft to access), Big Thunder Ranch in Frontierland, and outside of Roger Rabbit's Cartoon Spin in Toontown.
In Disneyland California Adventure Park: First Aid at Buena Vista Street, near Mike and Sully to the rescue in Hollywoodland, all areas of 'a bug's land', the world of color viewing area (when not in use for world of color), Redwood Creek Challenge by Grizzly Peak.
At non-meal times the seating areas of the larger restaurants are a great choice in both parks.
On most days the California Adventure Park will be less crowded and congested than Disneyland.
FASTPASS – Many popular rides offer the FASTPASS system where you can use your park pass to receive a specific return time for the ride instead of waiting in the whole line. This can be used in addition to the Disability Access Service Card.
Disney PhotoPass – At the character greet areas and other areas throughout the park you'll find Disneyland photographers who can take your photos and load it on a card. This makes it easy for to do what you need to do to get a great picture, including being in the picture, instead of trying to take the photo yourself. If your party ends up with multiple cards you can load them all onto one account. You can order pictures individually or get the whole lot on a Photo CD.
Food – Disneyland has recently revamped their food options making more healthier choices available and more variety of choices. I noticed many places listing foods as non-dairy and gluten-free as well.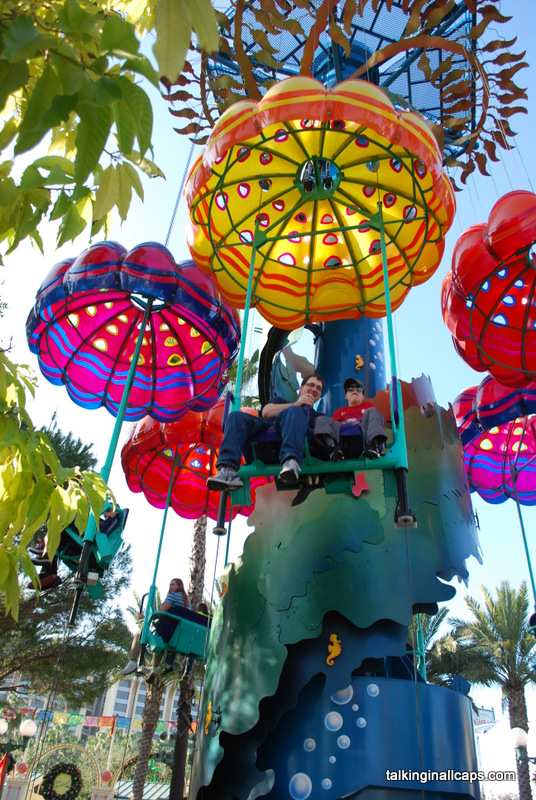 Services for Disneyland Guests with Disabilities
On the Disneyland website you can find strategies and services for different disabilities to help make your visit a success. They also have a guide that lists details of each attraction like whether the ride has loud noises or flashing lights.
Disability Access Service Card (formally Guest Assistance Card program)
You may have heard that Disneyland recently discontinued their Guest Assistance Card program do to rampant abuse of the system. Actually, they have changed the program instead of abandoning it completely. You can get the Disability Access Services Card at Guest Relations near the main entrances to either Disneyland Resort Park.
With the new Disability Access Service Card guests with disabilities who are unable to tolerate long times are able to receive a return time for attractions based on the current wait time. Basically, you still wait in line, but you don't actually have to stand in the line to do it. The card holder does not need to be present to obtain the wait time, but does need to go on the ride (obviously). After going on the ride you can receive another return time. Return times are valid until  redeemed. This can be used in addition to the FASTPASS program.
If you do not feel the Disability Access Services Card meets your particular needs you can visit guest relations to discuss this with them and they will do their best to provide assistance that suits your unique needs.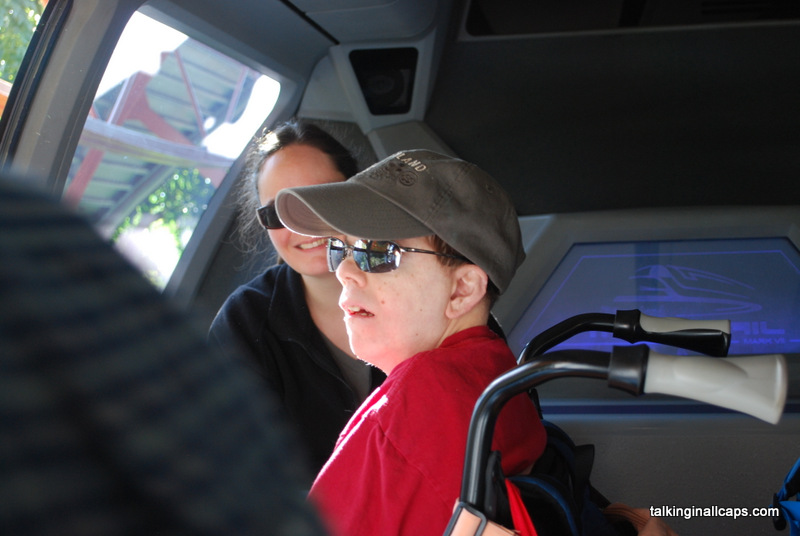 Wheelchair Accessibility in Disneyland
Disneyland is very wheelchair friendly. Many rides have special cars that can be used even if you are not able to transfer out of your wheelchair. Most Disneyland attractions are accessible if you are able to transfer out of your wheelchair. Disneyland has a full list of their ride's accessibility levels on their website.
If your require a wheelchair or scooter but do not otherwise require special accommodation you do not need to obtain a Disability Access Service Card. On some rides you would wait in the standard line-up, others will give you a return time and some you enter the ride through the exit. If you ask a cast member how you will access the ride before you get there it can save you some walking. Fantasyland in particular has many rides with line-ups that are too narrow for wheelchairs.
You may also want to read the other Disneyland Travel posts I've written:
I've also written up an overviews of Disneyland Park and Disneyland's California Adventure Park on my other blog, Calgary Playground Review.