When I told my son that I was going to make this salad, he was pumped. He started asking me a million questions – where are we going to get the fish? Are we going to catch it? Do we have a fishing pole? The reality was not quite as exciting, we were just using frozen fillets that were in our freezer, but he was still excited that we were going to eat fish.
He's always quite liked fish, but I don't make it that often. When the fish came out of the oven, he couldn't wait to dig in and grab a piece. He was way less excited about the salad itself, but I loved it. It's perfect for a starter salad, or a heart healthy light meal. I love to make it when entertaining guests because it looks fancy and impressive but is easy to put together.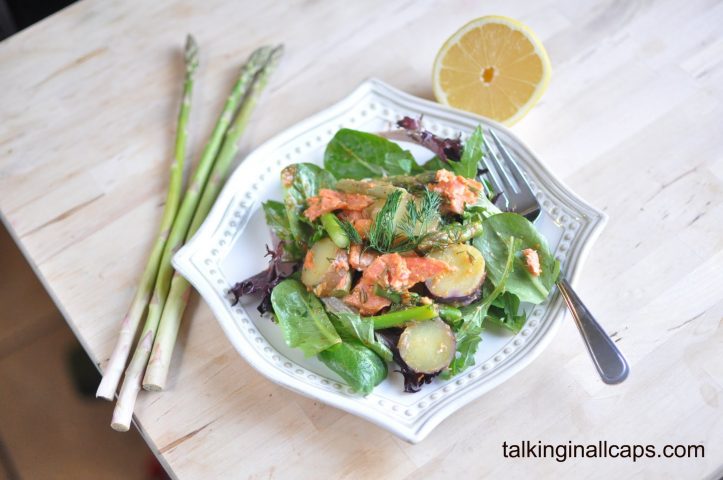 Salmon Salad with Asparagus and Baby Potatoes
(Adapted from Williams Sonoma's Salmon, Red Potato and Asparagus Salad)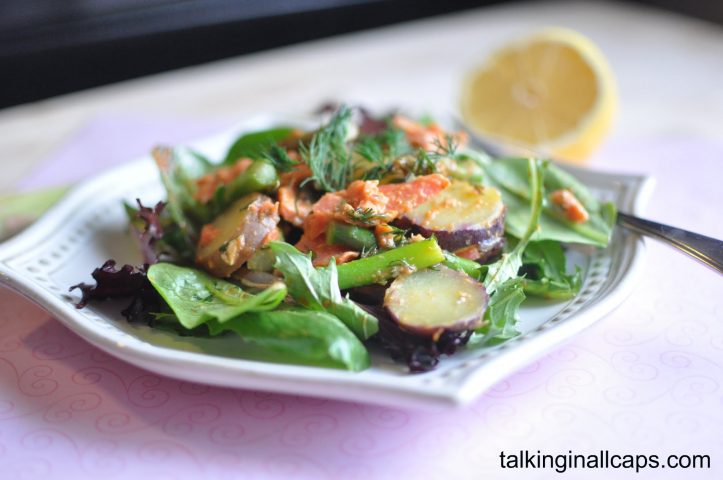 Salad #13 Salmon Salad with Asparagus and Baby Potatoes
Ingredients
Salad Ingredients
1 lb. salmon fillet baked in the oven with lemons, salt and pepper
1 lb baby potatoes (waxy variety) boiled and sliced into rounds
1 bunch asparagus, touch ends snapped off, lightly steamed, and cut into thirds or quarters
Sun-dried Tomato Dressing Ingredients
2 TBSP sun-dried tomatoes in oil
1 TBSP extra virgin olive oil
juice from 1 lemon (put the lemon in the microwave for a few seconds to get more juice out of it)
1 TBSP flat leaf parsley, chopped
1 TBSP fresh dill, chopped
1 clove minced garlic
½ tsp salt
fresh ground pepper
8 cups of mixed greens
Instructions
Blend or whisk the dressing ingredients together. The mixture will be pretty thick.
Toss the greens with a some of the dressing. Add a bit at a time, you shouldn't need a ton.
Gently toss the potatoes, asparagus and salmon with the remaining dressing.
Top the greens with the potatoes, asparagus and salmon.
Serve at room temperature.
Variations
Use dry-packed sun-dried tomatoes instead of oil packed
Use spinach instead of mixed greens
Add orange zest and/or chopped green onions on top of the salad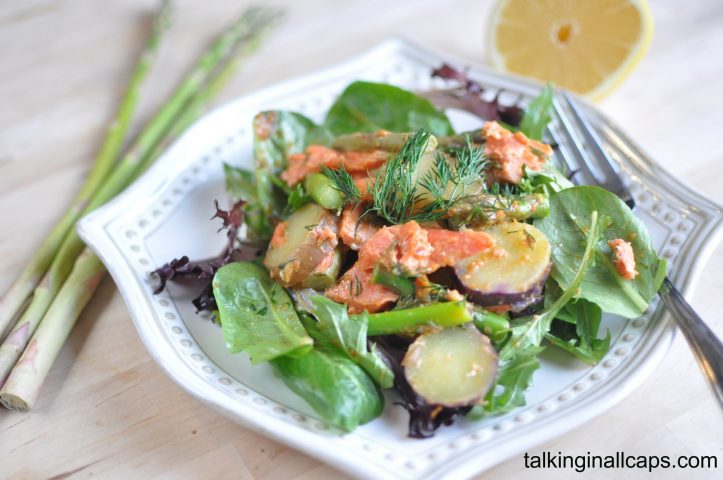 Did They Eat It?
Nicole (13 months): Loved the salmon and potatoes.
Gordie (4 years): Could not get enough of the salmon and liked the potatoes, but didn't want anything to do with it as a salad.
Stephen:  Good. I liked it. Looks impressive.
Dana: This salad is perfect for early spring when the asparagus and fresh spring greens are plentiful. It's flavorful and filling. Sometimes fish can be bland, but this combination is definitely not.