It's Stampede in Calgary this week so for this month's  The Canadian Food Experience Project challenge I decided to do BBQ Beef on a Bun. The Canadian Food Experience Project started last month on June 7, 2013, it aims to gain global clarity to what Canadian food really is through the participants' collective stories and experiences.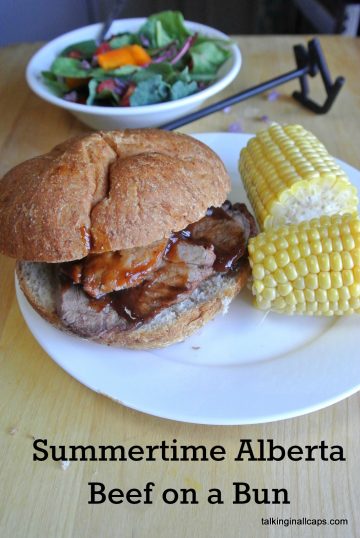 This month, the challenge was a regional Canadian food. In Alberta, beef is a natural choice – if there is one thing Alberta is known for, it's beef. Barbecue beef on a bun is a Stampede staple – you can get all kinds of wild food at the Stampede from deep fried butter to deep fried oreos to deep fried… Well, basically if there is anything you have ever thought about deep frying, you can probably find it at the Stampede and a few more you hadn't even considered. There are a lot non-deep fried options too but none of them feel like Alberta for me more than beef on a bun. (My friend Merry has also written up her take on Stampede food with her baked mini-donut muffins)
Despite the devastating flood in Calgary this year, only two weeks before, the Stampede went on as planned with a lot of hard work and a few modifications. This is especially remarkable because the Stampede grounds had been covered in water during the flood. I took this kids down one morning and there were only a few places where you could see evidence that there had been a flood at all. There is still a lot of work to be done to rebuild Calgary and the Saddledome is not currently operational, but it was great to see how well the City had pulled together.
We didn't have beef on a bun while we were there, (we might have had a corn dog), but I picked up a roast when we got home and started cooking. Cooking a roast might seem insufferable in the summer, but you can actually cook a roast on most barbecues even if you don't have a rotisserie or smoker (although those are great too!)
Summertime Barbecue Beef on a Bun
(adapted from Best BBQ Beef Oven Roast in the I Love Alberta Beef Cookbook)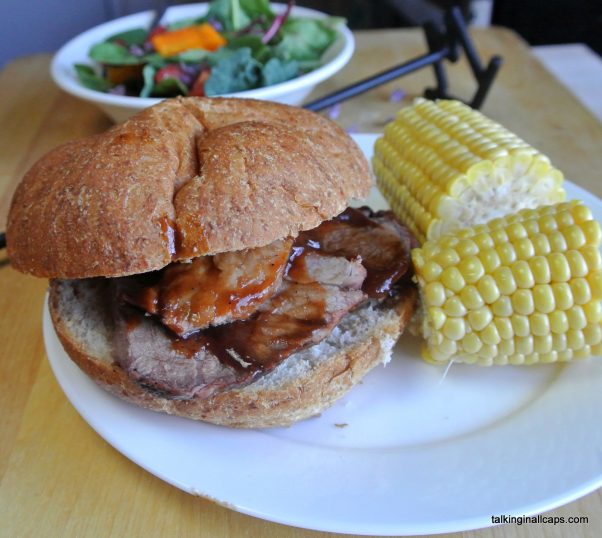 Summertime Alberta Barbecue Beef on a Bun - The Canadian Food Experience Project
Ingredients
Ingredients
4-13 lb oven or rotisserie style roast  (inside round, eye of round or sirloin tip) The max size will depend on your barbecue size - you'll want it to easily fit on one side of your grill).
1-2 cups of salad vinaigrette - you can use bottled or home made. I used a home made sun-dried tomato dressing.
Buns
Barbecue sauce
Sun-dried tomato vinaigrette
¼ cup oil-packed sun-dried tomatoes
2 Tbsp balsamic vinegar
1 garlic clove chopped
2 sprigs oregano
1 tsp honey
⅓ cup canola oil
½ cup water
salt and pepper
Instructions
Add vinaigrette ingredients to a blender or food processor until well mixed.
Pierce the roast all over with a fork. Stick in a large zip lock bag and cover with dressing. If your roast is too big for a large zip lock bag, you can use any kind of dish, but you'll need more dressing and may want to turn the roast a few times as it marinates. Let it sit in the fridge for around 12-24 hours.
Take out your roast and discard the marinade.
Place a drip pan underneath one side of the barbecue and turn the heat on the other side of the barbecue.
When the grill is hot, place the roast over the drip tray and close the lid.
Cook at 400 F or about medium high heat until a meat thermometer reaches 135-145F. Rotate roast occasionally for more even cooking.
Allow about 20 minutes per pound - check with a meat thermometer.
Remove roast to a cutting board and cover with aluminum foil. Let sit for 10-15 minutes.
Slice roast thinly.
Add roast slices to cut buns and top with barbecue sauce (we used Bull's-Eye which is the official BBQ sauce of the Calgary Stampede).