I'm starting to think that just about every vegetable should be roasted at 400F for 30-60 minutes with a little bit of olive oil and salt and pepper. This is now my third recipe in a row that follows this logic. You'd have to really hate potatoes to not like these. I liked these so much I made them for Christmas dinner last year – there wasn't a single one left over!. They also provide a lot more nutrients than a lot of potato dishes because you leave the skins on. They take a little bit more time than some methods, because they are boiled and then baked but the result is amazing. If you want, you can boil and smash the potatoes ahead of time just refrigerate until you are ready to use them.
Baby Smashed Potatoes
Ingredients
2-2.5 lbs baby potatoes
2 TBSP oilve oil
salt, pepper and rosemary (I use dried but I'm sure fresh would be lovely)
2 garlic cloves minced (shortcut – buy pre-minced, look in the refrigerated section by the salads as they are much better than the shelf stable variety you get by the spices)
ore it hits the heat. Squishing the potatoes is also pretty fun.
The kids can:
put the potatoes in the pot
squash the cooled potatoes
.paint the potatoes with olive oil
flip the potatoes
sprinkle the salt, pepper and rosemary
Directions
Instructions
Put the potatoes in a pot and cover with cold water. Bring to a boil and simmer for 10 minutes.
When the potatoes are tender, drain the pot and let the potatoes cool (if you are in a hurry you can grab the potatoes with a tea towel and smash them while they are still hot).
Preheat the oven to 400F
Get a (clean!) tea towel and put it on the counter. Place the potato on top. Fold the tea towel over and press down on the potato with your palm.
Place the smashed potatoes on a baking tray.
Brush each potato with olive oil and sprinkle with salt and pepper.
Flip the potatoes and repeat on the other side.
Add a couple pieces of minced garlic to each potato and sprinkle with rosemary.
Put the tray in the over and flip the potatoes after 15 minutes. Continue to bake for 15-20 minutes more. When they are done the skins of the potatoes will be brown and crispy but the centre will be soft.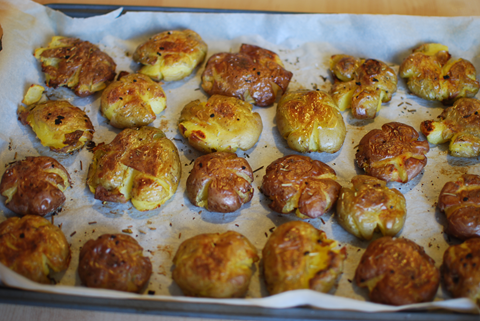 Leftovers can be eaten cold straight from the fridge or reheated in the oven or toaster oven.