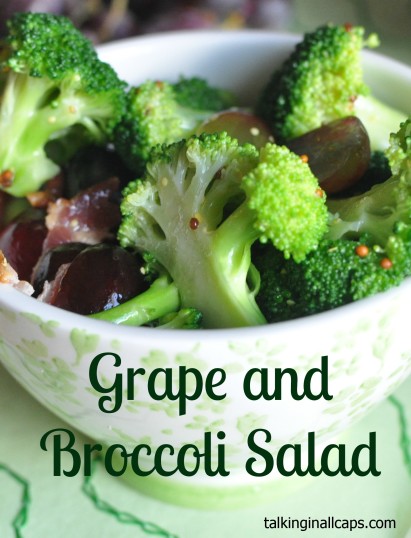 I had been looking to make a great tasting broccoli and grape salad. This salad is actually my second run. I made one earlier but without adding a little mayo (which most broccoli and grape salads have about a cup of) it just seemed to be missing something. This one definitely isn't. I love this salad. It is my favorite one by far. I've already made it again for our Mother's Day BBQ. You will not regret trying this one out.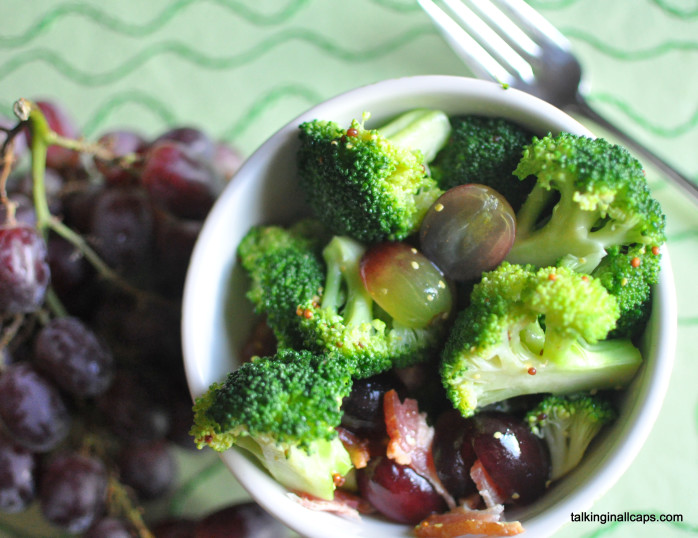 Grape, Bacon and Broccoli Salad with a Grainy Mustard Dressing Recipe
(adapted from Jaimie Oliver's Broccoli Salad from Jaime's America Cookbook)
Salad #16 - Bacon, Grape and Broccoli Salad with a Grainy Mustard Dressing
Ingredients
Ingredients
2 heads of broccoli
8 slices of thick cut bacon cooked and cut into small pieces (I often have some in the freezer that I take out and cut up)
1 large bunch of grapes
a bunch of fresh chives
Grainy Mustard Dressing Ingredients
½ clove of garlic grated finely
2 teaspoons grainy mustard
⅓ cup extra virgin olive oil
2 tablespoons white wine vinegar
salt and pepper
Instructions
Cut the broccoli into small bit sized pieces. Cut the larger florets into 2 or 3 pieces. Blanch broccoli in boiling water for 1 minute. You want it to have just turned bright green. Drain the broccoli and let it cool and dry between some tea towels or paper towel. Transfer the broccoli to a serving dish or large bowl when it is completely cool.
Slice the grapes in half and chop the chives into small pieces. Add the grapes, chives and bacon to the broccoli.
Mix the dressing ingredients in a small container with a lid and shake well or in a small bowl and whisk. Add the dressing to the salad ingredients and toss to make sure it is well covered. Add about half to start. You want it well covered but there's no need to soak it.
Variations
swap the grapes for cherry tomatoes
Use green onions or chopped red onions instead of the chives
try dijon mustard instead of grainy mustard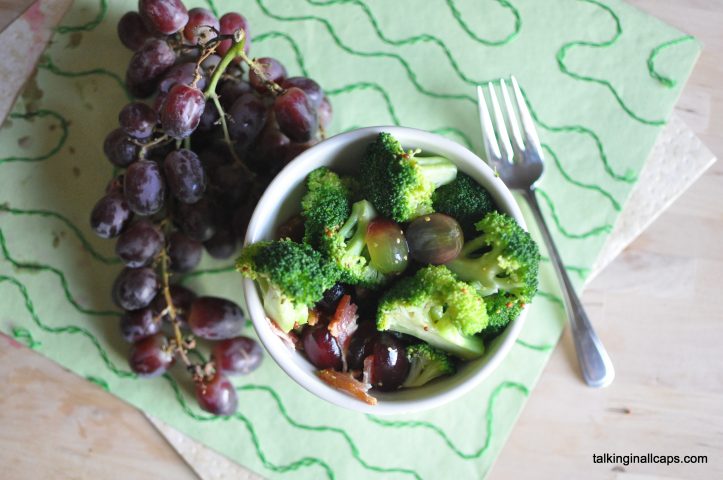 Did They Eat it?
Gordie (4 years old): tried some of the bacon out of the salad after protesting a little
Nicky (14 months): Loved it.
Stephen: Weird but good.
Anne: Really good!
Bronwen: Ooh bacon. It was really good.
Richard: Liked it.
Erik: Unexpected. I liked it. I didn't think the ingredients would go together so well. I would have it again.
Deb: So fun. Grapes and bacon in a salad.
Grandma Mary: Different. Really good.
Papa John: Excellent.