Authentically Inspired, Practical Home Cooking
Come along with me as I explore the world through my kitchen. For each region, I'll be trying about 5 dishes, drawing inspiration from authentic dishes, ingredients or techniques from that region but adapting them for a North American home cook. All the ingredients in this series will be ones I can find in my local (Calgary, Alberta) grocery store and use cooking tools I already have at home.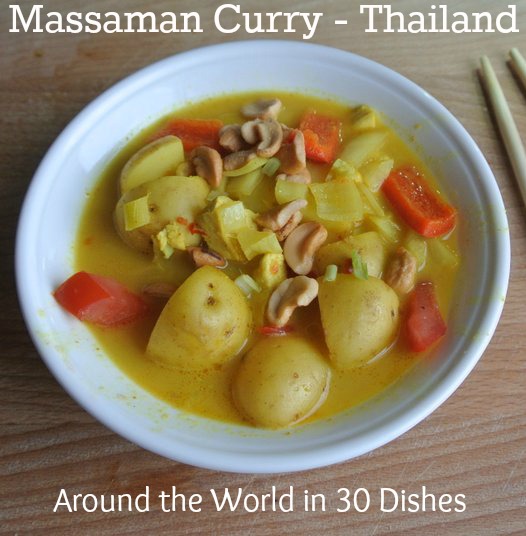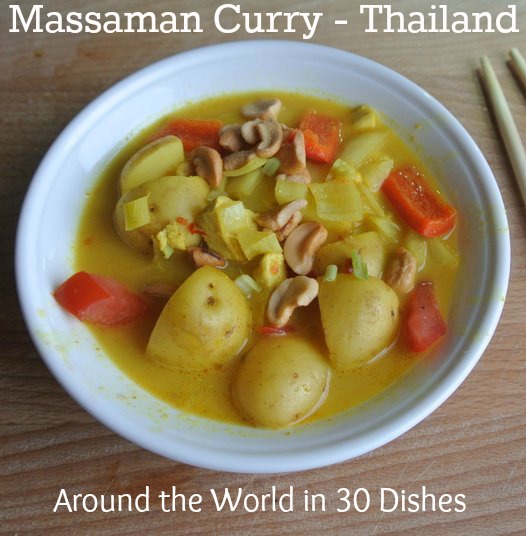 The last Thai dish I talked about (
Thai Green Curry
) I used a curry paste to help make the sauce. Unfortunately, curry paste for this yellow Thai curry is less readily available. My friend Amy lived in Thailand for a while and said that this dish was her favorite. After looking at the ingredient list, I found that even though many of the ingredients weren't super familiar to me, I could find them all in my local grocery store. I made it as a crockpot recipe, but you could easily do it on the stove top instead. You can reduce the cooking time to about 1/3 of what I recommend for the crockpot on high. I thought  this recipe was great. I ended up making both a beef and a chicken version and loved them both. It made great leftovers too.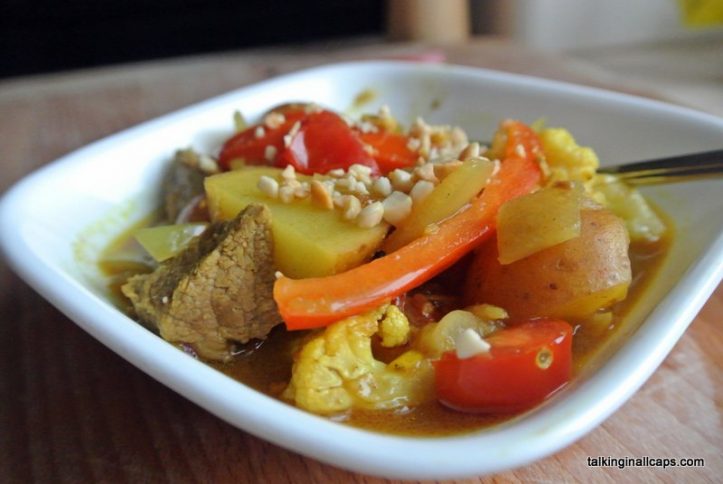 Ingredients You May Be Unfamiliar With and Substitutions:
Tamarind – is a kind of sour fruit. I've found it whole in the produce section and as a paste or as a sauce in the asian section of our local grocery stores. If you use whole fruit, remove the outer layer and use the inner fruit. Tamarind may seem unfamiliar but is a primary ingredient in Worchestershire sauce. Nothing is really recommended as a substitute for Tamarind, but what you are looking for is something to add a sweet, sour taste.
Sambal Olek – This is a chili sauce that is meant to add heat without effecting the flavoring. Substitute for any chili or garlic chili sauce.
Lemongrass – is a grass that has a herby lemon flavor. It looks like a stalk and is found in the produce section. They may be long or cut into smaller chunks and put in a package. I've found the lemon grass in our grocery stores to be a bit dry, but you can re-hydrate it by letting it sit in some water. It will even continue to grow. Substitute with lemon zest.
Cardamon – Is an aromatic spice commonly used in Indian cooking . If you can't find it, try substituting a mixture of cinnamon and nutmeg. The flavor won't be quite the same but it should work well.
Fish Sauce – is a condiment made from anchovies. That may not sound awesome, but it actually is. You can substitute soy sauce with good results.
Crockpot Massaman Curry – Thai Food
Ingredients
2 Tbsp oil
one pound beef or chicken cut into chunks
one pound baby potatoes quartered (large potatoes cut into chunks is fine too)
1 onion, diced
one 2 inch long piece of ginger, grated
4-5 cloves garlic, grated or minced
2 or more teaspoons Sambal Olek or other chili paste
one 14 oz can broth to match meat of choice
one 14 oz can coconut milk
1 stalk lemongrass, minced
3 bay leaves
1½ teaspoons turmeric
1 teaspoon ground coriander
1 teaspoon whole cumin seed
½ teaspoon pepper
¼ teaspoon cardamon
1 teaspoon tamarind (paste, sauce or mashed up fruit - whatever you can find)
1 tablespoon fish sauce
½ tablespoon brown sugar
¼ cup chopped unsalted dry-roasted cashews or peanuts (+ handful more for garnish)
1 small red pepper, thinly sliced
1 medium tomato, sliced
Instructions
Turn your crockpot onto high heat and add a couple tablespoons of oil.
After the oil is heated, add the onion, spices, cashews or peanuts and tamarind. Stir until fragrant.
Add the meat, chicken, broth, coconut milk, chili garlic paste, fish sauce and brown sugar. The potatoes can be added here, or later on depending on how long the crockpot will be running. Add the potatoes right away if they will be cooking on low for 3-4 hours. If you are cooking at a higher heat or for a longer time (eg if you want it to cook while you are out or are using a tough cut of beef) add the potatoes 2-3 hours before you plan on eating. Alternatively, you can boil the potatoes and add them at the last minute.
During the last hour of cooking add the peppers and tomatoes.
You can vary the cooking time for this dish a lot as long as you don't add the potatoes, tomatoes and peppers too early. Curries tend to only get better with additional cooking time. As long as your meat is cooked through and no longer tough you can eat it.
If you are using chicken breasts, you can probably cook it for as little as 2.5 - 3 hours on high. Beef will have a longer minimum cooking time (at least 5-6 hours) - you'll want to cook it long enough for the meat to get tender. If you have the time to cook it on low for 8-10 hours it will be even better.
Serve over rice (I like brown jasmine or brown basmati) Top with additional chopped cashews or peanuts.
Notes
(Adapted from <a href="http://www.instructables.com/id/massaman-curry/">Instructable's Massaman Curry Recipe</a>