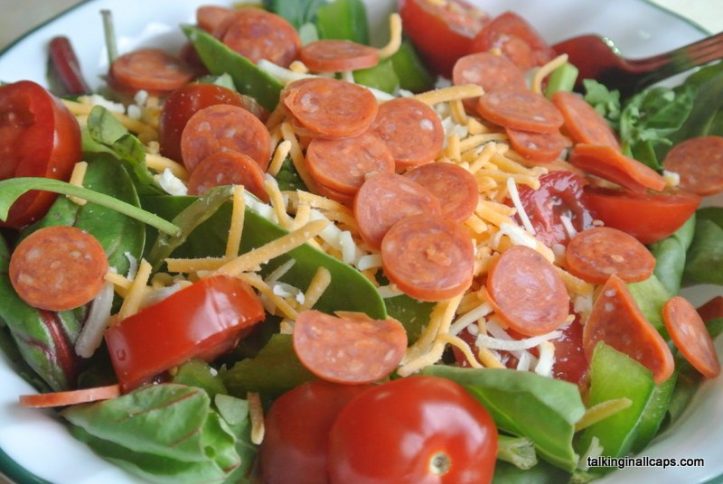 When I told one of my friends that I wanted to make a pizza salad, she thought it sounded like the grossest thing she had ever heard. I have no idea what she had been imagining because when I told her what I was thinking she actually thought it sounded pretty good. This salad in no way will make you feel like you are eating a pizza. It's definitely a salad. But a good salad. It's easy to put together and you can mix it up by trying different dressings on the salad (maybe salsa or pesto?) or adding in different ingredients like mushrooms or olives. It would make a great salad for a light lunch.

Salad #51 - Pizza Salad
Ingredients
Pizza Salad Ingredients
Leafy Greens, ripped into bite sized pieces
Tomatoes, diced
Pepperoni slices
Shredded Cheese
Green Pepper, diced
Croutons (optional)
Catalina Dressing
2 TBSP ketchup
1 tsp sugar
2 TBSP red wine vinegar
4 TBSP canola oil
a few drops of worchestershire sauce
sprinkle of paprika
sprinkle of onion power or a tbsp of minced onion
salt and pepper
Instructions
Mix dressing ingredients in a small bowl.
Toss the salad ingredients with the dressing.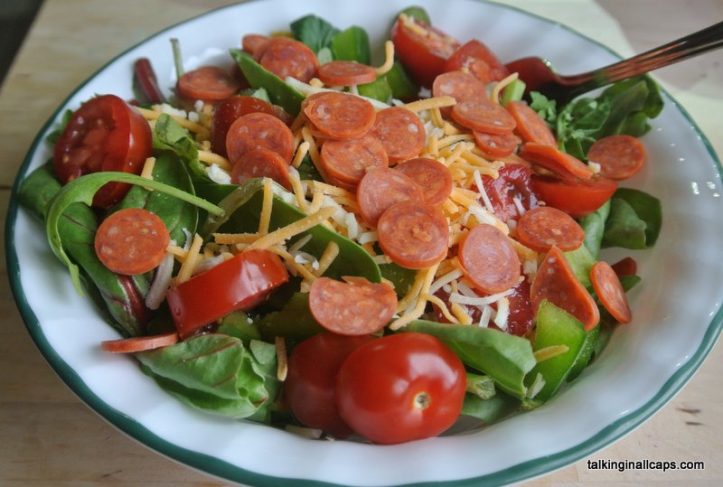 Did They Eat it?
Dana: I didn't actually share this salad either. But I liked it. The catalina was my favorite, but I also tried it with thousand island and zesty Italian.