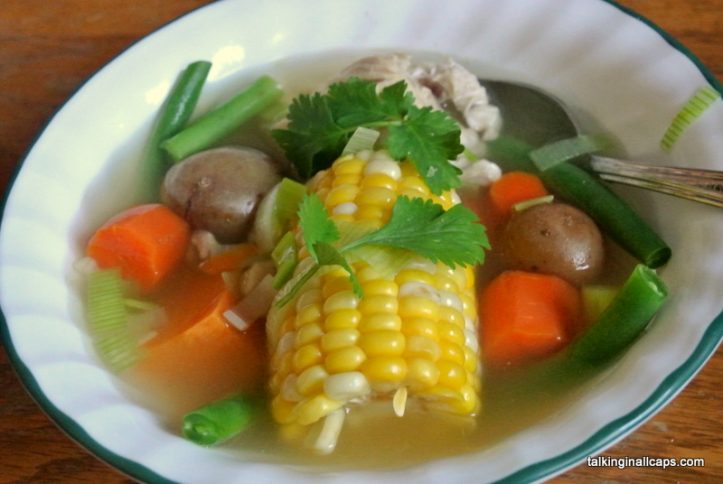 This soup is part soup and part stew. You are traditionally supposed to eat the broth first and the large pieces last. If you would like something more soup like you can cut up the meat and largest vegetables. I've created a much quicker version of a soup that would often be gently boiled for hours.
This was a definite winner at our house. My kids aren't big soup fans but my daughter loved the chicken, carrots and corn on the cob and my son loved the chicken, potatoes and corn on the cob. My baby is 12 months old and thought the whole thing was wonderful.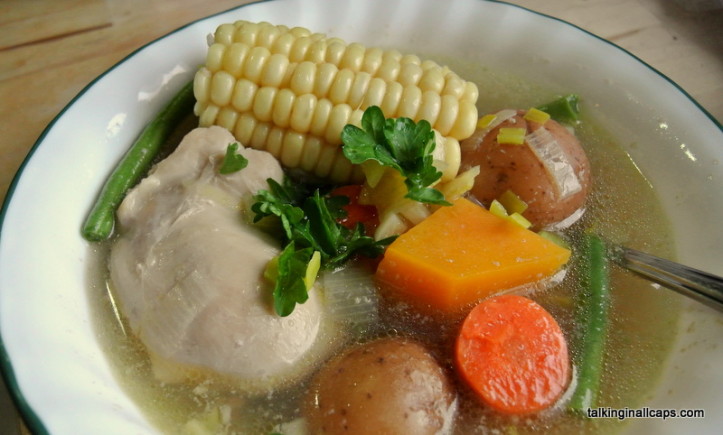 I tested this out using skinless bone-in-chicken thighs and butternut squash as well as cut up chicken breasts and sweet potato. I try to like cooking with bone-in-chicken but I am still not a fan, if you do just make sure you skim the fat off the top of the broth. I don't have ready access to pumpkin but I found both the butternut squash and sweet potato both worked well.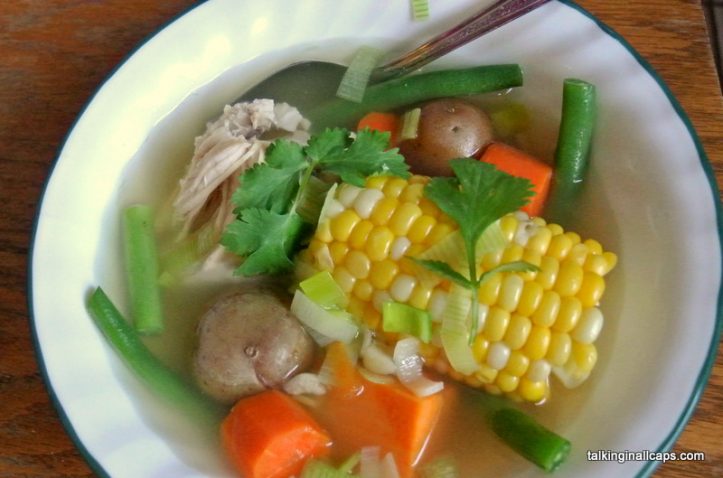 Chilean Cazuela de Ave - Chilean Chicken Soup - #52soups
Ingredients
6-8 pieces of chicken (cooked or raw)
6 cups of chicken broth or a mixture of water and broth
6-8 pieces of butternut squash, pumpkin or sweet potato
2 leeks (or other onion) diced and washed
12 baby potatoes
6 cobs of corn (you can do more if you are cooking them seperately)
parsley, oregano and cilantro
heat of choice (hot sauce etc)
green beans (trimmed and cut in half)
6 carrots (peeled and cut into large chunks)
cooked rice (if desired)
Instructions
Heat some oil in a large pot. Add the leeks and cook until they soften a bit.
Add the broth and water, chicken and the rest of the vegetables except the green beans.
Add a few springs of the herbs on top - if you tie them together with a string they will be easier to take out at the end.
Bring to a boil. Reduce heat and cook for 25 minutes until the veggies are soft and the chicken is cooked through. If you are using a fattier cut of chicken be sure to skim the fat off the top as it is cooking.
Add the green beans and cook for 10 more minutes.
Serve by spooning each bowl with a piece or two of chicken, a couple of baby potatoes, a piece of whatever orange vegetable you are using, and several carrots and green beans. Then fill the bowl with the broth. Add a spoonful of the cooked rice (optional).
Top with hot sauce and a bit of cilantro or parsley.