I love Frank's Buffalo Wing sauce so I was really interested to see how that would translate into a soup. I used roasted cauliflower to thicken the broth, but you could also leave it out and have a thinner broth, or thicken it with something else like white beans or potatoes. I left the celery and carrots fairly crunchy, if you want them to be softer than you can just saute them before adding them to the soup.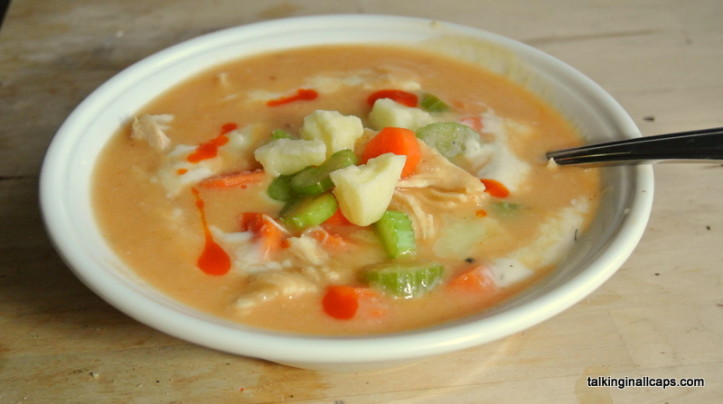 Frank's Buffalo Chicken Soup with Roasted Cauliflower - #52soups
Ingredients
2 chicken breasts cooked (cut up or shredded)
2 tbsp butter
2 tbsp flour
1 onion (diced)
4 stalks celery (chopped)
4 carrots (chopped)
1 tetra pack of chicken broth (900 ml)
1 head cauliflower (cut into florets)
½ cup (or more) Frank's Buffalo Wing Sauce or Frank's Red Hot
¼ cup of Ranch Dressing
blue cheese (optional)
Instructions
Toss the cauliflower with oil and sprinkle with salt and pepper. Arrange in one layer on a baking sheet. Bake at 400F for 20-30 minutes. Cauliflower should be starting to brown. (this step can be done ahead - just refrigerate the roasted cauliflower.
Melt butter in a large pot and add a couple TBSP of butter to make a roux.
Stir for a couple of minutes and then add the diced onion. Cook for a couple more minutes.
Add in the chicken broth and cauliflower and heat to a boil.
Use an immersion blender to puree (or you can mix up the cauliflower with some broth in a magic bullet or blender).
Add the carrots, celery and chicken to the cauliflower mixture and bring back to a boil.
Add the hot sauce and dressing and mix well.
Top with blue cheese, or a drizzle of ranch dressing.
Notes
Adapted from
The Cookie Rookie
3.2.2925
Toss the cauliflower florets in the oil along with the salt and pepper, arrange them in a single layer on a large baking sheet and roast in a preheated 400F/200C oven until lightly golden brown, about 20-30 minutes.