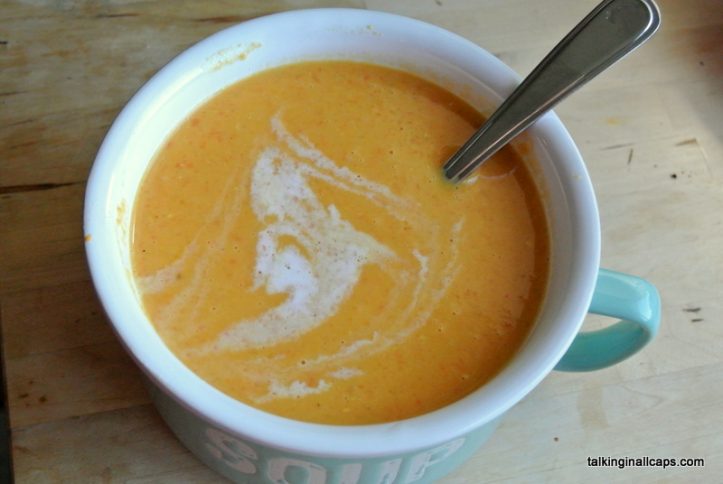 One of the things I love about this soup is that it is easy to have the ingredients on hand to throw together. It's not too spicy – it's actually kind of sweet with a lovely coconut smell. So it's pretty kid friendly. My 1 year old thought it was pretty good but my bigger kids were both a little suspicious. They did try a little though. This is definitely a soup I will be making again and again. It feels like comfort food but one you can feel really good about eating.
Curry Sweet Potato Lentil Coconut Soup - #52soups
Ingredients
canola oil, for cooking
1 onion, chopped
2 garlic cloves, crushed
1 Tbsp. grated fresh ginger
2 tsp. curry powder
⅓-1/2 cup dry red lentils
1 medium or large sweet potato, peeled and diced
2 carrots, peeled and chopped
4 cups chicken stock
salt
1 can coconut milk
fresh cilantro, for garnish (optional)
Hot sauce of your choice (optional)
Instructions
In a large pot heat about a TBSP of oil on medium high heat. Add the onions and saute until soft. Add the garlic and ginger and cook for a couple more minutes. Add the curry powder and cook for another minute. Add the broth, lentils, sweet potatos and carrots and simmer for about 30 minutes - until the vegetables are very soft.
Add the coconut milk and use an immersion blender to purree (or you can do small batches in a blender but it is a bit trickier)
Top with cilantro, parsley, hot sauce or hot peppers diced small.