Did you know that March 6th to 13th is Sleep Awareness Week? Sleep or the lack of it is always something I end up thinking a lot about when I have a baby in the house. My littlest is now 14 months old and I am finally starting to get better sleep. At least some of the time. But now that I'm slightly less exhausted from my baby, sometimes I have trouble falling asleep and staying asleep and he is not to blame at all!
I hope that you never have trouble getting a good night's sleep but if you do, below are a list of suggested tips that may help sleepy-eyed Canadians get some quality (and well deserved!) shut-eye.
Keep Calm and Carry On
Make simple changes in your life to help develop a more positive state of mind. Organize, prioritize and give yourself a break every so often. When you have less to worry about, your sleep is less likely to suffer.
Get Up and Get Active
Consider adding daily exercise to your morning routine or sometime in your day. Regular physical activity will help you fall asleep faster and deeper.
Create Tranquility
Make your bedroom a sleeping oasis. Avoid eating, working or watching TV in bed. This way your body will start to associate the bed with meaning it's time to sleep.
Limit Naps or Power Nap
Naps throughout the day can prevent your body from falling into a deep sleep at night. If you need to nap, try to limit your sleep to a 30-minute power nap or less in the afternoon.
Perfect Your Cycle
Going to bed and waking up at the same time everyday can help regulate your sleep pattern. If you need help with sleep regulation, try Vitafusion™ SleepWell* which contains 2.5 mg of Melatonin in each gummy. Melatonin is a hormone your body releases when it gets dark to tell your body it's time for bed. Vitafusion™ SleepWell* is designed for adults suffering from sleep restrictions or altered sleep schedules (e.g. shift work or jet lag). These gummies provide a tasty alternative to hard-to-swallow tablets. Learn more at gummyvites.ca1
Watch Your Munchies
Take note of what you're eating and drinking before bed and avoid feeling hungry or stuffed. Stomach and bowel discomfort can make you restless, often causing urgent trips to the washroom in the middle of the night.
Make sure your mattress is comfortable and supportive. The life expectancy of a good mattress is around 9 or 10 years so if your mattress is older than this you may want to consider a new one. Ensuring your bed is inviting for sleep is also important. Use comfortable pillows and keep your bed sheets clean and fresh by washing them weekly. Try using Arm & Hammer™ Plus OxiClean™ Power Paks in Fresh Scent that's boosted with baking soda for a refreshing clean.
Exercise, exercise, exercise! This can be a hard one, especially for those who sit for long hours at a desk. Rigorous exercise is ideal, but even light exercise, like walking to and from work, is better than nothing.
Soothe sore and aching muscles. While exercise can help some sleep soundly, it may also lead to stiff muscles, aches and pains. To help relieve stiff muscles, try using a topical analgesic cream like RUB A535™ Night Time. It is a fast-acting cream that provides soothing relief of muscle and joint pain. Plus, it's scented with lavender essential oils.
Do you find it difficult to get a full night's rest? What are some tips you have to help increase total sleep time and quality?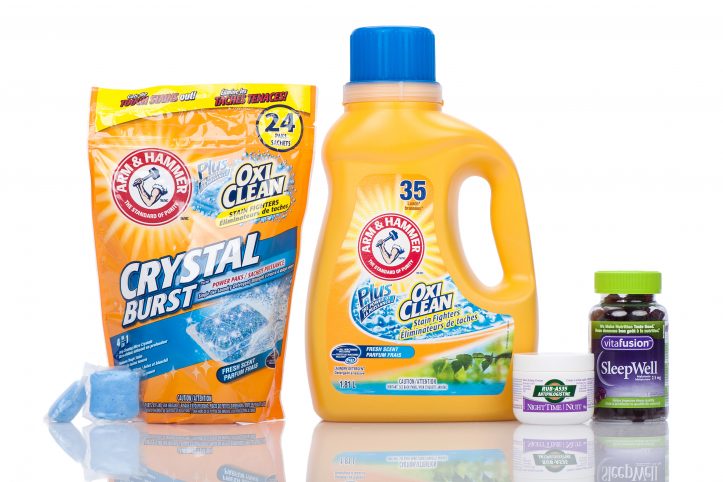 I am a brand ambassador for the 2016 year with Church & Dwight. As part of this program I receive monetary compensation as well as products to review.