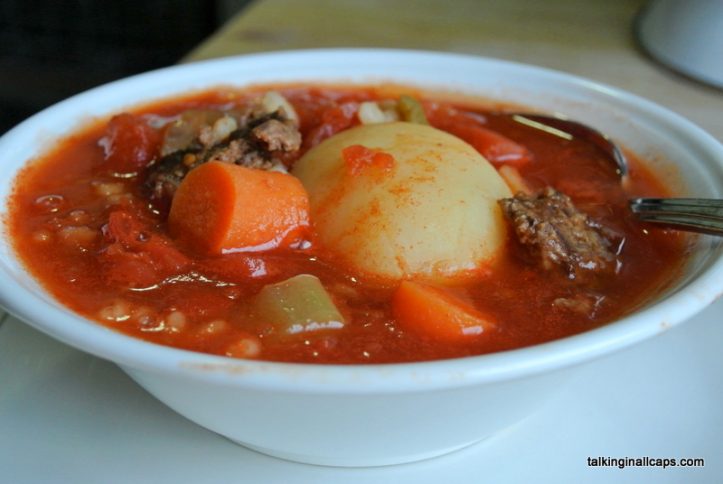 My husband's grandmother used to make this soup and is one of my husband's favorites. As he will tell you though, it's not exactly the same as the way she used to make it (aka not quite as good) but it's as close as I can manage to get. Like many recipes it has changed a lot over time. I actually have a copy of her recipe for Hamburger Soup but it hardly resembles what my husband remembers at all.
He remembers a spicy tomato juice that you used to be able to get but I can't seem to find anything like that. Do you know of anything like that?
Anyway, the soup is pretty kid friendly and healthy for something that feels a lot like comfort food. This recipe is not precise so feel free to adjust it to your taste or what you have on hand.

Grandma's Hamburger Soup - #52soups
Ingredients
1 giant can of tomato juice
½ cup of pot barley
a few large carrots
a few stalks of celery
1 tetra pack of beef broth
heat of your choice (optional) I like using rotel but that is not readily available in Canada
1 onion chopped
1 or 2 cans of whole potatoes (or other potatoes if you prefer)
½-1lbs of cooked ground beef
1 large can of diced tomatoes
Instructions
Add all the ingredients to a large soup pot. Bring to a boil. Set to simmer and cook until barley is fully cooked. Keeps well in the fridge and freezes well too.