This post is a little about books and a lot about a really fantastic dish called Cafe Rio.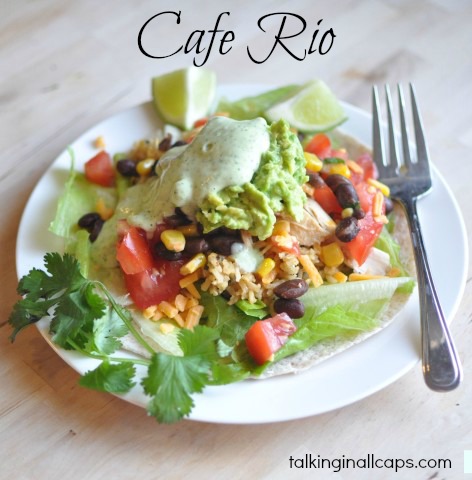 I've always been a voracious reader. I've always considered myself to be a bookworm but it turns out I'm not as a big of a book geek as I thought. Until recently, I'd never met an author of a novel I've read. I've now met two, but failed to prove myself as a proper book geek both times. The first time I should have been prepared. I knew that Bradley Somer, author of Imperfections (a weird, thought provoking satire of the beauty industry that I both loved and hated – and yes I did tell him)  was coming to our book club that month. But I forgot to bring my book and obviously didn't get him to sign my copy of the book.
You might think that this would begin my learning process but you would be wrong. Even though one of the women in our book club mentioned that she knew the author of the book that was chosen (419 by Will Ferguson) and was going to see if he would be able to come, I still didn't bring the book to our book club. Now, in my defence, I didn't think he was actually coming but this is my only picture: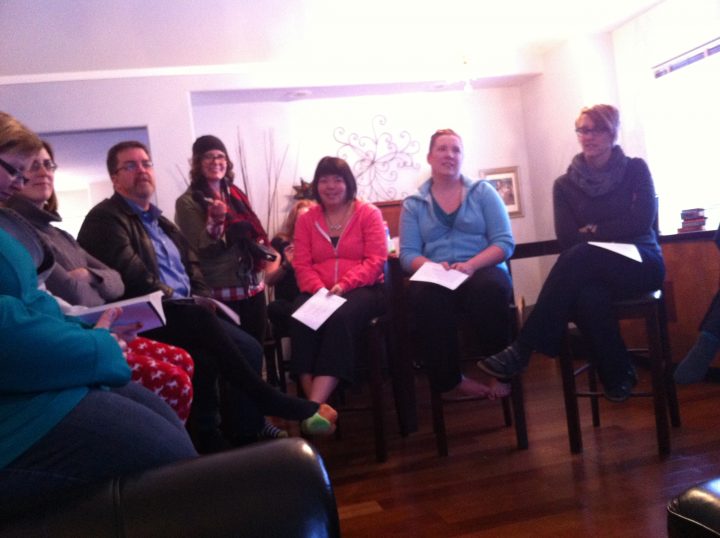 And no, I am not in that picture (Will Ferguson, is the guy in the centre of the photo).  The book itself is not one that I would normally pick up I've been reading a lot of YA fiction lately but it is definitely a book worth reading. It centers around a Nigerian Scam nick named 419 from the article of the Nigerian Criminal Code and relates both the perspective of the Nigerians involved as well as the Canadians (the Canadian sections are set in Calgary). I found it really helped me to better understand how people get taken in by the scams as well as how heartbreaking it can be on both sides.
If you want to read more about Will Ferguson crashing my book club you can read my friend Heather's post "The Time I Met a Giller Award Winner in my Pajamas"
Since I was unable to prove myself as book geek, I thought I'd centre my post on the amazing food that was served at our book club that night. (Which had absolutely nothing to do with 419 in any way. At all.) And I did not think to take a picture of it. So I ended up making it all again myself. It is definitely worth making, but it is a great meal to make for a crowd because then you can split up the work. It is not a trivial amount. The origins of this recipe are unknown to me. I got it from my friend Catherine who writes the blog The Dabels Divulge (which you should all go check out because she is hilarious) and she got it from her friend Angi.
I'm going to keep most of the recipe as it was given out for the book club and annotate it with any thoughts or changes that I made when I cooked it up myself.
Café Rio Recipe
tortilla shells
crispy tortilla strips
Romaine or other dark leafy greens chopped or shredded
Tomatoes, chopped
Cheese shredded
fresh limes to squeeze on top
Putting It All Together
Layer everything on top of the tortilla. Or you could wrap it up like a burrito. Squeeze some extra lime on top.
I totally underestimated how much work this would be. If you are going to do it all yourself, I'd recommend doing some of it (like the dressing) a head of time.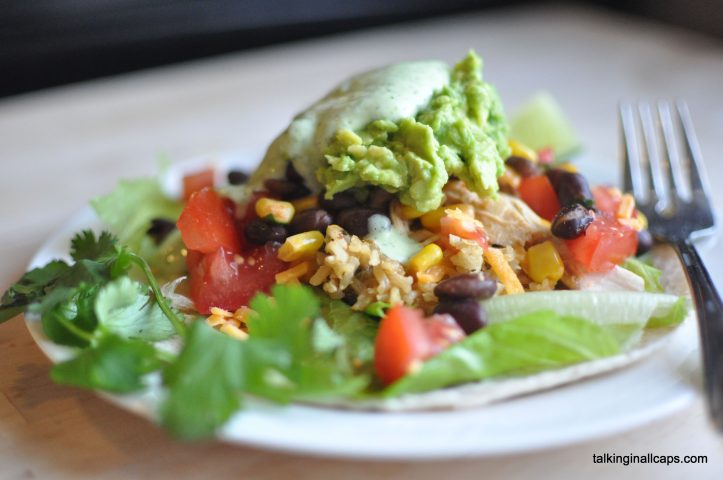 Have you read Imperfections or 419? What's your favorite dish to serve for a crowd?