My mother-in-law is a big fan of Brussels sprouts and they are chalk full of vitamins but she wasn't making any converts at home. I figure that just about anything can be appealing if you cook it the right way, so I set out to find something that everyone would enjoy. This is what I came up with.
Making Icky Food Good: Roasted Brussels Sprouts
Ingredients
1.5 pounds Brussels sprouts (shortcut - buy prewashed and bagged)
1.5 tablespoons oilve oil
1 teaspoon salt (do not skip the salt, you need it to counteract the bitterness of the sprouts)
0.5 teaspoon pepper
Instructions
Preheat oven to 375F (you can do 400 if you are in a hurry but you'll need to watch it near the end)
Wash and trim the Brussels Sprouts if necessary. Cut each Brussels sprout in half.
Place the Brussels Sprouts, olive oil, salt and pepper in a resealable plastic bag. Seal it up and mix well. (Obviously you could also use a bowl if you'd rather).
Put the Brussels spouts on a baking tray and bake for 40-50 minutes. Turn them every 7-10 minutes so they cook evenly and don't char.
When they are finished they should have a nice brown color but still have some green visible. The loose leaves may be blackened but nothing else should be.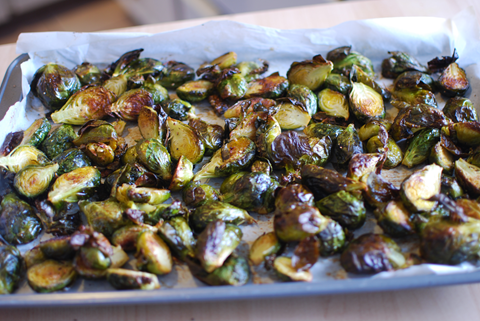 If you have leftovers you can put them in a container in the fridge and eat then reheated in the oven/toaster oven or I actually like the leftovers cold, straight from the fridge. They store best if you let them cool down to room temperature first.
You could lighten the recipe up by using a cooking spray or olive oil mister to coat the Brussels Sprouts instead of the olive oil.