This is my absolute favorite potato salad of all time. It's very unlike traditional potato salad. I tried it when I had some kale in the fridge and have made it again and again ever since.
Bacon Roasted Potato Salad with Kale and Tahini Dressing
(adapted from Dinner with Julie's Garlicky Roasted Potato Salad with Wilted Kale and Tahini Dressing)
Salad #10 Bacon Roasted Potato Salad with Kale and Tahini Dressing
Ingredients
4-6 slices of bacon, cooked and crumbled (save a little bacon grease)
2 lbs of baby potatoes cut into quarters
1 bunch of kale (remove the stems and cut the leaves into small pieces)
2 cloves garlic, sliced
¼ cup tahini
2-4 tbsp of water (if needed)
3 tbsp lemon juice
couple pinches of salt
Instructions
Preheat the oven to 450F
Toss the potatoes in the bacon fat. (You can use olive oil if you'd rather)
Lay the potatoes out on a cookie tray lined with parchment paper or aluminum foil and sprinkle with salt and pepper.
Cook the potatoes for 10 minutes, add half the garlic and cook for 15 more minutes, until potatoes are starting to get crispy and golden. Stir occasionally.
While the potatoes cook, mix the water, lemon juice, tahini, half the garlic and the salt in a blender or small food processor until smooth.
Put the potatoes into a large bowl, and add kale while the potatoes are still hot, tahini dressing and bacon.
Variations
Skip the bacon and the bacon fat and use olive oil instead for a lighter salad.
Add grated parmesan to the potatoes half way through cooking
Use spinach or swiss chard in place of the kale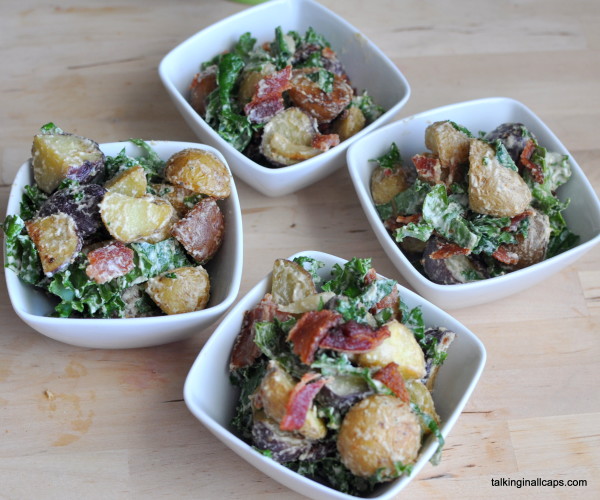 Did They Eat It?
Gordie (4 years) – enjoyed the potatoes and bacon before I put any dressing on it
Nicole (12 months) -loved it.
Stephen – Good. Tangy. Feels like I'm eating the top of a baked potato.
Dana – I cannot get enough of this salad. The leftovers are good right out of the fridge but it's best served right away.