My father-in-law is from PEI so potatoes are basically considered their own food group in their house. Baked, mashed, fried, you name it. My son seems to be taking after him, he will often grab cold leftover potatoes out of the fridge for a snack and eat them straight up.
My favorite potatoes have always been little potatoes. I like that they require so little work – they don't need to be peeled and they can be used whole or cut into bite sized pieces with just a slice or two. The other thing I like about little potatoes is because you don't peel them, you keep all the good nutrients that are found in the peel.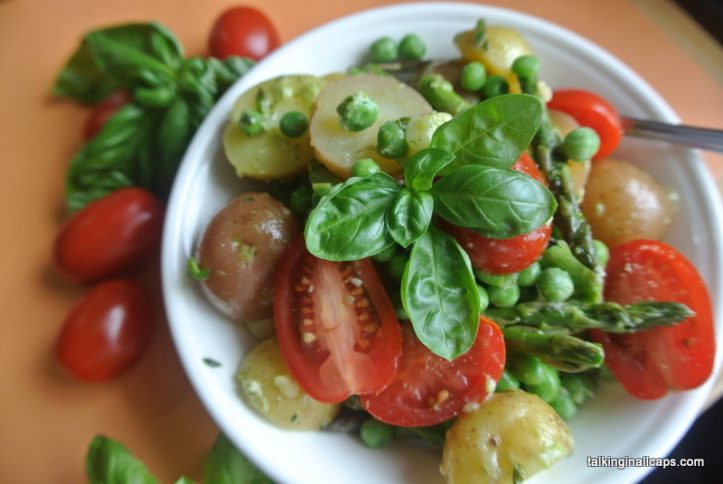 When I was thinking about what else I should make with them today, I remembered a dish that I've made before that contained pesto, gnocchi and vegetables. I figured that a variation on that would make a fantastic warm potato salad and I was right.

Little Potato Company
Ingredients
1.5 lbs of little potatoes
½ cup of peas
½ cup of asparagus or green beans chopped
½ cup of grape tomatoes cut in half
1-2 Tbsp of pesto
4 slices of monterey jack cheese cubed or shredded
Instructions
Boil little potatoes for approximately 15 minutes.
Drain the potatoes toss with pesto.
Add peas, asparagus (or green beans), grape tomatoes and cheese.
Mix together and serve warm.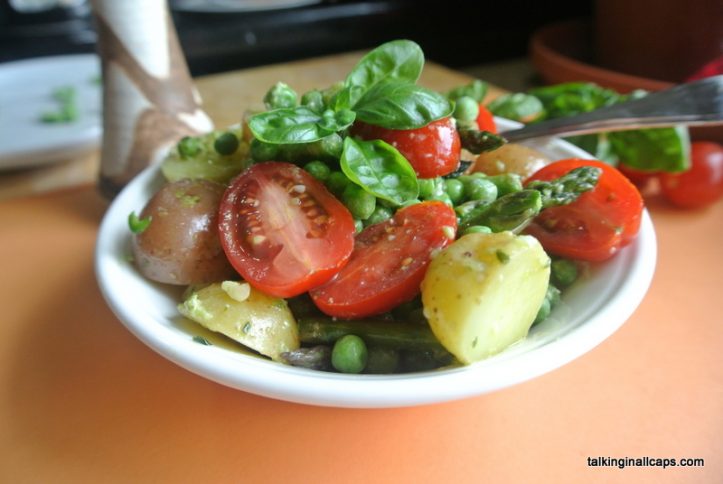 Did They Eat It?
Gordie (5 years old): Are there any plain potatoes? I'll just eat those.
Nicky (2 years old): I want ham.
Stephen: Good.
Dana: I liked this a lot. I would definitely make it again. I might not even try sharing next time!