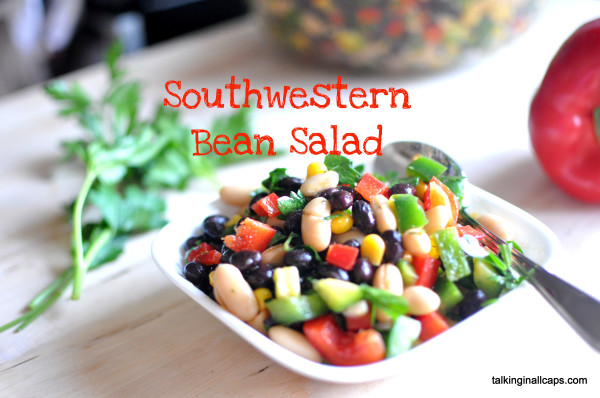 I've been planning on doing a bean salad for a while. It's hard to beat the healthiness of a bean salad, but some can make you really really notice that you are eating something healthy. This salad on the other hand is really fantastic. I've used parsley in place of cilantro, because I'm not a big fan of cilantro, but it would be great in this salad if you are.
Southwestern Bean Salad with a Slightly Spicy Dressing
(Adapted from Southwestern Bean Salad with Black Beans, Black-Eyed Peas, Peppers, and Cilantro by Kalyn's Kitchen)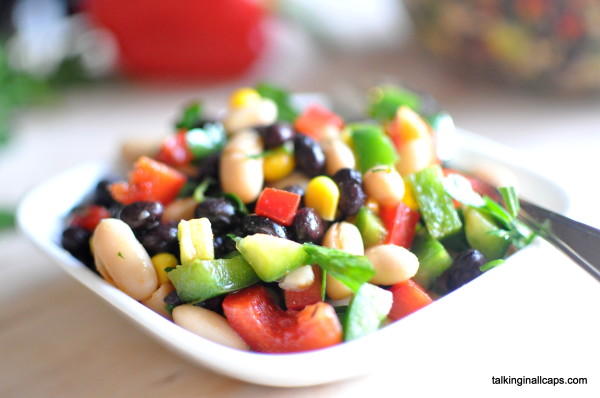 Salad #11 Southwestern Bean Salad
Ingredients
1 can black beans
1 can white beans (navy beans or white kidney beans)
1 red bell pepper, chopped small
1 green bell pepper, chopped small
1 cup frozen corn
1 bunch flat leaf parsley, chopped (about 1 cup)
Dressing Ingredients
1 tsp. Italian seasoning
1 tsp. ground cumin
1 tsp. ground chipotle chile powder
Juice of 1 lime (stick it in the microwave for a few seconds to get more juice of it)
2 T white wine vinegar
6 T extra virgin olive oil
salt and fresh ground black pepper to taste
Instructions
Rinse and drain beans and pour into a large bowl. Add parsley and peppers and mix.
Pour dressing ingredients into a small container with a lid and shake until well mixed.
Add the dressing slowly to the salad - you probably won't need it all. (I did find adding a bit of extra dressing the next day to be helpful)
Variations
Use black eyed peas instead of the white beans
swap the chipotle chili powder for regular chili powder or ancho chili powder
swap the white wine vinegar for white or regular balsamic vinegar
Use cilantro instead of parsley for a more authentic flavor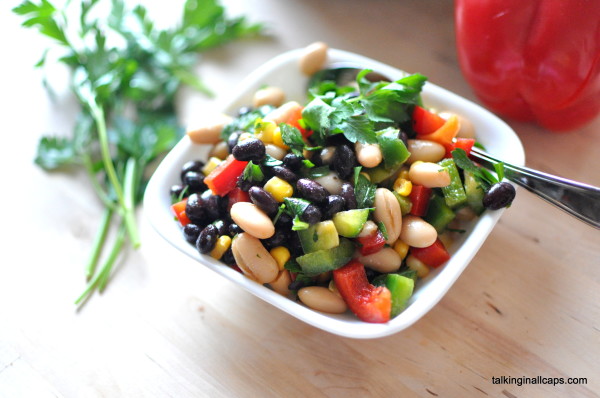 Did They Eat it?
 Gordie (4 years): Refused to eat it.
Nicole (12 months): Thought it was good. But not as good as blueberries.
Anne: Tasty even for people who don't like spicy foods. It was just the right amount of tang.
Stephen: Way better when Dana put the extra dressing on. A little bland before. (Stephen had it the next day). Made bean salad like something you want to eat, rather than something your Grandma is making you eat.
Richard: Liked it.
Erik: I didn't like it. But I don't like bean salads as a rule.
Deb: I love a bean and corn salad.
Grandma Mary: I liked it. But I like beans anyway.
Dana: I love this salad. The dressing really makes it. It's flavorful but not overwhelming.