I made this salad for our BBQ on mother's day, along with my Broccoli, Grape and Bacon Salad and my Southwestern Bean Salad. My mother-in-law was really taken with the raw asparagus that I had used in my Green Chopped Salad so I wanted to try another salad that used it that I could send home for her since we wasn't able to make it to the BBQ. I haven't heard what she thought yet, but it was a surprise favorite of my father-in-law.  It's also a really pretty looking salad, and spring is a great time for asparagus and basil. The basil is pretty prominent in this salad, so you can dial it back or try a different herb if you aren't a huge fan – cilantro would be an interesting alternative.
Raw Asparagus, Tomato and Basil Salad with a Grainy Mustard Dressing Recipe
(adapted from myrecipes.com – Cherry Tomato and Asparagus Salad)

Salad #18 - Raw Asparagus, Tomato and Basil Salad with a Grainy Mustard Dressing
Ingredients
Ingredients
1 bunch asparagus
1 pint of small tomatoes (two different sizes or colors are nice)
1 bunch of basil
1 yellow pepper chopped
Grainy Mustard Dressing Ingredient
¼ cup extra-virgin olive oil
2 teaspoons lemon juice
2 teaspoons grainy mustard
salt and pepper
Instructions
Snap the woody end off the asparagus. Chop the asparagus and yellow pepper into bite sized pieces, and slice the tomatoes in half. Chop the basil into small pieces.
Combine the dressing ingredients in a small container with a lid and shake well or in a small bowl and whisk.
Add the dressing to the salad ingredients in a large bowl. Start with about half the dressing. You want the vegetables to be well covered but not sopping.
Variations
Add chopped avocado or a cheese like fresh mozzarella, feta or Gorgonzola.
Try dijon mustard instead of grainy mustard
Try white wine vinegar instead of lemon juice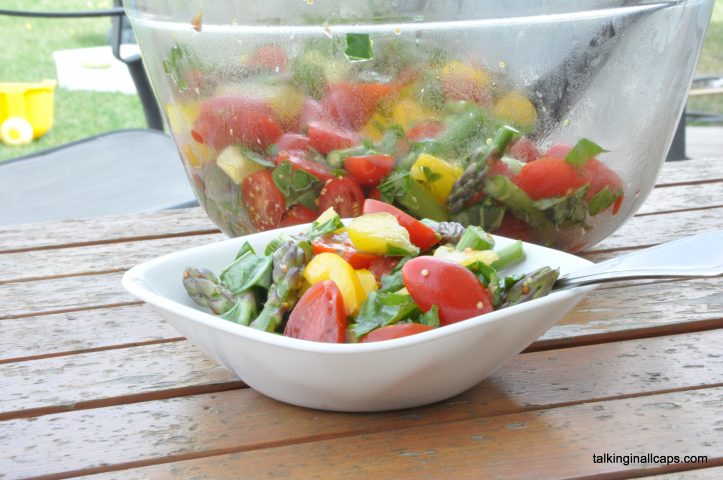 Did They Eat It?
Gordie (4 years old): Refused to try it.
Nicky (14 months old): loved it.
Stephen: Bold tasting salad. Maybe missing something – cheese maybe?
Deb: Way better when I knew it was basil instead of cilantro.
Richard: Really liked it.
Erik: I enjoyed it. I'm not used to eating raw asparagus and it is okay.
Dana: I found it almost got better the more I ate it. I'd make this one again for sure.