My First Authentic Canadian Food Experience
When I first heard about The Canadian Food Experience Project I thought it was a really cool idea and I signed up to be a part of it. And then I immediately had regrets. It is really hard to identify Canadian foods, and it is even harder to find Canadian foods that I identify with. Beaver Tails may be a great example of Canadian food, but I've never had one. That's one of the things that this project hopes to accomplish – a greater clarity of what Canadian food is.
The topic of the first challenge was our first Authentic Canadian Food Experience. I have definitely had some unquestionably Canadian foods – ginger beef, tourtiere, butter tarts, nanaimo bars, maple syrup. I also had quite a bit of game meat growing up, which is pretty Canadian too. But I was at a loss for what my first experience would have been.I didn't grow up immersed in what I would call Authentic Canadian food. My Dad is from Denmark, so there was a definite Danish influence, and we also relied on a fair bit of simple meals and convenience food. My Mom had 3 kids under 3, one of which had special needs – she did not have time for daily gourmet meals.
I thought back to some of those simple meals I had growing up, and one of them stood out. It's so simple it's barely a recipe, and there wasn't a time it wasn't part of my food experience. My Mom called it Slumgullion and it was a recipe her Mom made when she was a kid too. Slumgullion basically means a cheap stew. The origins of the term are a little vague, but appear to originate in the United States. My mother's family has a long history in Alberta, but my grandmother's father was from Iowa so I thought maybe that's where the term came from. When I asked her though, she said she thought the kids made it up. So who knows.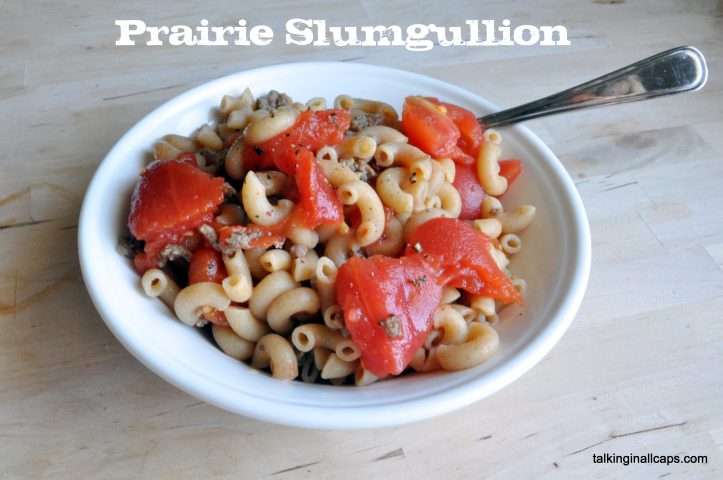 Like any dish that is basically cheap ingredients thrown together, (stews, hash, chilli) the recipe is going to vary regionally based on what's readily available and economical. In Alberta, wheat, inexpensive cuts of beef and canned vegetables are a pretty good bet.
My mom made Slumgullion frequently when I was growing up, and now it is a comfort food for me. I make it when I am low on groceries, time or give a damn but want to serve something I can still feel good about. My mom used elbow macaroni, whole canned tomatoes and ground beef. My grandmother also used ground beef, but my mom remembers she used a lot less to keep the costs down. She also sautéed some onion along with it. Mine has evolved a bit to include whole wheat macaroni and diced tomatoes. I've experimented with other kinds of noodles, but nothing is as good as the macaroni, you need the hollow space in the macaroni for the tomato juice to slip into.
Prairie Slumgullion
The Canadian Food Experience Project - Slumgullion
Ingredients
.5-1 lb ground beef
1 package whole wheat macaroni
1 large can diced tomatoes
salt and pepper
Instructions
Cook macaroni according to package instructions.
Meanwhile cook and drain the ground beef. (I usually have some that I have previously cooked and frozen so I can just throw it into this dish or pasta sauce.)
Mix together the ground beef, macaroni, canned tomatoes (undrained) and sprinkle with salt and pepper.
Best served fresh at room temperature.