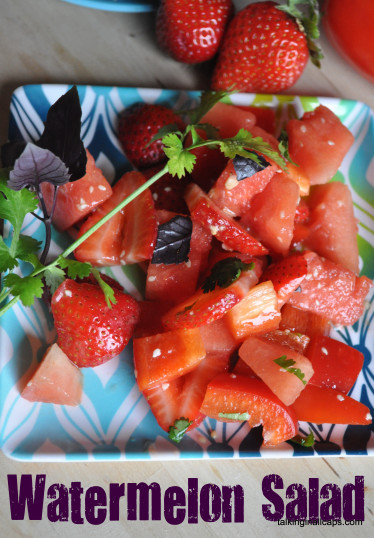 My husband has been suggesting that I make a watermelon salad for a couple months. I don't recall ever having one before but I thought I would give it a try now that watermelons are in season.  It turned out even better than I expected. This would make a nice fresh salad for a BBQ. If you doubled the recipe, it would be great for a crowd too.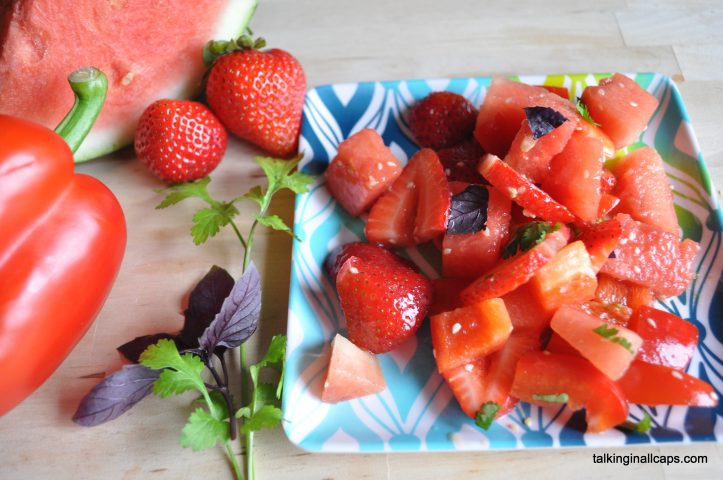 Watermelon Salad with Sesame Ginger Dressing
(Adapted from Hola Jalapeno's Watermelon and Apricot Salad)

Salad #20 - Watermelon Salad with a Sesame Ginger Dressing
Ingredients
Salad Ingredients
2 lbs seedless watermelon cut into bite sized chunks (about ½ a small watermelon)
10 or so large strawberries sliced
2 medium sized red peppers chopped into chunks
leaves from a few sprigs of basil and cilantro, chopped
Dressing Ingredients
2 TBSP honey
3 TBSP white wine vinegar
2 tsp grated fresh ginger
½ tsp salt
¼ tsp cayenne pepper
6 TBSP extra virgin olive oil
2-3 tsp toasted sesame seeds
½ tsp toasted sesame oil
Instructions
Add together dressing ingredients and shake well in a small container with a lid or a whisk in a small bowl until well mixed. If you are worried about the sharpness of the ginger you can saute it in a bit of oil before adding it to the dressing.
In a large bowl mix the salad ingredients together and toss with the dressing.
Variations
try mint instead of cilantro

swap the red pepper for cucumber or tomatoes
swap the strawberries for apricots or other juicy fruit.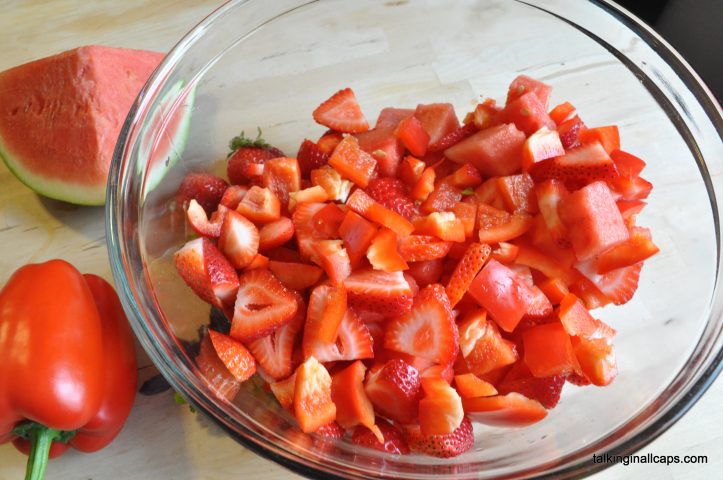 Did They Eat It?
Gordie (4 years old): Tried a couple pieces with dressing and proclaimed it terrible. (But he did try it….)
 Nicky (15 months) : Thought it was great.
Anne: Delicious! Totally great.
Bronwen: I'd never put these ingredients together. What a perfect salad.
Stephen: Good. tasty.
Rob: Really good. Random things but it really works together. You don't think of fruit and vegetables together.
Dana: This has been one of my favorite salads. I would absolutely make it again.
What's your favorite salad that mixes fruits and vegetables?