When I am trying to solve of a parenting problem I'm having with Nicky, I often find myself thinking back to how I dealt with the problem with Gordie. But sometimes I realize that I never had to deal with that parenting problem with Gordie. With your first child, they set the pace. With your second, well your first still seems to be setting the pace.
I've found this to be particularly true while we are out exploring playgrounds. Weather is one consideration – too hot, too cold, too windy, too rainy, not enough shade. I don't even think Gordie had rain boots until he was 2.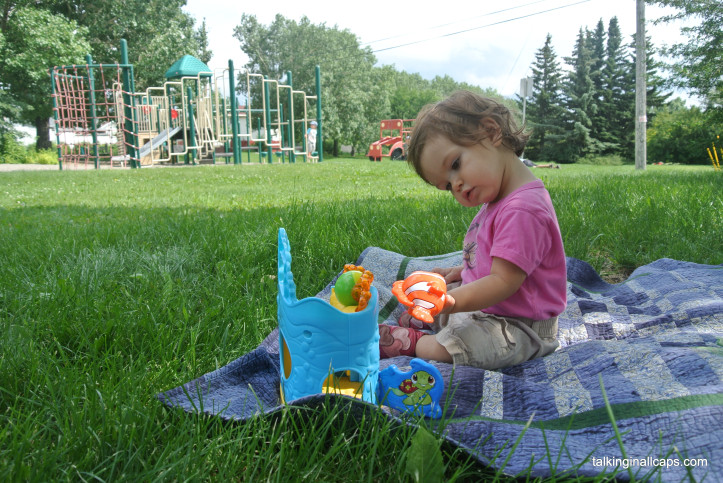 One of the things I've found helpful is bringing along a toy or two for Nicky to play with. Disney Baby's Nemo Rollin' Round Ramp is the perfect take along park toy. (Although it would be fun anywhere). The carry handle makes it easy to take from place to place and it's nice an light too. The other thing I love about it as a mom is that there aren't a lot of pieces – you may have to spend a couple minutes finding nemo but other than that you are good to go.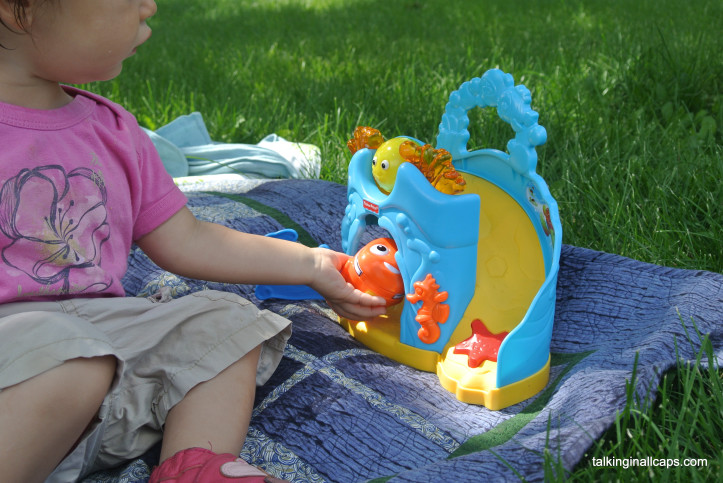 Nicky's loved this toy since it arrived in the mail and comes back to it again and again whether it's at home, at the park or at someone else's house. She's always been fond of fish (fish was one of her first words!) and she loves putting opening and closing the cavern door to put Nemo in and out and sliding him down the slide. She also loves dancing to the little tune the starfish makes which I have become very familiar with.
With a little planning and a little Disney Magic, it was easy to find happiness at the playground for both my kids.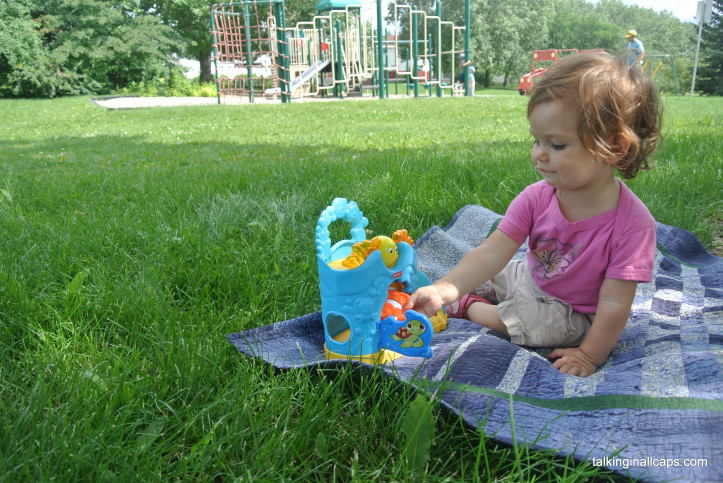 Here's a short video of Nicky playing with Nemo:
Disclosure: This post is sponsored by Disney. I received this toy and financial compensation in exchange for sharing it with you. 
About the Nemo Rollin' Round Ramp: The Nemo Rollin' Round Ramp is a fun play set for baby that features characters from Disney's Finding Nemo, plus adorable tunes and SFX. The play set includes a brightly coloured Nemo character, complete with a fun roller-ball on his belly. The lively tunes & SFX are activated as Nemo slides down the ramp or as baby pushes the starfish button. The tote features an open/close door for put-and-take play, a roller-ball Bloat to bat at, and a seahorse slider. The richly detailed handle makes this play set perfect for play at home or on the go!