This year we're getting a Summer CSA (Community Supported Agriculture) from Eagle Creek Farms. In a CSA local producers sell shares of their produce with their community at the beginning of the season. This makes it easier for small farmers to continue to farm because the risk of bad crops is shared. Alberta can be a difficult climate to grow crops in so it's particularly helpful where we live. In our first delivery, we received spinach, pea shoots, arugula, garlic scapes, radishes and a potted herb.
I'm also trying my hand at my own vegetable garden again this year. My results so far are a bit mixed but the herbs are growing really well so I decided to use them in a dressing. You could also put some of the herbs straight into the salad itself if you wanted to.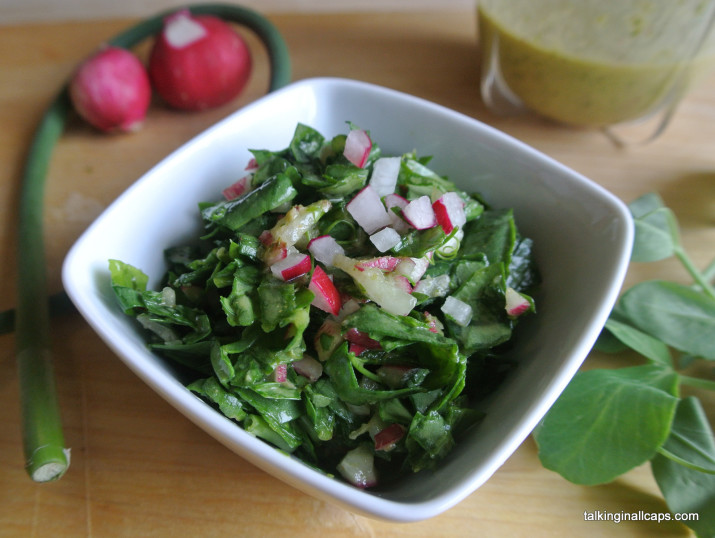 Chopped Garden Salad with Herb Dressing
(adapted from Katie's Cucina's Lemon Herb Dressing)

Salad #25 - Chopped Garden Salad with Herb Dressing
Ingredients
Salad Ingredients
6 cups fresh greens (I used pea shoots and spinach)
2-3 radishes
Herb Dressing Ingredients
Juice of 1 lemon (if you put it in the microwave for a few seconds it will release more juice)
lemon zest from 1 lemon
2 tsp honey
squirt of hot sauce like sriracha
⅓ cup olive oil
6 TBSP chopped fresh herbs (I used parsley, basil, oregano and thyme)
1-2 garlic scapes chopped (or 1 garlic clove or 1-2 green onions)
salt and pepper
Instructions
Wash and dry your greens and radishes. Chop all the greens and the radishes into small pieces. Mix together well.
Blend the dressing ingredients together in a food processor or blender. Alternatively you can chop everything finely and shake or whisk until blended.
Drizzle dressing over the vegetables and mix well. The dressing is bold so you probably won't need a ton - add a little at a time.

Did They Eat It?
Gordie (4 years old): Refused to try it.
Stephen: It was good.
Anne: Strong taste but in a good way. The salad really had bite.
Deb: Tastes like spring.
Bronwen: Liked it.
Dana: This would make a great side for dinner but I really enjoyed it as a snack.