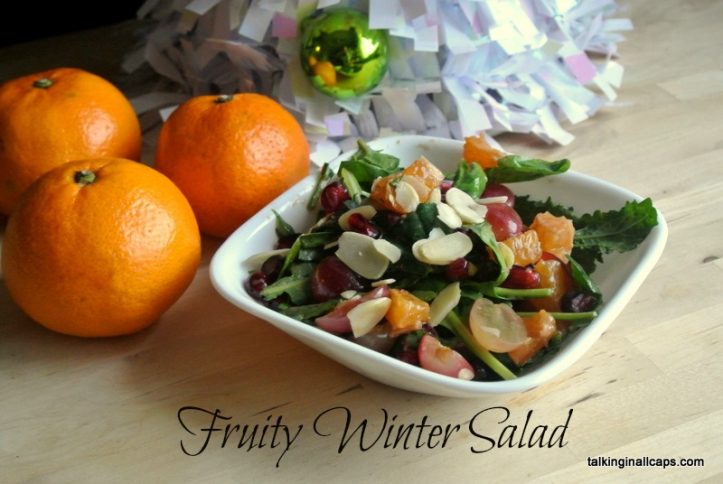 I  am not winter's biggest fan. I am fond of being warm and not inclined to ski. I also really miss the plentiful, seasonal fresh fruit of the summer. Winter is not a total loss though, pomegranates and citrus fruit are at their best in the cooler months. This salad would be lovely to bring to a pot luck, to serve as the first course for Christmas dinner or if you chop the greens it would make a lovely chopped salad side dish.
Fruity Winter Salad
(Adapted from Christmas Tree Salad)

Salad #34 - Fruity Winter Salad
Ingredients
Ingredients
1 bunch of greens (really anything will work. I used a pretentious mix of swiss chard, kale and spinach)
1 pomegranate
1 bunch grapes
2 mandarin oranges, chopped
2 small handfuls sliced almonds
Dressing Ingredients
1 shallot
2 tbsp vinegar (I used a pomegranate flavored balsamic, but a white wine or apple cider would be prettier)
2 tbsp olive oil
salt and pepper
Instructions
De-seed the pomegranate. Cut it in half along the equator. Score the skin along the membranes of the fruit. Break sections off and rub off the seeds. Some people find it easier to do this in a bowl of water. I generally find this to be wetter.
Cut the grapes in half. Cut the ends of the oranges and then cut off the rest of the peel. Chop the orange fruit into squares.
Mix the dressing ingredients in a food processor or magic bullet. Alternatively you have chop the shallot finely and whisk to combine. Or mix the shallot with the rest of the salad ingredients.
Toss the greens, fruit and dressing together in a large bowl.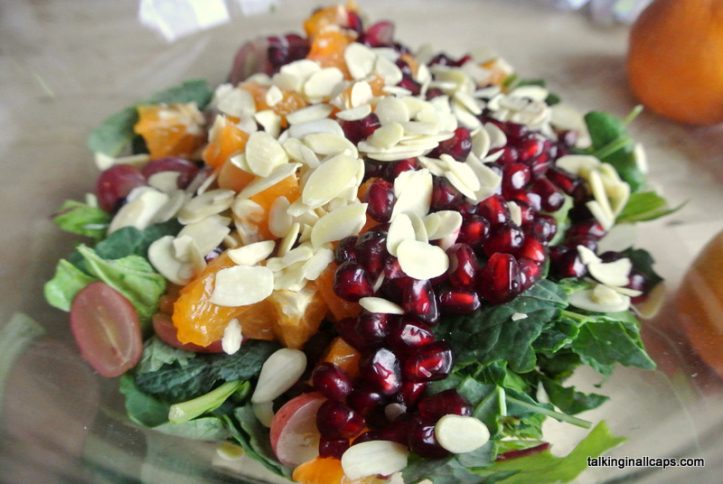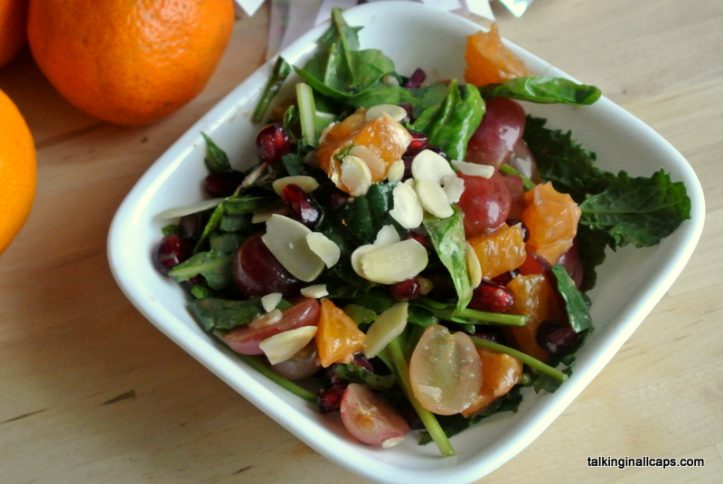 Did They Eat It?
Stephen: Good.
Gordie (4.5 years): thought the pomegranates were too sour.
Nicky (1.5 years): Loved the fruit from the salad
Dana: Lovely salad for the winter. Crunchy, sweet and fresh.