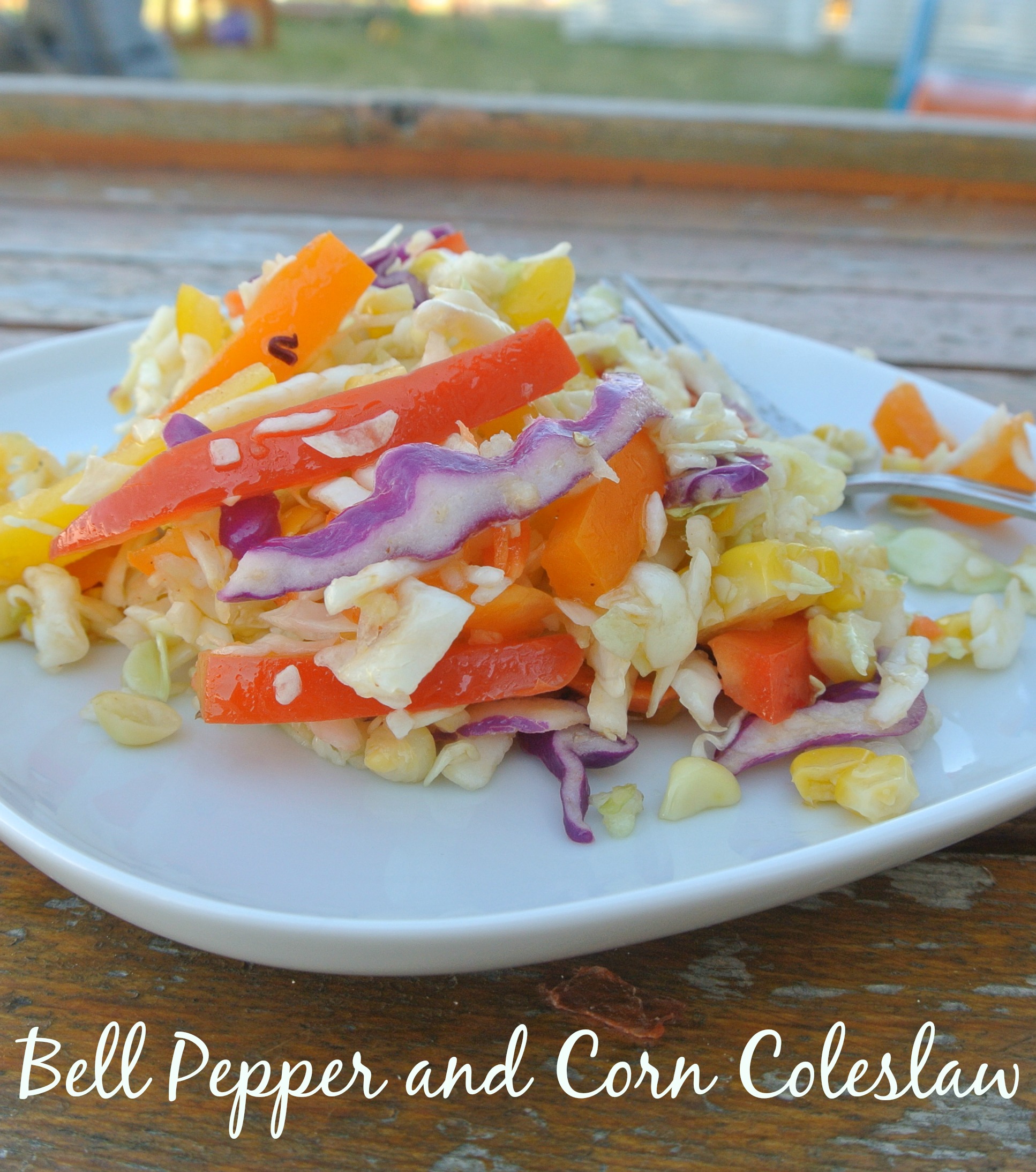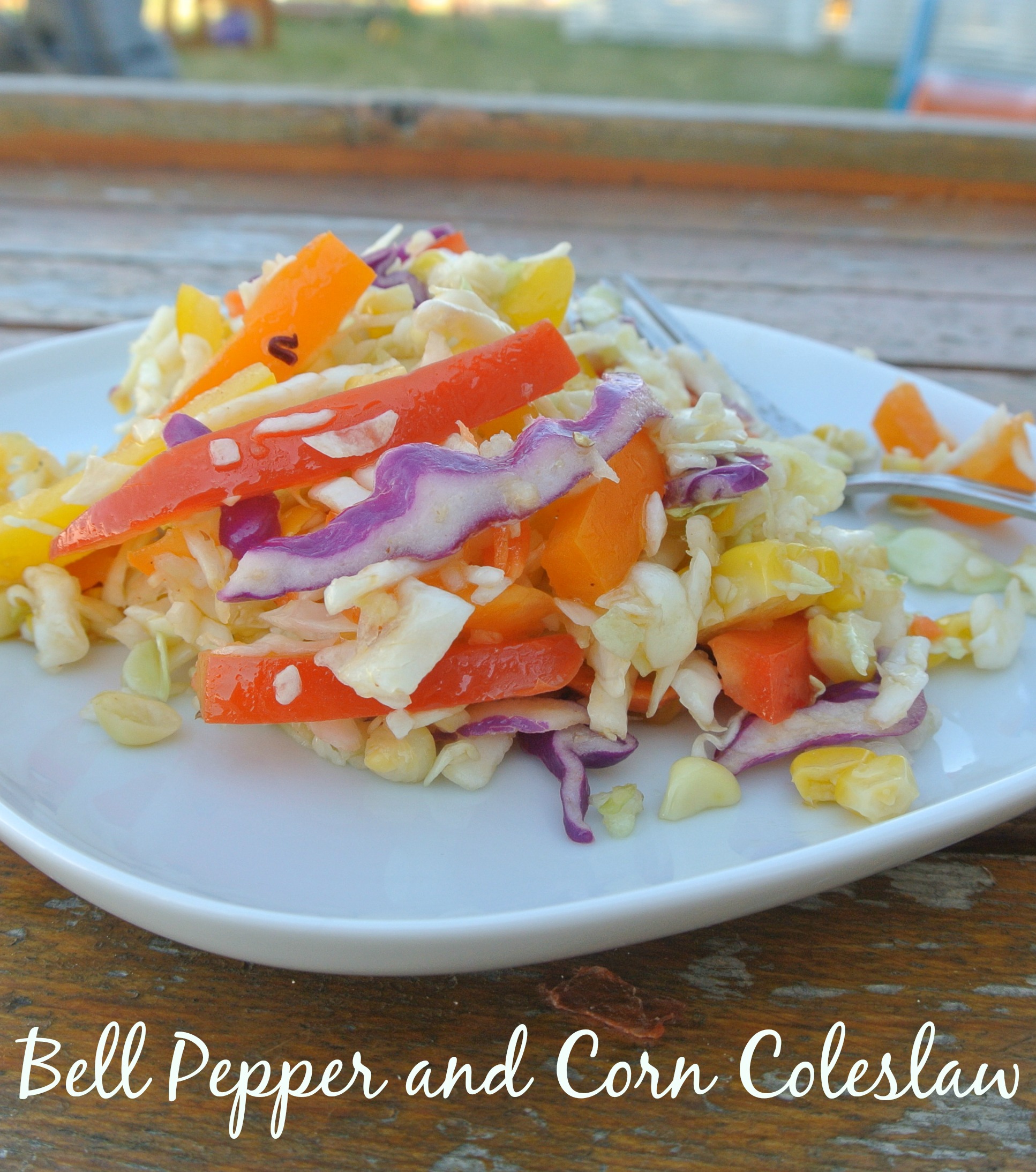 I'm going to be honest with you. I actually made this in the summer and used grilled corn. Which is awesome. You could easily make this salad any time of year using either corn roasted in the oven or just some frozen corn from your freezer. If you are feeling enthusiastic, or have some cabbages laying around feel free to shred it for this recipe. I love using a bag of coleslaw  – it makes prepping this salad a breeze.

Bell Pepper and Grilled Corn Coleslaw Recipe
(adapted from My Invisible Crown's Grilled Corn Cole Slaw with Tangy Lime Dressing)

Ingredients
2-3 ears grilled corn, kernels cut from the cob.
1 red, yellow and orang pepper sliced thinly
1 bag of coleslaw cabbage mix
juice of 1 lime
3 tablespoons olive oil
2 tablespoons white wine vinegar
1 tablespoons honey
salt and pepper to taste
squirt of sriracha sauce (or other hot sauce)
Directions
Mix coleslaw, corn and peppers in a large bowl.
Combine lime, olive oil, vinegar, honey salt and pepper and sriracha sauce together in a small bowl and whisk together or shake together in a small container with a lid until smooth.
Toss the vegetables with the dressing.
Serve cold or at room temperature.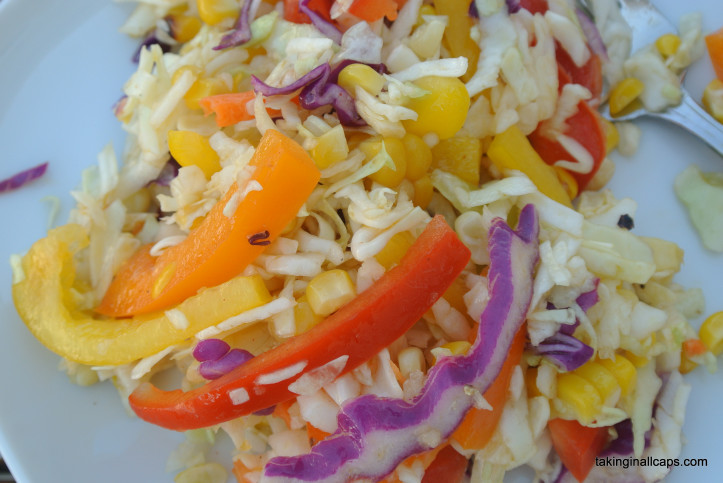 Did They Eat It?
Stephen: Oh, that is good.
Anne: This salad is great and not just because I'm hungry.
Bronwen: Deliciously refreshing.
Gordie: Liked the peppers before they were in the salad
Nicky: Liked picking the corn out of the salad
Dana: I loved this salad. I would definitely make it again.