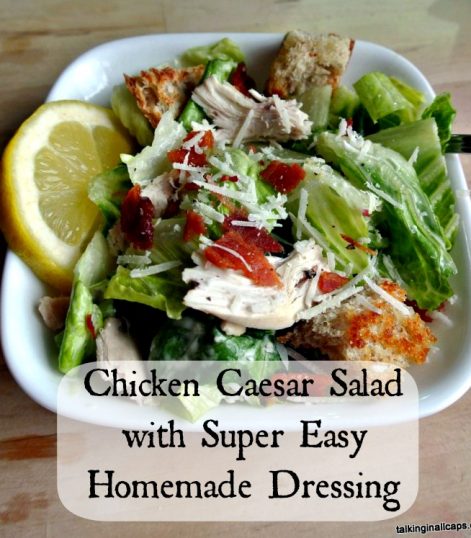 Even though I write about food a fair bit, I still find myself stuck with the "What should I make for dinner?" question a lot. The other day, I had a roasted chicken from the grocery store and so inspiration so I asked my friends for suggestions for what to do with it. I ended up making – wait for it – roasted chicken, with rice and steamed broccoli. And it was delicious. One of the other things my friends suggested was a Chicken Caesar Salad.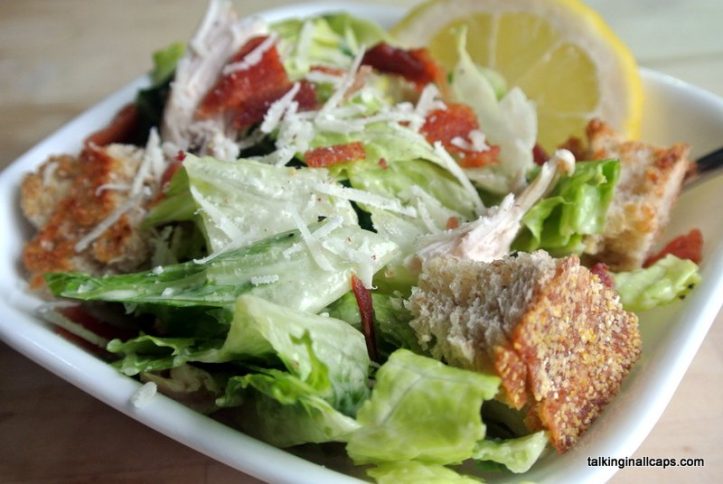 I've always been a little intimidated by Caesar dressing – raw eggs and anchovies? My friend Merry was raving about her Nana's recipe for Caesar Dressing so I checked it out – no anchovies or raw eggs to be found. Instead, it uses mayo and worchestershire sauce. The deliciousness of the eggs is found in the mayo and did you know that worchestershire sauce is made with anchovies? I am not sure what I thought it was made of, but until recently I had no idea. With those two easy ingredients, you get the same flavors, but without the hassle. This recipe could not be easier. I toned the garlic down a little for my garlic sensitive family and added some red wine vinegar so it wouldn't be missing any zip.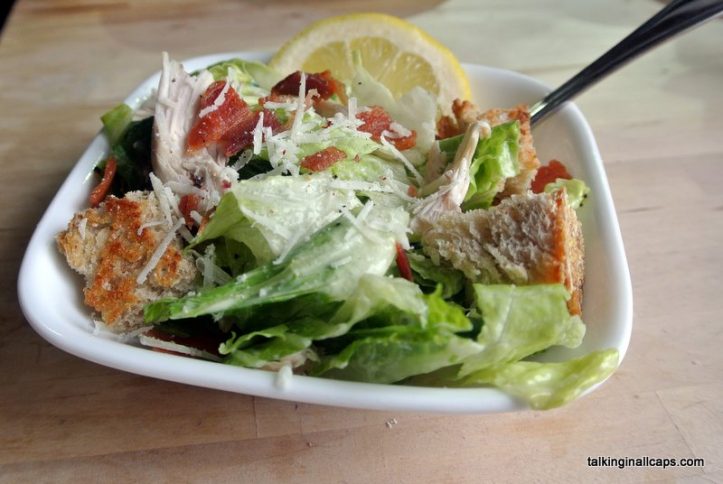 Chicken Caesar Salad
Ingredients
1 or up to 3 garlic cloves minced
¾ cup mayo
2 Tbsp Grated Parmesan
1 tsp Worcestershire sauce
1 tsp mustard
1 TBSP red wine vinegar
1 Tbsp lemon (about ½ a lemon squeezed)
Salt & Pepper to taste
Salad:
Leftover rotisserie chicken (or any kind of chicken breast pieces).
a couple slices of cooked bacon crumbled
a bowl full of romaine lettuce
a lemon
grated parmesan
croutons
Instructions
Mix dressing ingredients well.
Put the lettuce in a large bowl and add a tablespoon or so of the dressing. Toss the lettuce with the dressing with your fingers making sure you get it all over the leaves. Add more if necessary.
On top of the lettuce layer the chicken, croutons, bacon, parmesan and serve with a slice of lemon.
Notes
Adapted from http://merryabouttown.com/garlicky-caesar-salad-dressing/

 Did They Eat It?
Anne: Really good. Really really good.
Stephen: It was good.
Dana: Everything you want in a caesar dressing.