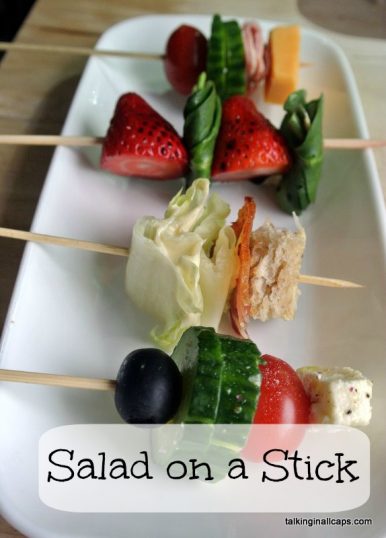 I first saw the idea of a salad on a stick in the Sweet Potatoes Chronicles Cookbook, How to Feed a Family. They used it as a cute lunch idea for kids. I thought the idea sounded potentially very cute (although maybe not so awesome in practice). I wanted to try out the idea as a party appetizer. I put together 5 different kinds and brought them to my book club. They went over really well and were definitely adorable. I did learn a few things about how to best make a salad on a stick. I also have 6 'recipes' below. The watermelon one was the clear winner but they were all pretty good.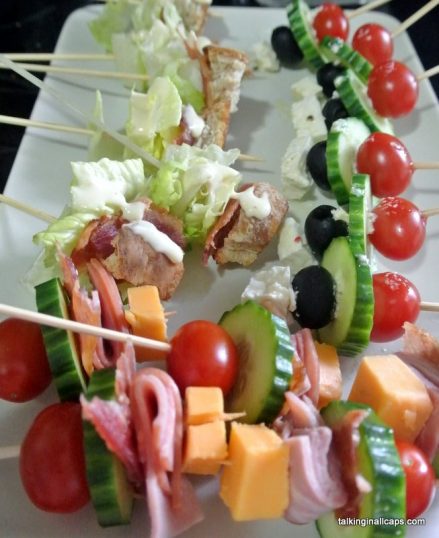 Tips for Making Salad on a Stick
Use short skewers. Toothpicks are too small. If you can't find short skewers, thread the salad near the tip). Long skewers make it really hard to transport.
Only slide the ingredients along the skewer as much as you absolutely have to.
Put something that will stick at the base (eg cheddar cheese, cherry tomato).
Ideally, put the dressing on on a different plate from the one you plan to serve on. It'll help with any potential pooling.
Make 1 or 2 different kinds. Making multiple kinds just complicates your life.
Feta falls apart and is really hard to skewer.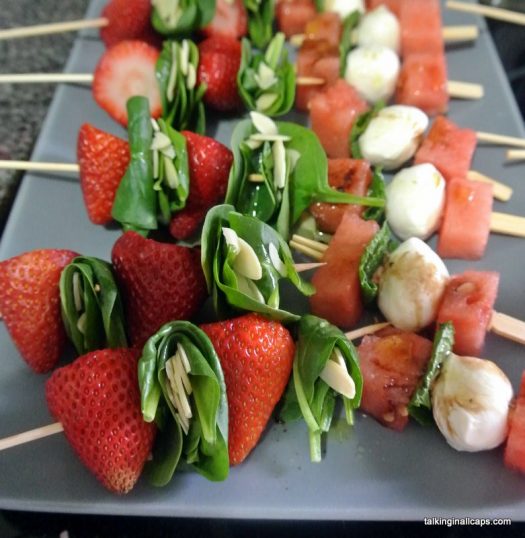 Watermelon Salad on a Stick
2 Watermelon cubes
1 mint leaf
1 bocconcini ball (fresh mozzarella

)

drizzle of honey
drizzling of balsamic vinegar (balsamic glaze works even better – I found it here at costco).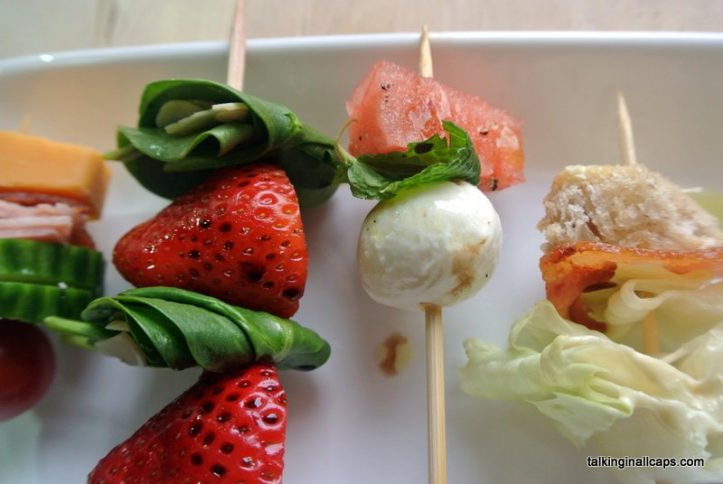 Caesar Salad on a Stick
Romaine Lettuce
Bacon
Croutons (homemade is best because they are softer – cut up some pieces of artisan bread, coat in a little butter and bake)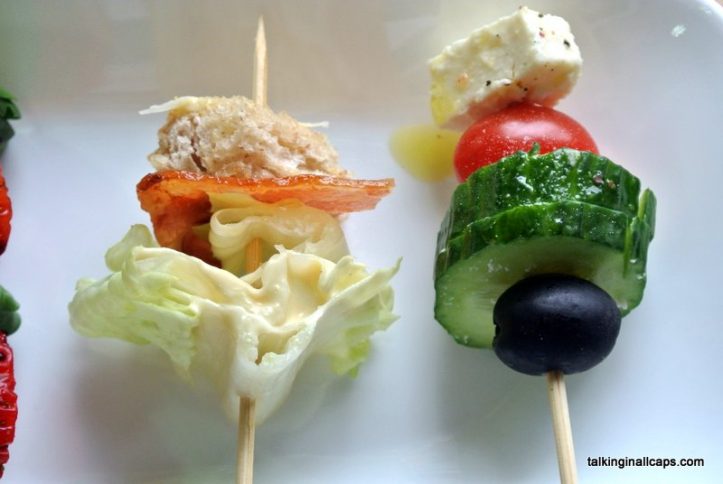 Greek Salad on a Stick
My pictures show a piece of feta but in my experience it tends to crumble no matter how careful I tried to be. Instead, I recommend using a piece of bell pepper and putting feta in the dressing instead.
cherry tomatoes
slices of cucumber
olives
bell pepper chunks
drizzle feta or greek dressing  (or mix up olive oil, red wine vinegar, feta cheese, salt and pepper).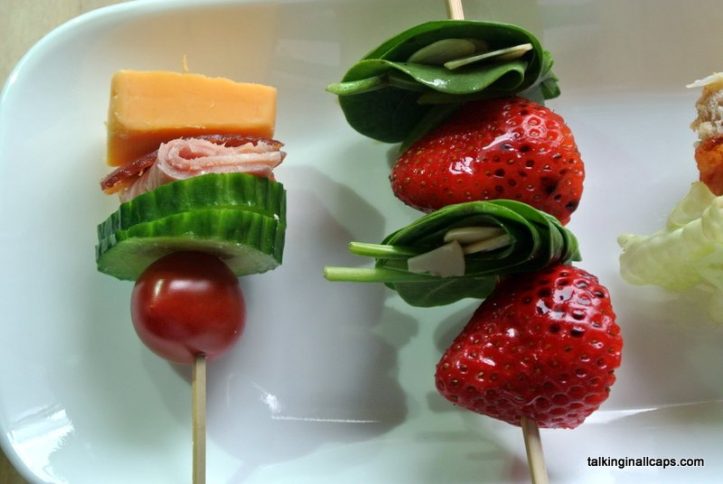 Strawberry Spinach Salad on a Stick
spinach leaves
strawberries
almond spices
drizzle of balsamic vinegar
drizzle of olive oil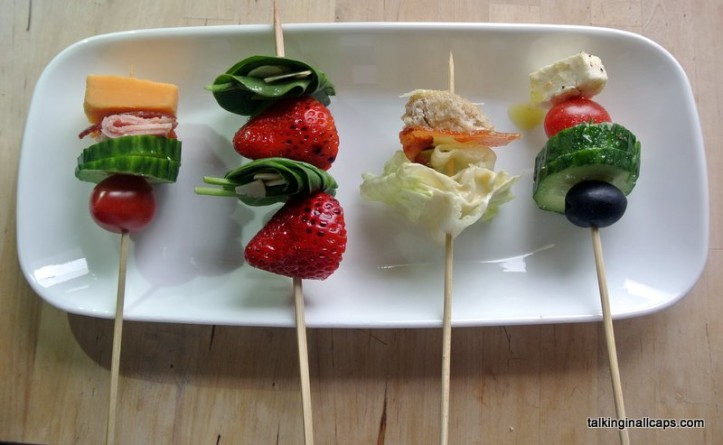 Chef Salad on a Stick
cheddar
slices of ham
bacon
cherry tomato
slices of cucumber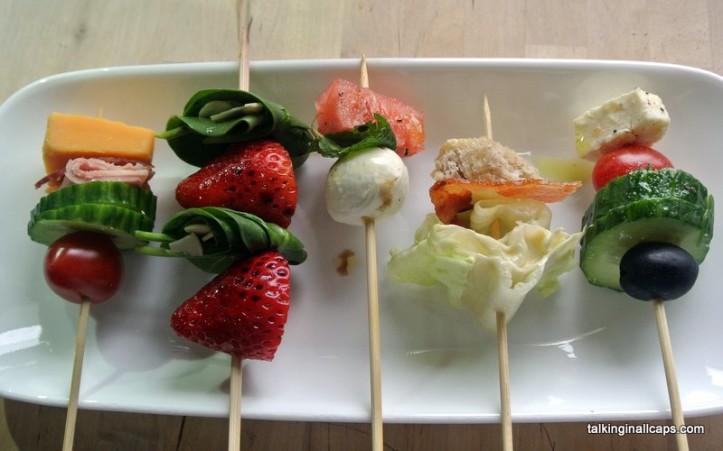 Caprese

 Salad on a Stick

I didn't actually make this. But I really wanted to. I couldn't find basil. Why is it so hard to find basil in Calgary grocery stores?
cherry tomato
basil leaf
1 bocconcini ball (fresh mozzarella

)

drizzle with balsamic vinegar (balsamic glaze works perfectly)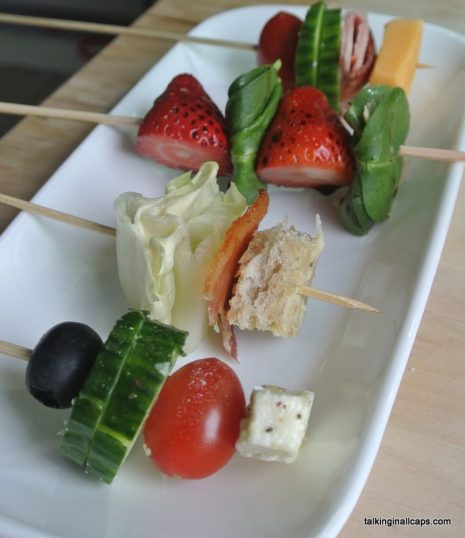 Did They Eat It?
There were only a couple salad on a sticks left at the end of the night. The Chef salad seemed to be a little less popular than the others and the Watermelon salad was (I think) the most popular. I would absolutely make them again, but I wouldn't travel with them unless I could find shorter skewers.