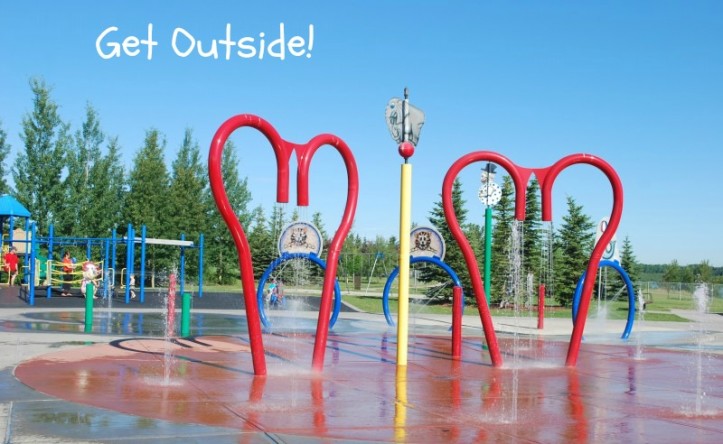 My family spends a lot of time outside. I try to do it all year round, but the Summer is my favourite time for outdoor play. There's an ease about going outside in the summer. It seems like there is less you have to deal with – no coats or boots, mittens or scarves. Although I really like the ability to just hang out in the warm weather, what I look forward to the most is taking the kids to the spray parks and wading pools. We've been to every public splash pad in Calgary and love them all. They do take a little more planning than a trip to the park though.
The single biggest tip that I can share (after making this mistake more times than I can count) is if you are going anywhere near a water feature – even if you have no intention of playing in the water – make sure you bring along swim clothes and Huggies Little Swimmers just in case. Once you get there the water always seems irresistible. Below I have eight tips to make your family's trip to the local splash pad or swimming pool safe and fun.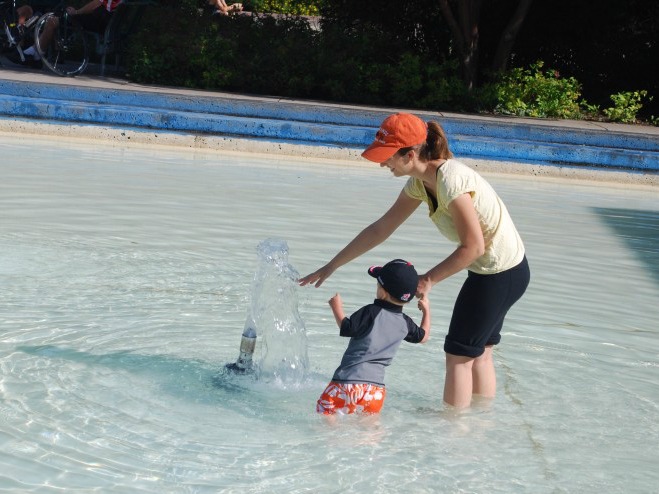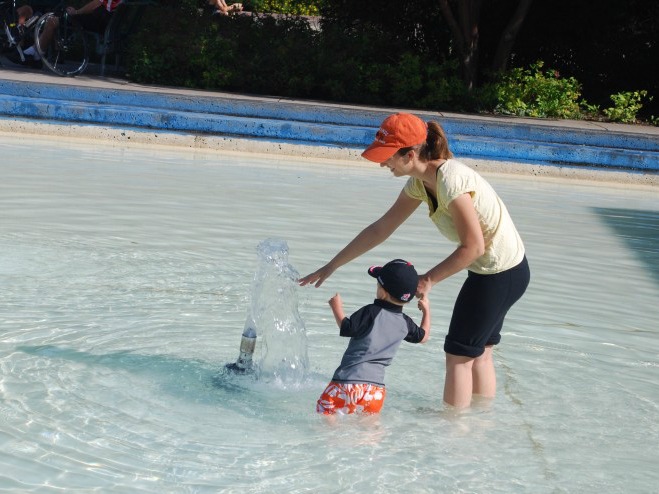 1. Sun protection  – Being near the cool water will make it less likely for you to notice the heat of the sun. Make sure to protect your family from sunburns by applying waterproof sunscreen and wearing hats and sunglasses. Swim shirts can be helpful for protecting against frequently sunburned areas like the chest and back. Many splash pads lack good shade so you may even want to consider bringing a portable sunshade especially if you have a small baby.
2. Towels – Bring big beach towels, which can double as blankets.
3. Swim Diapers – Most pools and splash pads require little ones to wear swim diapers. I used Huggies Little Swimmers for my son and still use them for my daughter. They are great because they hold in what they should, but don't take on water like regular diapers. The easy open sides make clean up a breeze. Don't forget to bring a couple more than you think you'll need just in case.
4. Wear swim clothes on the way there and bring clothes to change into. This makes everything a little more streamlined once you are there. I usually wait to put the Little Swimmers on until we get there to make everything as fresh as possible. Don't forget to pack underpants and diapers!
5. Snacks and drinks – Running around in the water will make your kids hungry and thirsty so these are a must. Also, make sure your kids know not to drink the water in the pool or from spray features. It's safe for playing, but it's not tap water.
6. Toys – This seems like something you could easily skip, but I always regret it when I do. If you're going to a pool or wading pool that allows them, floaty toys are tons of fun, but a couple small buckets will add fun to your water play no matter where you are going.
7. Sandals or water shoes – One of the most annoying things in the world is trying to put socks on wet feet. Make sure everyone is wearing sandals that are easy to get on and off. My kids usually prefer to go barefoot in the water, but you may want to consider bringing water shoes particularly if the ground is rough or slippery.
8. Pack everything in a big bag or a wagon – Make travelling to and from the water easier by using a big bag to hold everything. If you have longer to walk and the place you are going has room, a wagon can make your life a lot easier. You'll want to bring a smaller plastic or water-resistant bag along, too, so you can throw all the wet clothes and towels in it at the end of the day.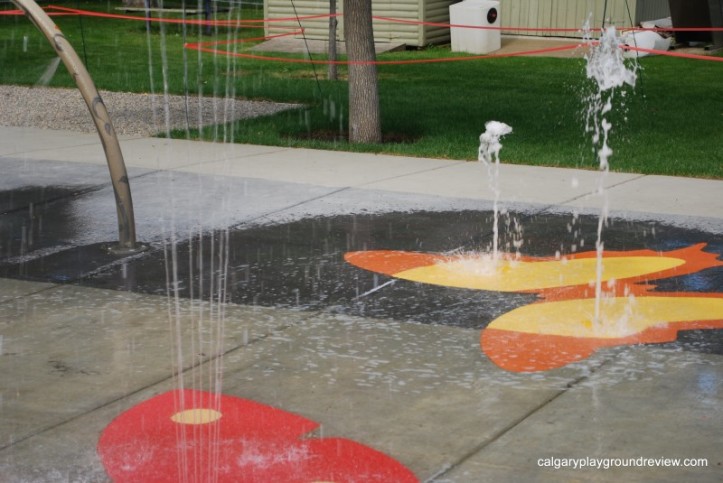 ---
Squeeze every drop of fun out of summer with HUGGIES® LITTLE SWIMMERS® Swimpants.  HUGGIES® LITTLE SWIMMERS® provide worry-free water play, feature Easy Open Sides to make changing a breeze and provide a comfortable fit for your child, in and out of water. Learn more at http://www.huggies.com/en-CA/products/diapers/littleswimmers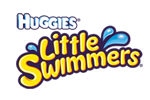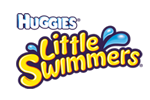 *   Disclosure: This post was brought to you by the HUGGIES® LITTLE SWIMMERS® brand via Glam Media Canada.  The opinions expressed herein are those of the author and are not indicative of the opinions or positions of the HUGGIES® LITTLE SWIMMERS® brand.