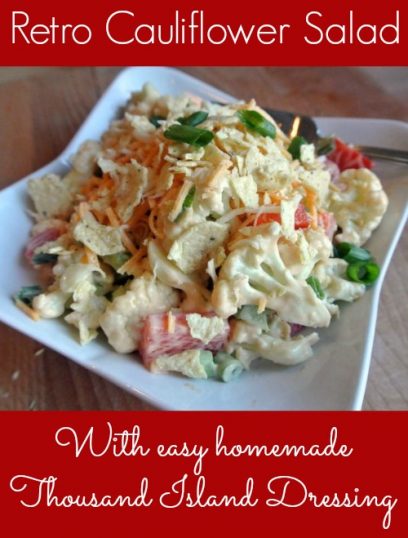 I had some leftover cauliflower and wanted to make a salad but I wasn't really sure what to make. I am not the biggest fan of raw cauliflower.  A friend of mine suggested a salad that included cauliflower, cheese, thousand island dressing and Doritos. At first I wasn't going to make it, but I couldn't get it out of my head. I've always loved thousand island dressing – I used to order it all the time when I was a kid.
I recently discovered that it is shockingly easy to make your own thousand island dressing with ingredients that you might already have in your fridge. I like to say that I make it from scratch. When you make a condiment by mixing other condiments together, you totally made it from scratch, right? Anyway, I made the salad and it is pretty darn good. I would absolutely throw it together again if I found myself with some extra cauliflower. It would also make a great pot luck salad (as long as it is not sitting in the sun).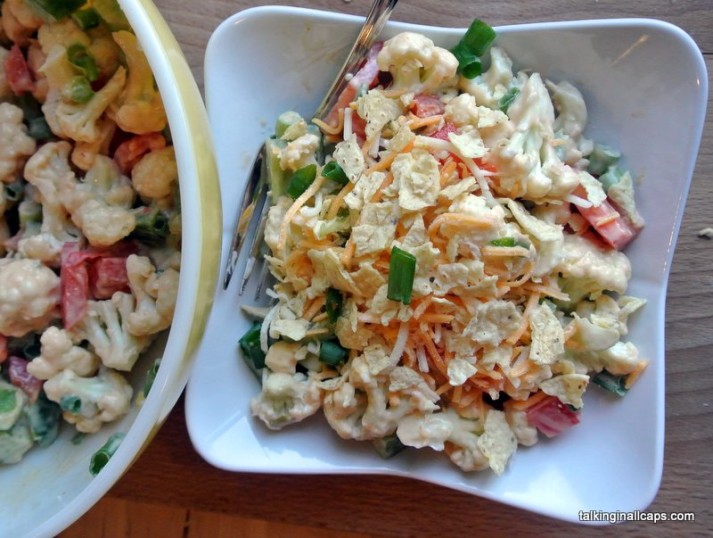 Retro Cauliflower Salad
Ingredients
½-1 head of cauliflower
1 green pepper
1 red pepper
2 or more green onions
tortilla or dorito chips
shredded cheese (tex mex)
Thousand island dressing:
½ cup mayo or miracle whip
2 tablespoons ketchup
½ tablespoon rice wine vinegar (or cider)
1 tbsp relish (any kind)
Instructions
Cut cauliflower into florets. Cut green and red peppers into chunks. Put them all into a large bowl.
Mix thousand island ingredients together in a small bowl. Pour over the vegetables.
Top each bowl with shredded cheese, crushed chips and sliced green onions.
Notes
http://www.familycookbookproject.com/recipe/2454018/cauliflower-salad.html

Did They Eat It?
Nicky: liked the cauliflower. "flower"
Gordie: liked nibbling on the cauliflower and peppers while we made it.
Stephen: Tasty. Reminds me of crab dip.
Dana: I love thousand island dressing. Definitely worth making if you have some cauliflower lying around.