Taking kids out for dinner can be challenging at any time but going to a restaurant where they are serving food they are unfamiliar with can be even more of a headache. That doesn't mean you have to give up on your favourite restaurants.
Tips for Eating Out with Kids in New Restaurants
Go on a Food Adventure– try to make the outing seem like an adventure. Explore new places and new foods in a fun and relaxed way. My kids really respond well to the 'food adventure' process of exploring new food (click here for more information).
Keep your expectations low – even if they hardly eat anything and hate everything, try to see going to a new place and trying something new as a win.
Try to find something that you know they will eat even if it's not ideal. You can usually find something, noodles, rice, bread, chicken etc that your kids won't turn their nose up at. I see it as a gateway to trying new foods. Sure, a meal of Naan bread (for example) is far from perfect, but at least it's a step in the right direction. If you can get them in the door, you'll have more opportunities for them to try more things.
Get things to share – having a big plate of unfamiliar food can be overwhelming. Get small plates for the kids and put out small portions. If they are reluctant to try things only put a small piece of one new item on their plate at a time.
Try take out – this can take some of the pressure of a restaurant setting out of the equation. It can also backfire however, because the kids know that there are other things available at home.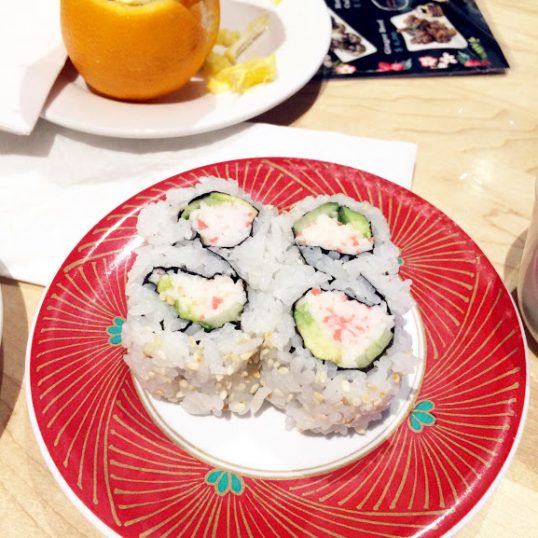 Kid Friendly Things to Try at Sushi Restaurants
Different restaurants' menus will vary but here are some ideas of things you may find. It can help to look at the menu online before going to the restaurant and plan out what you will order before going in.
Rolls
Not all kids will be willing to try sushi rolls, but your kids may surprise you so don't completely discount them. Many kids enjoy the mild flavour and creamy texture of California rolls, the sweetness of Mango rolls or the plainer avocado, or cucumber rolls.
Other Things
My daughter wants nothing to do with rolls but sushi restaurants usually have many other options as well.
Miso Soup – if your child enjoys soup, they may enjoy the broth of mild flavoured miso soup
Edamame – similar in look to peas with a fairly mild flavour these can be a good option
Chicken Katsu – breaded chicken that may appeal to kids who love chicken nuggets
Chicken Yakitori – chicken skewer coated in a sweet sauce
Gyoza – pork dumplings
Yam Tempura
Noodle dish such as chicken fried noodles may win over kids who love noodles
Those are some of the things that have won my kids over at Sushi restaurants. What has your reluctant foodie enjoyed (or at least was willing to try!)?