Our Winter CSA has finished but I found myself in possession of two very large kohlrabies. Kohlrabi wasn't something I was very familiar with before, it has a kind of mild turnip-like flavor. I had asked around about what to do with them and the most popular answers were, slice it up and serve it with a little salt or to add it to stir fries. I tried it sliced with a bit of salt and it was surprisingly good. I figured that there must be someway to make a salad out of it and found an awesome looking recipe for kolhrabi salad by the Wednesday Chef.
Their original recipe called for matchsticks of carrots and kohlrabi. Which I tried to do, but I'm lacking a) a mandolin  b) a kitchen tool that creates matchsticks or c) good knife skills. So I ended up making something a little bit more like… too large, irregularly shaped, rectangular vegetables. So I tried it again and shredded it instead and found it to be much improved.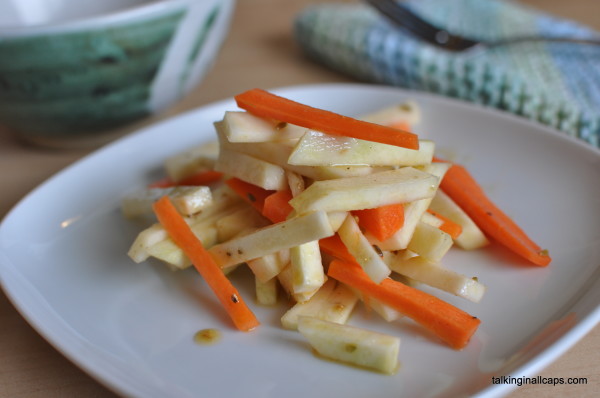 Shredded Carrot and Kohlrabi Salad with Asian Dressing
(adapted from Kohlrabi Salad by the Wednesday Chef)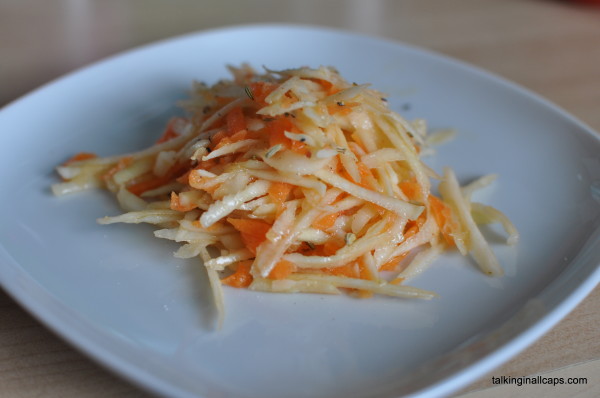 Salad #6 Kohlrabi and Carrot Salad with Asian Dressing
Ingredients
about 4 cups of peeled and shredded kohlrabi (2 medium, half a large cabbage sized one)
2-3 large carrots shredded
1 teaspoon fennel seed or ½ teaspoon ground fennel
2 Tablespoons rice wine vinegar
salt (I like to grind sea salt) and fresh ground pepper
2 Tablespoons olive oil
1 Tablespoon sesame oil
squirt of Sriacha sauce
Instructions
If you are using whole fennel seeds, I really recommend toasting them for a few minutes and then smooshing them up a bit. Putting them in a pile and using the back of a spoon will be fine if you don't have a mortar and pestle. I've tried doing it without and it really does make a difference.
Mix the shredded carrots and kohlrabi together in a large bowl.
Mix the remaining ingredients together either in a small bowl and whisk  or in a small container with a lid and then shake until the dressing looks uniform and creamy.
Add the dressing to the vegetables and mix well.
Variations:
Add some honey for a bit of sweetness

Add some grated apple
Add some powdered or minced garlic to the dressing
Did they eat it?
Stephen: Good. Subtly spicy. Could maybe use a bit of sweetness.
Deb: Really good. I like the Asian flavor.
Nicky (12 months): Loved chewing on the irregularly shaped vegetables and eating the shredded ones.
Gordie (almost 4): tried a tiny bit – it's a little bit sour
Geoff (my special needs brother): really liked it
Dana: I thought this salad was great. It was quick and easy to put together and makes great use of the kohlrabi.