I'm trying to make a different interesting, seasonal salad each week so I'm paying attention to ingredients that I normally wouldn't. I saw the fenugreek by the herbs when I was picking up some parsley and bought it home to figure out how I could make a salad out of it. 

I thought it would replace parsley nicely in a Tabbouleh like Salad so this is what I came up with. But if you don't have Fenugreek, just use the more traditional parsley.
Quinoa Tabbouleh Salad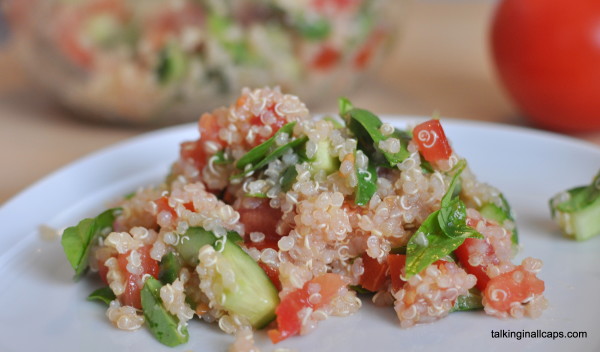 Salad #7 Quinoa Tabbouleh Salad
Ingredients
1 cup Quinoa
2 small or 1 large tomato
1 bunch of fenugreek leaves (or parsley)
half a cucumber (or two baby cucumbers)
juice of 1 lemon
6 tablespoons extra virgin olive oil
salt and pepper
Instructions
Cook Quinoa according to package instructions and let cool.
Mix with chopped tomato, cucumber and fenugreek.
Mix the remaining ingredients together either in a small bowl and whisk or in a small container with a lid and then shake until the dressing looks uniform and creamy.
Add the dressing to the Quinoa mixture.
Variations
Use rice, barley or bulger instead of the Quinoa
Use parsley or a mixture of green herbs (dill, basil etc) instead of the fenugreek
 Did they eat it?
Nicole (12 months): liked it but had a hard time picking it up
Gordie (3.5 years): I bribed him to try two pieces of Quinoa. Said it was good but wouldn't try any more.
Deb: Nice and fresh.
Stephen: Good. The fenugreek flavor isn't too over powering.
Dana: This salad felt nice and light. It was a nice break from some heavier winter salads. The fenugreek has a bit of a bitter taste but you can counteract that with a bit of salt.