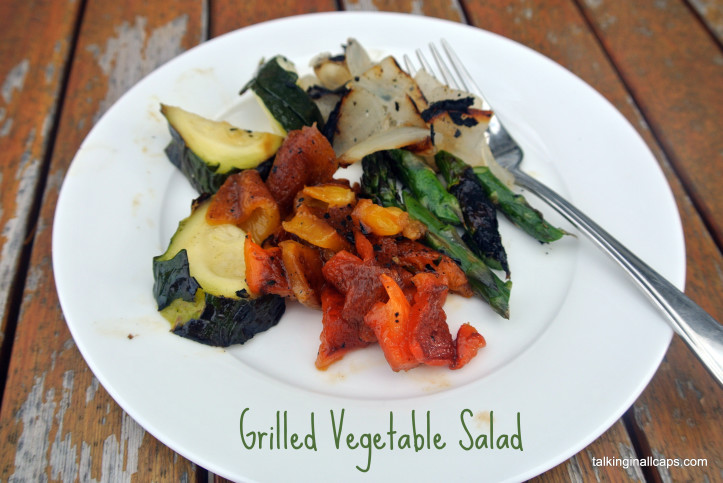 Barbecue season is upon us, or at least there is no longer snow on the ground. On of the few days it hasn't been raining, I threw together this roasted vegetable salad. Getting the timing right on the roasting can be a little tricky – I started out with a lot more asparagus than I ended up with. Aside from that, the salad is quite simple and very delicious. You can use any number of good roasting vegetables in addition or instead of the ones I used including carrots, eggplant, fennel or squash.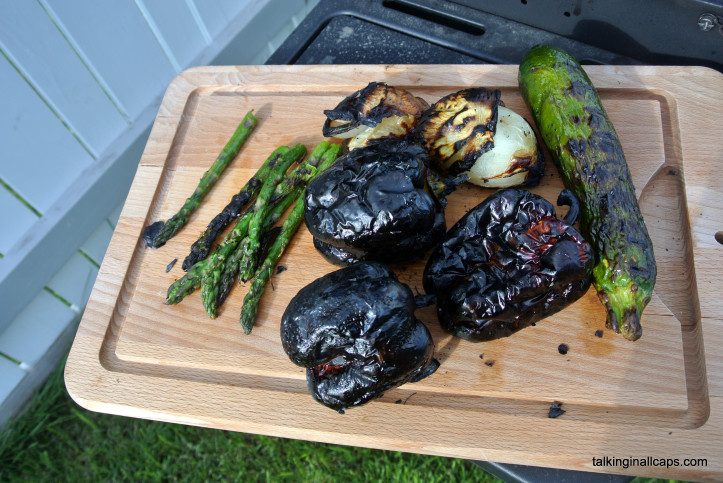 Grilled Vegetable Salad
(adapted from Grill This Not That's – Grilled Vegetable Salad)

Salad #22 - Grilled Vegetable Salad
Ingredients
Salad Ingredients
3 peppers (different colors are pretty)
1 zucchini
1 yellow onion
handful of asparagus (more if you are prone to burning things)
olive oil
Dressing Ingredients
extra virgin olive oil
garlic (I used garlic powder but if you like more of a bite a couple grated garlic cloves would work too)
red wine vinegar (or sherry vinegar)
coarse salt
Instructions
Snap the woody ends of the asparagus. Cut the onion in half across the middle. Cut the zucchini in half. Cover all the vegetables lightly in olive oil.
Turn your grill on to medium heat and lay the vegetables on it.
Your vegetables will be done in 5-20 minutes. My reference says that asparagus should be done in 10 minutes on high heat but most of it was burnt beyond saving after 5 so check to see if anything might need turning after a couple of minutes. After that check and turn your vegetables every 5 minutes. You want your vegetables to be tender but retain a little bite. Your peppers (or eggplant if you're using that) should be covered in char when they are done.
Stick the peppers (and eggplant) in a plastic bag for 5 minutes and then peel off the skin.
Slice all the vegetables into bite sized strips or chunks.
Drizzle with extra virgin olive oil, red wine vinegar, garlic and salt.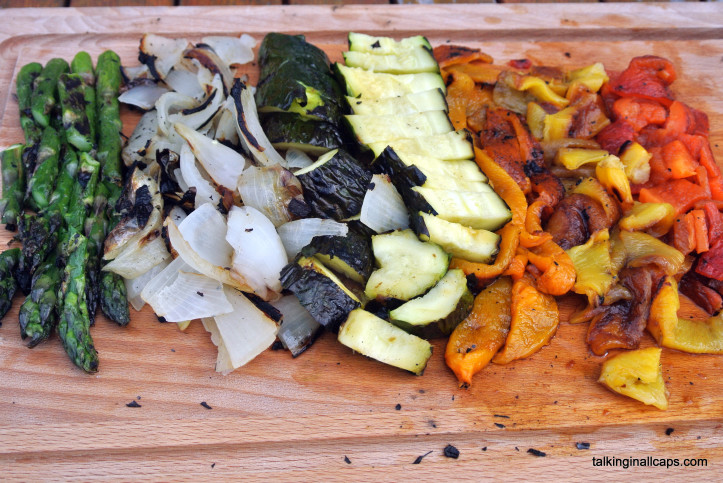 Did They Eat It?
Gordie (4 year old): refused to try it.
Richard: Quite enjoyed that even though I had just finished a big bowl of ice cream.
Bronwen: Great. Well grilled – the vegetables retained their texture and flavor but were still very soft.
Anne: Delicious. Really really good. I like the flavor of barbecue vegetables. I even ate the onions even though I usually don't.
Stephen: Really tasty.
Dana: I can't wait to experiment with different kinds of vegetables. I will definitely be making this again.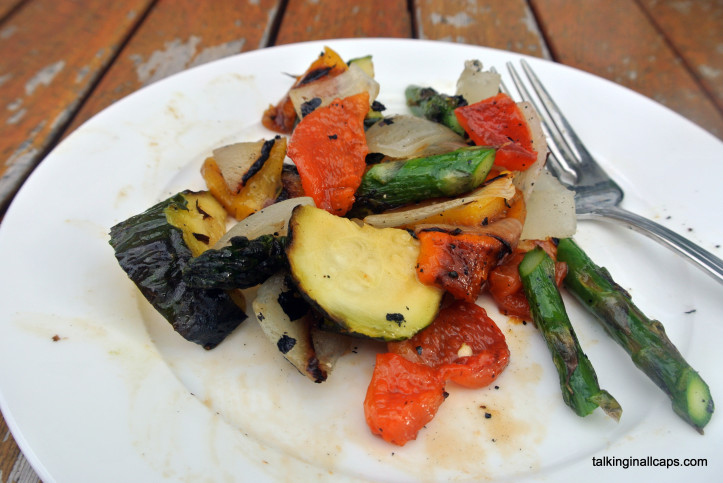 What's your favorite thing to grill on the barbecue? Do you like grill vegetables?