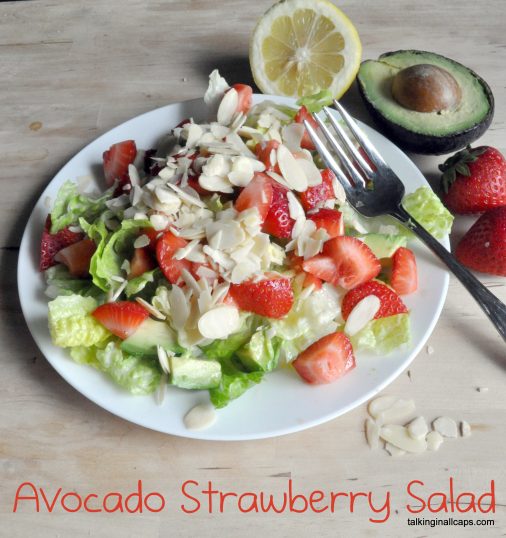 This salad marks the halfway point of my 52 Salads Challenge.  I've found inspiration for the salads from pinterest, cookbooks, food blogs and increasingly I'm getting suggestions from friends for salads they love. This salad was recommended to me by my friend Catherine (who writes a funny blog at http://www.catherinedabels.com/). Her nutritionist recommended it to her and it's easy to see why. It contains healthy fats from the avocado, protein from the  almonds and a flavorful dressing that isn't high in fat or sugar. This salad would be perfect for a light lunch or dinner.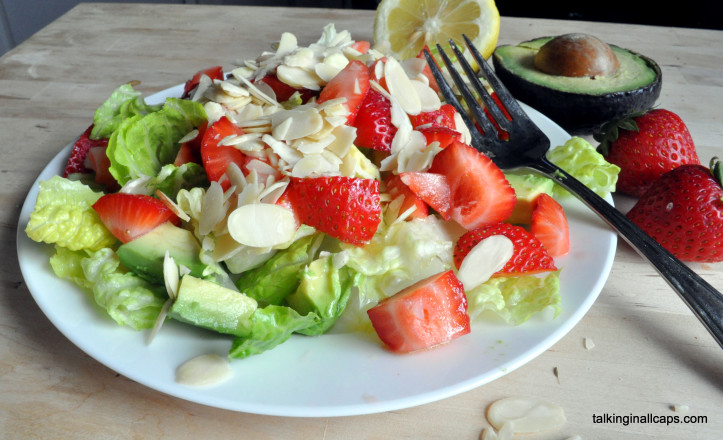 Strawberry Avocado Salad with a Maple Dressing
Salad #21 - Strawberry Avocado Salad with Maple Dressing
Ingredients
Salad Ingredients
1 avocado
10 strawberries
½ cup sliced almonds
1 romaine heart
 Dressing Ingredients
1 TBSP maple syrup
2 TBSP olive oil
1 TBSP cider vinegar
1 tsp lemon juice
Instructions
Chop or rip the lettuce into bite sized chunks. If you are chopping, using a non-metalic knife will prevent it from browning.
Cut the strawberries into quarters.
Cut the avocado in half lengthwise. Pop out the pit and score the flesh of the avocado into squares. Use a spoon to scoop them out.
Mix the dressing ingredients together by either shaking well in a small container with a lid or whisking them in a small bowl until well combined.
Layer the salad with the lettuce on the bottom, then the avocado and strawberries and top with the almonds. Drizzle some dressing over the salad.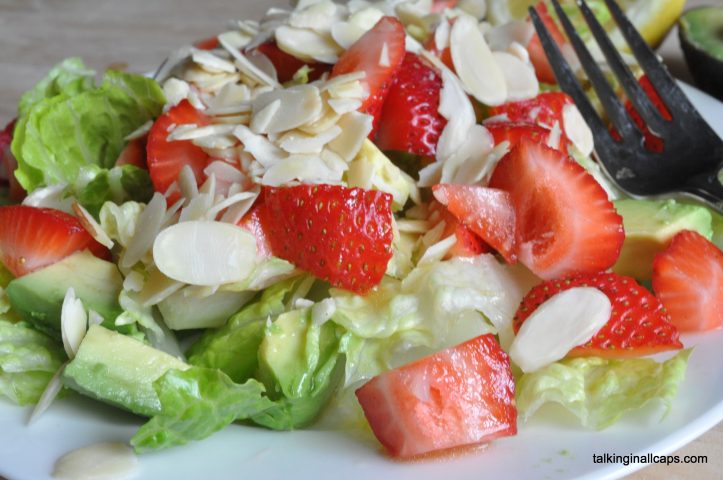 Did They Eat It?
Gordie (4 years): Acted like I was trying to feed him live grasshoppers. He refused to try it.
Nicky (15 months): enjoyed the strawberries and avocado
Stephen: It was good.
Dana: I really loved this salad. It was refreshing and sweet. Stephen didn't finish his half, so I finished it for him.