Typical store bought pasta salads are loaded with mayonnaise or some other kind of creamy dressing and not much else. This one, on the other hand, is loaded with vegetables. Perfect for for a pot luck salad or as a main dish, you'll feel great feeding this to your family.
My cousin made a salad similar to this one when I was at her house one day and I've been making it with a few variations ever since. Salsa is a perfect dressing for pasta salad and it couldn't be easier. If you want it more gourmet, you can always make your own salsa but I prefer the ease of using pre-made salsa.
Fresh and Easy Pasta Salad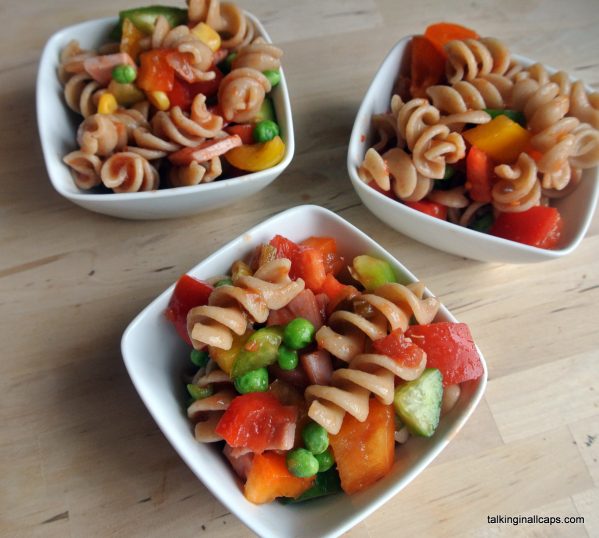 Salad #24 - Fresh and Easy Pasta Salad
Ingredients
1 box whole wheat pasta (macaroni, corkscrew or penne all work well)
1 cup frozen peas
1 red pepper chopped
1 orange pepper chopped
1 yellow pepper chopped
½ cucumber chopped
1 jar prepared salsa (I like Tostitos Medium)
package of Canadian bacon, chopped
Instructions
Cook pasta according to package instructions. Run under cold water to cool.
Transfer pasta to a large bowl and add chopped veggies (peas can go in frozen) and the Canadian bacon.
Pour salsa over the pasta mixture and mix well.
I find leftovers benefit from some extra salsa before serving.
Variations
 swap out the vegetables for whatever you have on hand
swap out the Canadian bacon for another kind of protein – ham, imitation crab, chicken feta cheese or monterey jack cheese are all good options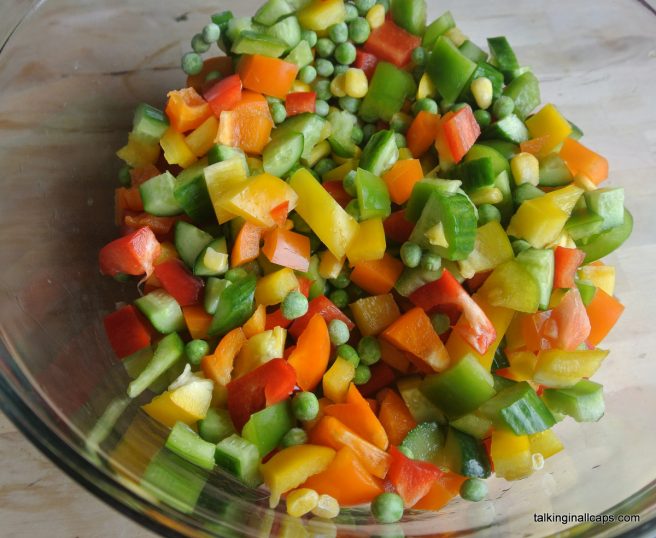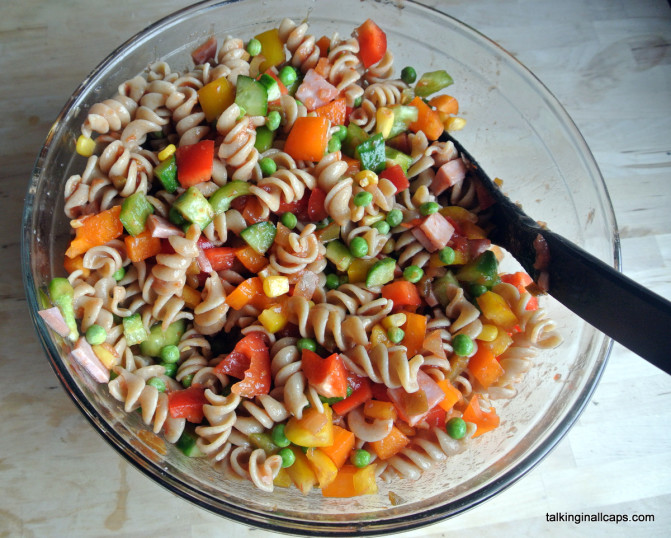 Did They Eat It?
 Gordie (4 years old): Loved everything about it. (this is one of the only salads Gordie has liked)
Nicky (15 months): Devoured the pasta and peas but left the peppers.
Stephen: Good.
Dana: This is one of my favorite easy supper meals. It makes quite a lot and so we usually even have leftovers for the next day.